It's not really a sensationalist title if I'm actually out there buying up more BlackBerry (NASDAQ:BBRY), right? Today, at the lows of the day around $9.81, after the market just opened, I increased my BlackBerry position and nibbled on some out of the money long term calls. I plan on continuing to do so as funds are available and as the stock continues to sit under this $10 line that I feel it should be well over. I like any calls under $11 that expire in September 2014 or later.
I've already made mostly every single major possible point as to why I'm long this name, and why my price target is still $15-$20. A quick reminder for those of you playing at home:
the company has an immense amount of cash and has guided to not go under $2.5 billion in cash at any point
the rubber to John Chen's plan has officially hit the road, as shown in the company's last earnings report
I believe Chen is going to successfully monetize BBM, which no doubt has a much larger footprint overseas than it does in the U.S. - hence why some U.S. based investors write it off and/or ignore it, despite the real value
QNX has a very real footprint in the automotive industry, which I expect to grow commensurate with "smart" cars
the company is revamping their handset business the right way by going after emerging markets and keeping the features that loyal U.S./Canada BlackBerry users will like
exposure to Amazon's (NASDAQ:AMZN) app store will lend 240,000 new apps for those that continue to use BlackBerry handsets - a massive improvement in addressing the very real problem of "lack of apps"
the company has a full calendar of events scheduled between now and the end of this year - there's several catalysts in between now and the next earnings report
First off, let's look at this chart.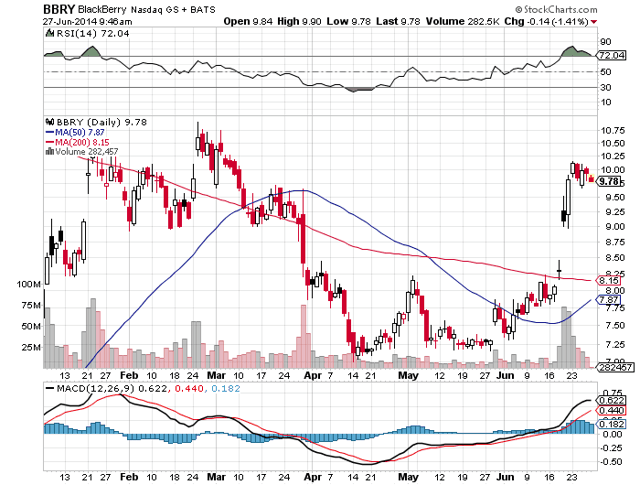 I'm not a charting enthusiast, but do like to think I know when I see a continued big move to the upside coming. BlackBerry might even sell off today a little bit - and the RSI might come down under the overbought indicator. What I'm looking at, though, is the 50DMA about to cross up the 200DMA on a company that just gave the market a significant bullish catalyst in earnings. The phrase "slingshot pointed at the moon" comes to mind.
But this article isn't about the chart. It's about taking a glance at the new BlackBerry Passport, which is BlackBerry's new foray into phablets that I haven't yet mentioned in previous articles.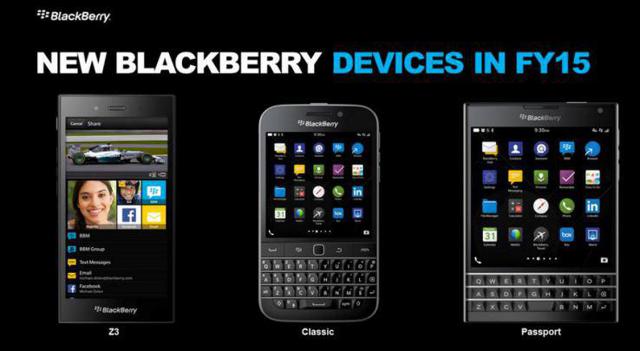 Yes, the Passport certainly is interesting looking, no doubt. One could never accuse BlackBerry of trying to steal patents and designs from Apple, that's for sure.
But one area that I've often noted that BlackBerry does have an opportunity for here in the U.S. is businesses that continue to rely on BlackBerry. Even though BBRY is no longer a handset business primarily, that doesn't mean that they're out altogether. Handsets can be a small fraction of future revenue and be a "role player" for the company.
If you walk down the street in Indianapolis and see business people dining out during lunch, you often see them with a work phone (BlackBerry) and a personal phone. Some that I talk to like their BlackBerry, others hate it. That's irrelevant. What's relevant is that the IT nerd upstairs running the technology division for whatever company he's working for in between levels of World of Warcraft seems to think that BlackBerry is the right choice.
If Chen continues appealing to those people, he continues to have a (small) bit of market share here in the U.S. Chen recently commented he was reaching out in person to major business players, assuring people that their contracts with BBRY and loyalty to the brand are going to be worth it in the future.
Liberty Voice went into some of the impressive specs, in between backhandedly insulting the hardware design:
Looking past the unusual design of the curious new rectangle, Blackberry Ltd.'s "Passport" has the internals that really start jumping off the page as well. A 4.5 inch screen, sporting a rumored 453 PPI (Pixel Per Inch), fills the eyes with 16 million possible colors. In addition to this, features such as Bluetooth 4.0 with A2DP, MicroSD support, and LTE connectivity make this phone worth more than just a passing glance. The final icing on the cake is that Blackberry Ltd.'s new "Passport" comes with a Qualcomm Quad-Core Snapdragon 800 processor that could top out at 2.3 GHz. That is a pretty great looking phone a high level media consumer.

The unusual new rectangle their calling "Passport" aside, Blackberry Ltd. will be adding its new phones to a long list on its "10″ line that will be enjoying a new relationship with Amazon. Having Amazons support combine with the news of Blackberry Inc.'s new phones caused the its stock to jump nearly 8 percent before the stock markets closed Friday.
The specs are impressive, aren't they?
Which leads me to think that the Passport could actually be a revamp of the original BlackBerry "weird looking" phone use for business. Remember this guy?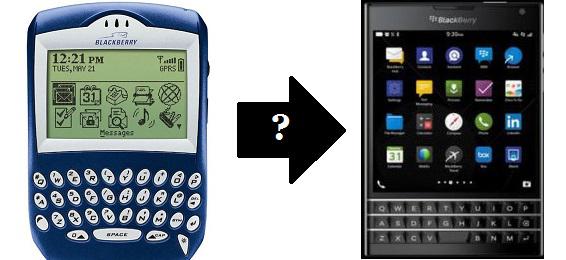 In essence, what I'm suggesting is that if the Passport gets a warm reception from those who make the decisions in the business world, there's a chance that it could become the standard - and more importantly, the device that keep contracts with BlackBerry and helps businesses renew their loyalty to the brand. We should have some grip on this as early as the end of this year.
The rest of the year is going to be a busy one for BlackBerry. On their conference call, they noted that they have events and releases taking them all the way from August to the end of the year. A BlackBerry security summit event will be coming in Q2, and a full portfolio of BlackBerry devices will get their own event in September. The company plans on releasing BES 12 in November and QNX in December. It's going to be a great rest of the year for BlackBerry enthusiasts. There is a lot to look forward to in between now and the next time Mr. Chen shows us how much better the company is faring during earnings.
For me, it's an easy decision: I'm going to continue to add on the dips here.
Best of luck to all investors.
Disclosure: The author is long BBRY. The author wrote this article themselves, and it expresses their own opinions. The author is not receiving compensation for it (other than from Seeking Alpha). The author has no business relationship with any company whose stock is mentioned in this article.