Wells Fargo (NYSE:WFC) has been a high conviction call for many investors. With the expectations of the US recovery, investors begin to see the stock as a good play of which the company is facing less litigation costs, better prepared for the recovery, and having a higher yielding asset mix compared to its peers. Not surprisingly, the bank has significantly outperformed the S&P 500 index.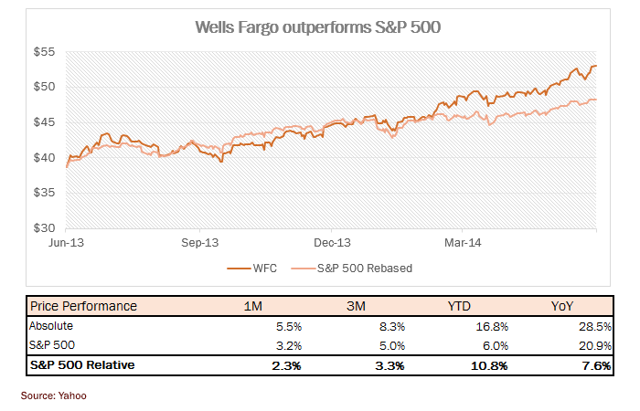 Contraction in net interest margin has been clearly visible for the last few quarters. This is mainly because of deposit growth remaining strong while lending relatively stays weak. In other words loan to deposit spread is decreasing. The bank reported a total loan portfolio of $796.7 billion yielding 4.49% at the end of first quarter of 2013. The reported loan portfolio at the end of last quarter was $823.8 billion with a yield rate of 4.29%. However, net interest income is only modestly down despite the NIM decline, reflecting earning asset growth and lower funding costs. A loan growth rate of 3% could have easily offset lower yields. Additionally, decreasing L/D spread is sign of asset composition shifting towards liquid assets. I also have to highlight that the spread is not too low. At the latest Investor Day Presentation, it was presented by the management that the loan growth will be at a rate faster than US GDP growth. Solid growth in commercial lending will likely help the bank to reach its loan growth target. On the asset quality front the bank is outperforming its peers thanks to its non-performing loans ratio which is down to 2.27% in 1Q14 from 2.87% in 1Q13.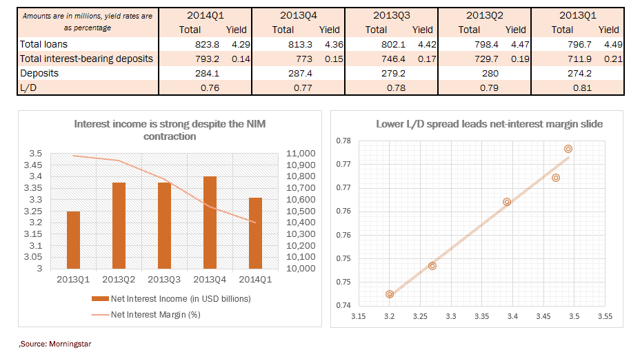 For eight consecutive quarters we have seen non-interest expenses decreasing, driving efficient ratio from 60.1% in 1Q12 to 57.9% in 1Q14 as a result of a disciplined expense management across the company.
Focusing deeply on the numbers released in the latest quarterly report, the bank's return on assets was 1.57%, improving from 1.49%, while return on equity was 14.35%, increasing from 13.59%. The bank expects ROA and ROE to be in 1.30%-1.60% and 12%-15% ranges, respectively. There is a good chance that the bank will even overshoot its profitability targets.
Being well-prepared for the US recovery, quality franchise with a strong balance sheet, solid profitability, and one of the best management teams in the US banking universe are all building a supportive case for the bank. Therefore Wells Fargo is still the best buy among biggest banks, and I still see upside in Wells compared to peers.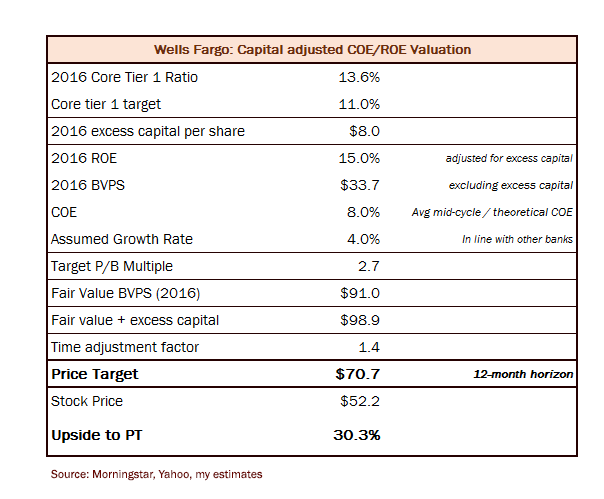 I value the bank with a ROE/COE methodology, derive a price target of $70.7 implying 30.3% upside. The COE of 8% is derived from 2.62% risk-free rate, 4% equity premium, and 1.36x beta.
However, there also risks to the price target, including lower than expected GDP growth resulting in lower revenues and pick-up in asset quality deterioration, and litigation losses.
Disclosure: The author has no positions in any stocks mentioned, and no plans to initiate any positions within the next 72 hours. The author wrote this article themselves, and it expresses their own opinions. The author is not receiving compensation for it (other than from Seeking Alpha). The author has no business relationship with any company whose stock is mentioned in this article.