The following is a list of small-cap stocks that are seeing bullish options sentiment, i.e. a large number of open call option positions relative to put option positions. All of these stocks are set to report earnings over the coming days.

Options traders seem to be betting on an earnings surprise from these companies. What do you think? Full analysis below.

Options sentiment data sourced from Schaeffer's, earnings calendar and short float data sourced from Finviz.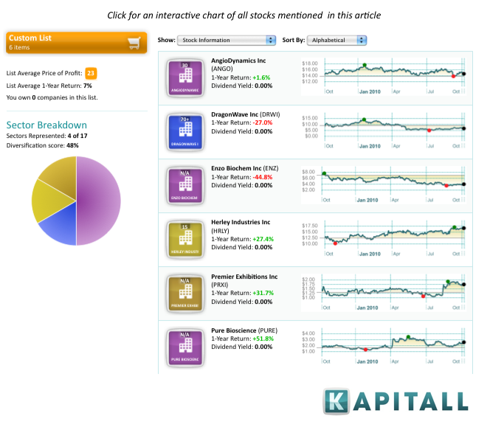 The list has been sorted by the Put/Call ratio.

1. AngioDynamics Inc. (NASDAQ:ANGO): Medical Instruments & Supplies Industry. Market cap of $366.55M. Earnings scheduled for October 7 (after the close). Call open interest at 97 contracts vs. put open interest at 57 contracts (Put/Call ratio at 0.59). Short float at 4.75%, which implies a short ratio of 8.2 days. The stock has gained 6.93% over the last year).

2. DragonWave Inc. (NASDAQ:DRWI): Communication Equipment Industry. Market cap of $233.25M. Earnings scheduled for October 7 (after the close). Call open interest at 3,514 contracts vs. put open interest at 784 contracts (Put/Call ratio at 0.22). Short float at 5.08%, which implies a short ratio of 4.64 days. The stock has lost -30.1% over the last year).

3. Enzo Biochem Inc. (NYSE:ENZ): Medical Laboratories & Research Industry. Market cap of $148.4M. Earnings scheduled for October 11. Call open interest at 1,199 contracts vs. put open interest at 146 contracts (Put/Call ratio at 0.12). Short float at 5.67%, which implies a short ratio of 19.26 days. The stock has lost -43.79% over the last year).

4. Herley Industries Inc. (NASDAQ:HRLY): Scientific & Technical Instruments Industry. Market cap of $228.18M. Earnings scheduled for October 11. Call open interest at 76 contracts vs. put open interest at 66 contracts (Put/Call ratio at 0.87). Short float at 4.32%, which implies a short ratio of 13.07 days. The stock has gained 32.49% over the last year).

5. Premier Exhibitions Inc. (NASDAQ:PRXI): General Entertainment Industry. Market cap of $81.87M. Earnings scheduled for October 7 (after the close). Call open interest at 204 contracts vs. put open interest at 40 contracts (Put/Call ratio at 0.2). Short float at .25%, which implies a short ratio of 0.58 days. The stock has gained 30.53% over the last year).

6. Pure Bioscience (NASDAQ:PURE): Chemicals Industry. Market cap of $85.78M. Earnings scheduled for October 11. Call open interest at 1,089 contracts vs. put open interest at 243 contracts (Put/Call ratio at 0.22). Short float at 8.17%, which implies a short ratio of 14.71 days. The stock has gained 48.17% over the last year).


Author's Disclosure: No positions