PepsiCo (NYSE:PEP) has been delivering relatively stable growth over recent years, despite secular changes in the Beverage Industry. Also, the company has been undertaking and making progress with its initiatives, including productivity enhancement, product innovation and the expansion of its global footprint to support growth. The company's fundamentals are stabilizing and a turnaround strategy is displaying early signs of improvement, evident from the positive organic revenue growth across its business segments. Moreover, apart from the company's focus on the turnaround strategy and reinvesting in the business, it has maintained a rich shareholder return policy in the form of share repurchase and dividends.
PepsiCo has been experiencing stable growth in the recent past (reflected by the graph below), as it continues to grow food and beverages businesses around the world through market growth, innovation and acquisitions. The company's global snacks business presents impressive growth potential as PepsiCo has a large operational scale and a global footprint with solid brands. While PepsiCo's beverages business is likely to remain challenging in the near term, as the beverage market remains competitive and faces secular changes. The graph below displays organic revenue growth for PepsiCo.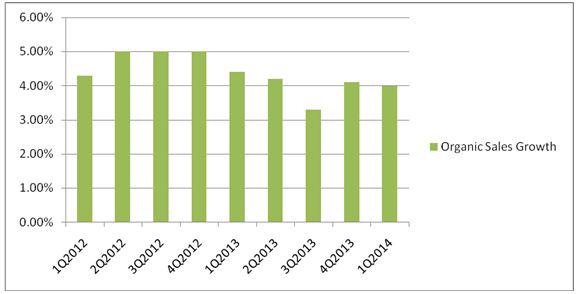 Because of secular changes in the Beverage Industry, as a result of more health consciousness among consumers and the imposition of taxes to discourage consumption of carbonated soft drinks [CSD], beverage companies have been forced to follow the path of innovation. As secular changes are likely to persist going forward, in my opinion, PepsiCo and Coca-Cola (NYSE:KO), the two leading beverage companies, are likely to perform well, as they have large operational scales and have the financial muscle to address the challenge.
Innovation is key for PepsiCo to drive growth and to be successful. In the past, the company focused on product line extension and flavor additions to grow, but now changes in categories are asking for innovation, product differentiation, and geographical and channel expansion. PepsiCo seems to be reacting efficiently to the current situation. In the beginning of 2014, the company successfully introduced Gatorade Fierce Blue Cherry, Brisk Half & Half and Kickstart Black Cherry and Limeade. Also, the company is working to further expand its geographical footprint and channels to tap white space opportunities; PepsiCo has plans to offer versions of Lay's Deep Ridge potato chips in additional markets, currently it is being offered in 20 markets.
Also, the company is fighting the category challenges by supporting its brands and product innovation through promotional and marketing spending. However, in my opinion, the company has space to further increase its advertisement spending and support its existing brands and new products, as the company currently has lower advertisement spending in comparison to its competitors, Coca-Cola and Dr Pepper Snapple (NYSE:DPS). PepsiCo has advertisement spending as a percent of revenues of 6%, in comparison to Coca-Cola's and Dr Pepper's 7% and 8%, respectively.
PepsiCo has been focusing on reducing costs and improving productivity to support growth and reinvestment in the business. Also, the cost control initiatives will offset the commodity cost inflation; PepsiCo anticipates low single-digit commodity inflation for 2014. Earlier this year, PepsiCo disclosed its next generation productivity plan, under which it targets cost savings of $5 billion over the five years, beginning in 2015. The productivity plans include further optimization of global manufacturing facilities, increasing automation, deploying more shared services models and optimizing go-to-market systems. PepsiCo already has been working on improving its productivity, and is enjoying gross margin expansion as a result of it, and this new productivity plan will further augur well for long-term earnings growth and will provide incremental cost savings to be reinvested in the business. The table reflects the gross margin improvement in the recent four quarters.
| | | | | |
| --- | --- | --- | --- | --- |
| | 2Q -2013 | 3Q-2013 | 4Q-2013 | 1Q-2014 |
| Gross Margin Change (BPS) (YoY) | 120 | 70 | 60 | 37 |
Company Reports and Calculations
The company's recent healthy performance has given the management a reprieve for a while from activist demands for structural changes. And if the company continues to effectively execute its strategy and deliver bettering results, the demands for structural changes will fade away. Also, the management has indicated not to pursue structural change. However, I think the strategic option of splitting the North America beverage business could re-emerge if the company fails to deliver satisfactory results.
In addition to focusing on reinvesting in the business, the company is also returning cash to shareholders through buybacks and dividends. The company spent $1.25 billion to buy back shares in the first quarter of 2014 under its three-year share buyback program initiated last year; the company has now $7.1 billion remaining under the ongoing buyback program. For the full year 2014, PepsiCo anticipates to return $5 billion through share buybacks and $3.7 billion through dividends, returning total cash of $8.7 billion. PepsiCo offers a dividend yield of 2.9%.
Valuations and Final Words
PepsiCo has been aggressively working to improve its productivity and drive incremental cost savings, which will be reinvested in the business to support innovation and for geographical and channel expansion. In my opinion, PepsiCo remains a good investment prospect, as its ongoing initiative will provide growth in the long term and it offers a secure yield of 2.9%. Moreover, current valuations also remain compelling for PepsiCo as it is trading at a discount to large cap peers, including Coca-Cola, Colgate (NYSE:CL) and is slightly above Procter & Gamble (NYSE:PG).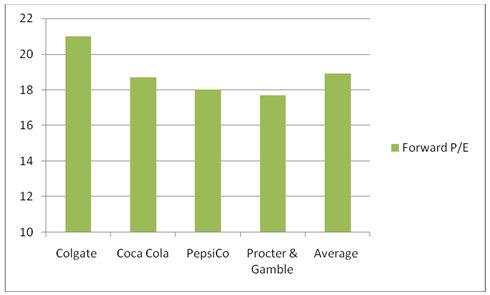 Risks
As PepsiCo has significant international market operations, almost 50% of sales are generated from international markets; adverse currency movements remain a risk to top and bottom line growths of the company. Also, rising health concerns have prompted some governments, including Mexico and France, to impose taxes on sodas to discourage consumption. However, to address the situation, PepsiCo has undertaken price increases to pass the taxes onto consumers.
Disclosure: The author has no positions in any stocks mentioned, and no plans to initiate any positions within the next 72 hours. The author wrote this article themselves, and it expresses their own opinions. The author is not receiving compensation for it (other than from Seeking Alpha). The author has no business relationship with any company whose stock is mentioned in this article.