Rite Aid Pharmacy (NYSE:RAD), with mixed results, continues to move ahead to excelling in the long run. Despite the recent quarter's top line growth, the stock faces tough competition from market giants like Walgreen (WAG). Going forward, RAD's efforts to excel by remodeling its stores to wellness stores and the integration of recently acquired RediClinic will give a push to its revenue base. The recent quarter's higher-than-expected cost pressure contracted the company's margins. However, the company's agreement with McKesson represents an opportunity to lower the cost burden and expand underlining margins in the long run.
RAD, with its subsidiaries, operates a chain of retail drug stores in the U.S. The company, with 4,581 stores in 31 states, stands as the third largest drug store chain in the U.S. The following chart shows the competitive positioning of RAD among 20 large U.S. drug store retailers on the basis of Rx sales (in $-millions).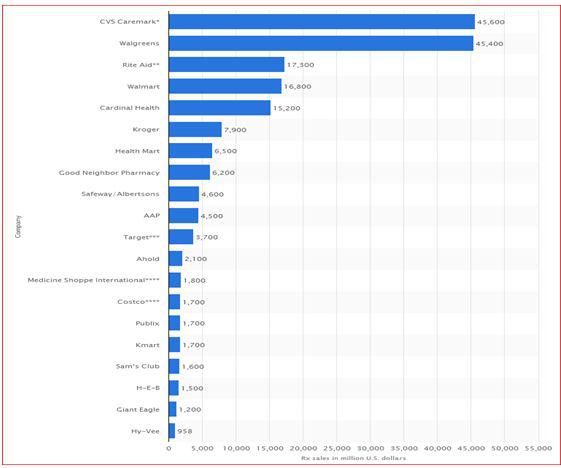 Source: Statista.com
Top line Story
RAD is constantly putting in efforts to grow its top line results, through the remodeling of its wellness stores and integrating the RediClinics. The company recently reported decent revenue growth of 2.7% year-over-year for 1QFY15. The company's comparable store sales, with an increase of 3.1% year-over-year due to a rise in pharmacy sales, fueled overall revenue growth. The pharmacy sales of RAD, despite the negative impacts of introducing new generic drugs, showed an increase of 4.6%. Moreover, prescriptions filled at comparable stores increased 2.3% year-over-year. Prescription sales comprised about 68.4% of total drugstore sales, whereas third party prescription revenues accounted for 97.4% of pharmacy sales. The company recently reported an outstanding increase of 5.1% year-over-year in its revenues. Despite the healthy revenue growth through improved comparable sales, RAD is still exposed to intense competition by market giant, WAG.
Perhaps RAD is on its way to catering to the intense competition of the sector with its strategic initiative of remodeling wellness stores. Altering the stores is a positive initiative by RAD; thus far these stores are successfully outperforming other chain stores of RAD with same store front-end sales and script count. In the recent quarter, average remodeled stores front end sales and Rx sales were 2.65% and 1.2% higher than the non-wellness stores. Up till now RAD has completed 1,325 wellness remodels, which signify 29% of all RAD's locations. As the company expects to complete the remodeling of 450 wellness stores in FY15, same store sales will further see a boon.
Moreover, to prove its keen interest in delivering wellness and health to customers, the company recently acquired RediClinic. Through this acquisition, RediClinic, one of the leading operators of retail chains in the U.S., will operate as a wholly-owned subsidiary of RAD. RediClinics are staffed by certified nurses and physicians, which will add well to the success of RAD's wellness initiative. RAD is making efforts at a much faster pace to integrate RediClinics in to its operational structure to expand its footprints in Texas. Once RediClinic gets completely integrated into RAD's operational structure through increased RediClinic stores, RAD will not only grow its top line, but will also increase its script counts. I believe a pickup in both wellness remodels and RediClinic integration will improve the company's outlook as a wellness service provider. And with this improved outlook, RAD will move closer towards its goal of achieving $26-$26.5 billion in revenue by the end of FY15.
Pressurized Margins = Future Holds Hope
The company has started FY15 with a drag on its margins. Thus far, the higher-than-expected generic drug cost coupled with high reimbursement rates pressurized the company's gross margins. For 1QFY15, the company's gross margins of 27.9% contracted 95 basis points as compared to the same quarter previous year. Moreover, the gross profit also compressed in 1QFY15, scaling down the EBITDA of the company. RAD's recent quarter's EBITDA was $282.6 million as compared to $344.8 million from the same quarter the previous year.
To put an end to this struggling profitability and the underlining margin base of the company, RAD has started transitioning to a new drug sourcing and distribution process through its expanded partnership with McKesson. With this new agreement, all of RAD's generic cost will be sourced to McKesson. As this deal will coin McKesson and RAD the largest buyer stake in the market, the company's negotiation power with manufacturers will largely improve. So, the overall cost burden on RAD will be significantly lowered down, creating an opportunity for expanding underlining margins. Moreover, the agreement with McKesson will also portend well for the working capital of the company by reducing inventory level through its 5 days a week drug delivery service. I believe through this agreement, RAD will save a lot of money, which will give a boost to its free cash flow base.
Conclusion
I reiterate my bullish stance on RAD. The company has strong growth potentials to excel in the long run. The company is well headed to growing its top line in a highly competitive environment. Furthermore, both of the company's initiatives, wellness remodeling and RediClinic, will mark a brighter and growing revenue base. However, margins are highly likely to expand in coming quarters due to RAD's ability to save in cost through its agreement with McKesson. I recommend investors "buy" this long term growth generating stock.
Disclosure: The author has no positions in any stocks mentioned, and no plans to initiate any positions within the next 72 hours. The author wrote this article themselves, and it expresses their own opinions. The author is not receiving compensation for it (other than from Seeking Alpha). The author has no business relationship with any company whose stock is mentioned in this article.