Yes I know, the market is on fire right now. It's tough to look at this market and think that there are any bargains out there waiting to be scooped up. But really there are hundreds, you just have to know where to look. Our Zacks Rank helps us find companies with great earnings stories that have analysts changing their earnings targets on. So if we apply the Zacks Rank to a segment of the market that we think is growing on its own then find the best companies in that group and add on good charts, we should be in business.
What are some of the major economic themes taking place right now? The environment is becoming an increasing concern worldwide. With a harsh winter behind us, sea levels and average temps are rising. Now I'm not going to start hugging trees over here on you, but I don't think it's too crazy to say that the world is becoming more conscious of pollution.
Another theme is the availability of cheap money internationally. World central banks have been flooding the market with currency, allowing depreciation on a grand scale. All this stimulus and accommodation will eventually come back to roost. Eventually there will be inflationary pressure one day I promise.
Well there is a way to invest in both of these themes. The auto industry has been cutting down on pollution from automobiles through the use of catalytic converters on cars and commodity prices should rise in an inflationary environment. How about investing in a company that provides the commodity that is used in making catalytic converters? That's exactly what you have with Stillwater Mining Company (NYSE:SWC).
Stillwater is a Zacks Rank #1 (Strong Buy) in the mining industry that ranks in the top 38% of our Zacks Industry Rank. Stillwater is the leading low-cost platinum group metals (PGMs) producer in North America. The platinum group metals include palladium and platinum. Most of the demand for palladium in the world, 73%, comes from the manufacture of catalytic converters for automobiles.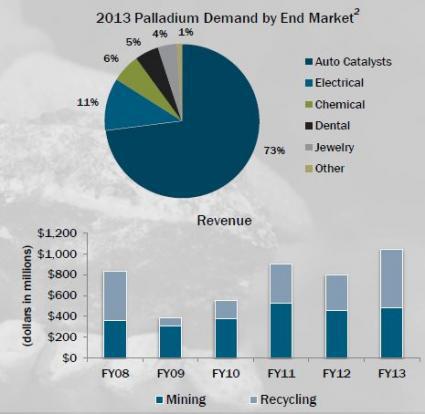 Stillwater's reserves are split roughly 80% palladium and 20% platinum. In 2013, SWC produced 524,000 ounces of PGMs from its Montana Mines segment and still has over 22 million proven and probable PGM ore reserves. And you don't have to worry about SWC running out of cash anytime soon as their liquidity includes $474 million in cash and cash equivalents and an undrawn credit facility of $80 million.
Analysts are keen on the stock as well. Two analysts have raised current year and next year estimates which have help raise consensus from 45 cents to 63 cents for the current year and from 71 cents to 85 cents for next year. This comes on the heels of SWC surprising three quarters in a row, with the most recent beat nearly doubling the 8 cents per share consensus.
The technical picture is a bullish one as well for SWC. It has been in an uptrend since November, trading from just over $10 to $18 before selling off earlier this month. The sell off from $18 down to $16.23 wasn't enough to derail SWC. Now the stock trades near $17 and has pulled back to its 25 day moving average shifted by 5 days (25x5). The 25x5 is also positively sloped, implying a bullish bias. The stochastics have recently show a bullish cross from an oversold condition as well. All of these factors are bullish for Stillwater.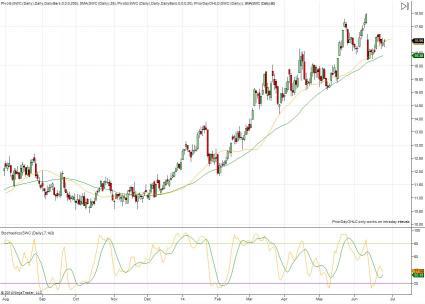 Bottom Line
SWC is a company well positioned inside of a growth industry that should benefit from a few key worldwide economic trends that are developing. This, backed by the power of the Zacks Rank, make it my Bull of the Day.