Trying to pick a market top is a futile endeavor. Not only can reputations be damaged, but such pronouncements more often than not cost investors money. So be wary of any attempt to call a top to the market.
But this doesn't mean we're unable to rationally examine evidence for where the market may go from here. Let's examine the chart below for one such piece of evidence.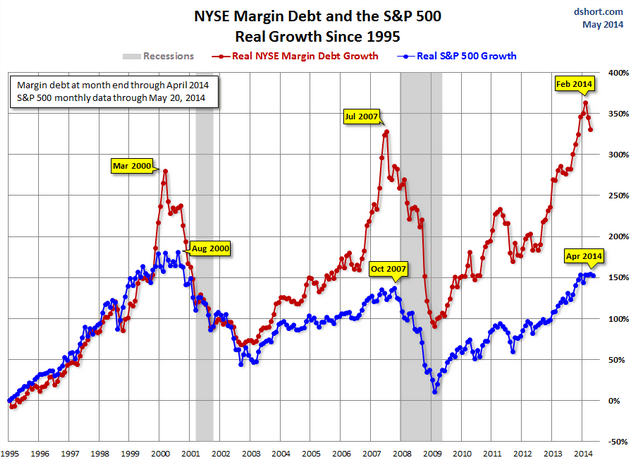 This chart shows the growth rate of margin debt. In theory, the growth/decline of margin is a leading market indicator, as it quantifies investor risk appetite to fund further asset purchases on credit.
As you can see, margin debt grew coincident with the market from 1995 to late 1999, at which time margin debt accelerated faster than the market before peaking in March 2000. Once margin debt peaked, the stock market collapsed about six months later.
In late 2006, margin debt went parabolic one more time, peaking in July 2007. Result? Again, the market collapsed four months later.
Margin debt peaked for the third time in February, and is now showing a similar decline. Can another market collapse be in our future?
While additional data is needed to understand if this is a pause or the beginning of a major reversal - it doesn't bode well and the parallels shouldn't be ignored.
What Should You Do?
Persistently low interest rates have pushed income investors to seek stocks with higher betas than are traditionally acceptable in normal markets. And it's these higher beta stocks that pose the greatest risk if the market suddenly turns to the downside.
Below I have outlined four low beta stocks that pay an above average dividend yield, and have consistently raised their dividends. As an added bonus, each stock sports a "Golden Ratio" below the S&P 500 average of 11.4.
| | | | | | | |
| --- | --- | --- | --- | --- | --- | --- |
| Stock | β (Beta) | Yield | P/E | EV/EBITDA | DPR | 5-Yr Dividend Growth Rate |
| Mattel (NASDAQ:MAT) | 0.82 | 3.9% | 15.6 | 10.2 | 59 | 18.4% |
| McDonald's (NYSE:MCD) | 0.36 | 3.2% | 18.2 | 10.9 | 57 | 10.4% |
| Cracker Barrel (NASDAQ:CBRL) | 0.60 | 3.9% | 19.1 | 10.1 | 56 | 42.5% |
| Ecopetrol (NYSE:EC) | 0.72 | 6.0% | 11.7 | 5.8 | 80 | 11.2% |

The toy company, Mattel, has strong ties with Disney (NYSE:DIS) that will boost 2014 sales with the release of Marvel and Star Wars product lines. MAT has increased its dividend at a CAGR of 13.8% over the past ten years, including a 35% increase in 2012 and a 16% increase in 2013.
McDonald's is one of the best dividend payers of all time. MCD has a 5-year total return of 107%, but has an even better yield on cost (YOC). Based on its current $0.81 quarterly payout, investors who bought shares 10 years ago would have a 13.07% yield - a testament to the strength and consistency of McDonald's dividend - a core tenet of dividend investing.
Cracker Barrel provided huge dividend increases in 2012 (+31%) and 2013 (+96%). Analysts expect CBRL to grow earnings 10% per year over the next five years, but even if it misses these estimates by 25% - the shares would be trading at a 12.5% discount - a bargain for this strong dividend payer.
Ecopetrol is Colombia's largest oil company, and the second largest in South America. EC has a market cap of $79 billion and an average trading volume of more than 520K shares, which makes this a must-have stock for dividend investors.
Each of these stocks can stand on its own, no matter what the markets do in the short term. But if the markets follow the same margin debt roadmap as previous declines, you could avoid substantial pain - but only if you act before the market falls - and time may be running out.
Disclosure: The author has no positions in any stocks mentioned, and no plans to initiate any positions within the next 72 hours. The author wrote this article themselves, and it expresses their own opinions. The author is not receiving compensation for it. The author has no business relationship with any company whose stock is mentioned in this article.