The share price of FedEx (NYSE:FDX) has recorded an all-time high in 2013 after many years with the company's ground and freight operations seeing robust growth. Last year, FedEx announced a record share repurchase program when its board of directors authorized the company to repurchase up to 32 million of shares. In January this year, the company sold $2 billion in bonds to fund the share repurchase program.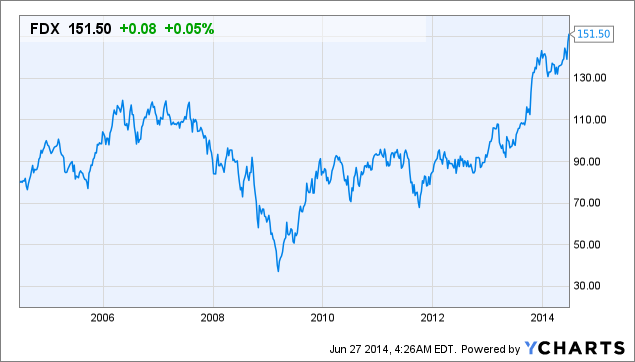 FDX data by YCharts
The freight forwarding and logistics industry continues to be a growth industry due to improving macroeconomic conditions worldwide. In this light, we believe that FedEx, the industry leader, will continue to grow steadily in the months and years to come. The company's stock is expected to rise further and outperform the overall stock market.
Economy Projected to Improve Further: Positive for FedEx
The IMF has projected that global growth will be around 3.7% this year, rising to 3.9% in 2015. Growth in the U.S. is expected to be 2.8% this year and 3% in 2015. Growth in the euro zone is projected to be 1% in 2014 and 1.4% in 2015, although the recovery is expected to be uneven there.
Based on the economic outlook, FedEx projected that its FY2015 EPS will be between $8.50 and $9, adjusted for an approximately $0.45 benefit from share repurchases. The company is currently trading at a one-year forward P/E of roughly 17x. Since the beginning of 2011, the company's EPS has grown 63.44% in absolute terms, which represents a CAGR of approximately 15%. We believe that the company's FY2016 EPS will be in the range of $10 - $10.50. FDX is trading at a two-year forward P/E of less than 15x, which is certainly an attractive valuation given the company's growth prospects.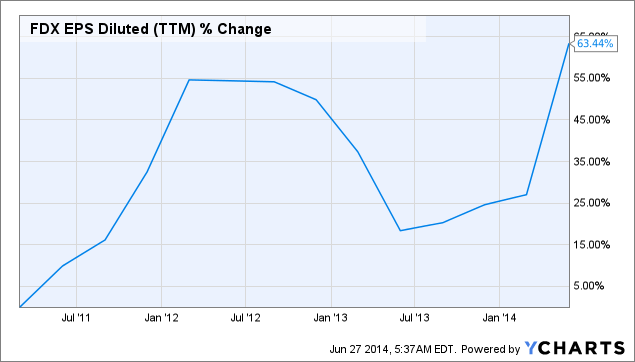 FDX EPS Diluted (TTM) data by YCharts
Challenges before the Company
One of the key challenges for the company in order to maintain consistent revenue growth and profitability is to keep the bargaining power with its shippers in its favor. With trade routes becoming more competitive due to continuously falling freight rates, FedEx's bargaining power with shippers could be negatively impacted. However, we believe that the company has the ability to counter this by executing its balance sheet strength. We expect that FedEx will acquire niche players in important trade routes as and when needed to counter this challenge.
Rising oil price is another challenge for the company, which could negatively impact its stable operating margin. Currently FedEx's operating margin is hovering around 7%. It remains to be seen how the company maintains the current operating margin if oil price rises further.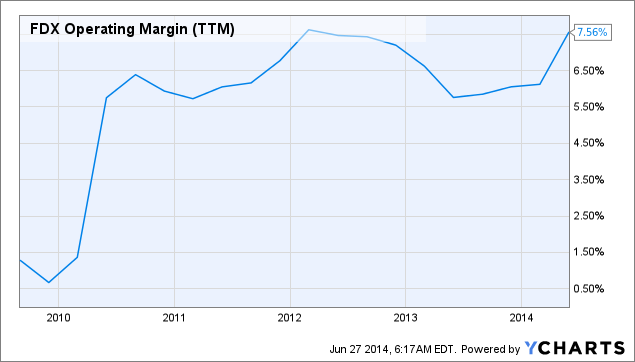 FDX Operating Margin (TTM) data by YCharts
If price of oil continues to rise, we believe that FedEx will unveil a cost-cutting program similar to the one it unveiled in October, when unseasonably harsh winter weather caused the company to lose customers. At that time, customers were moving away from the company to cheaper options. In order to counter that, FedEx said that it would start a pricing policy based on parcel size, instead of weight alone, to reduce the cost of ground delivery. We believe that the company has lots of weapons in its arsenal to counter rising fuel price.
Conclusion
We believe that FedEx is an excellent stock for the long haul. It's a solid play on macroeconomic recovery. Our one-year price target for the stock is $175, based on 17x FY2016 estimated earnings.
Business relationship disclosure: The article has been written by a BB Research stock analyst. BB Research is not receiving compensation for it (other than from Seeking Alpha). BB Research has no business relationship with any company whose stock is mentioned in this article.
Disclosure: The author has no positions in any stocks mentioned, and no plans to initiate any positions within the next 72 hours. The author wrote this article themselves, and it expresses their own opinions. The author is not receiving compensation for it (other than from Seeking Alpha). The author has no business relationship with any company whose stock is mentioned in this article.