Not long ago, Baidu, Inc. (Nasdaq:BIDU), China's #1 search engine, was facing criticism because of media claims that they would be beaten by bigger and better competitors when China Mobile (NYSE:CHL) said they were entering the search market. As an established brand name and favorite of Chinese internet users, BIDU continues to grow at incredible rates quarter-over-quarter and the stock price has risen substantially. Investors who took the empty words of people who write about but don't successfully trade stocks sold their BIDU shares and missed 45% upside in BIDU in a few months.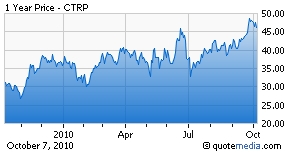 In a remarkably similar situation, shares of Ctrip.com International, Ltd. (Nasdaq:CTRP) China's #1 travel website were getting hit by an article warning of big competition. Here are just a few reasons why we believe CTRP will continue to succeed in same vein as did BIDU:
China has the greatest number of internet users in the world, and its travel market continues to grow - CTRP has its niche here.

The competition hasn't hurt Ctrip's results. The stock has risen 52% since early July and this is a gigantic week for travel in China for National Day holidays and records are being set for the amount of travel being done.

There's a poor track record for big companies dabbling in businesses that isn't their specialty/primary focus.

Ctrip's advantage is being well known as the online travel website in China. Users have developed a relationship with this brand and their locations in Airports are ubiquitus and heavily used.
I made a TON of money in BIDU since that article (I own shares of their common stock since $71.53 and have profited incredibly trading their options as well). CTRP, too, will stand to profit from China's booming economy and their success and leadership won't easily be taken away any more than Baidu's. To learn more, watch the following video.
Disclosure: BIDU: own shares and many options positions; CTRP: own shares and many options positions