The endgame has already started. The impact of e-cigarettes on Big Tobacco saw what might be the first official recognition yesterday, with Philip Morris (NYSE:PM) lowering its 2014 EPS guidance from $5.09-$5.19 to $4.87-$4.97.
At this point, the faith in Philip Morris is still massive -- the stock lost just 2.7% on these news. The idea is that Philip Morris has weathered much worse so this latest challenge will be beaten as well. The search for yield, which greatly benefited tobacco stocks, fuels this faith. Indeed, even yesterday Seeking Alpha was publishing an article saying that soon Philip Morris will be increasing its dividend again. I think this will either not happen, or be the last increase in a long time.
Things to reflect upon
The first important thing to remember regarding this guidance decrease is that the previous guidance had been issued very recently - as recently as early May. So dynamics are changing fast for a company of Philip Morris's size. While the guidance is being put down to a number of factors including currency and problems in Asia, one of the factors hidden amongst these seems more enduring. I am talking about the situation in Europe.
Europe is seeing rapid decrease in tobacco volumes. At least part of those decreases are due to the increasing presence of e-cigs. Indeed, Philip Morris seems to say exactly that (bold highlight is mine):
The company forecasts a moderate decline of the total industry in the EU Region in 2014 to a range of 5.0%-6.0% and, assuming continued macro-economic improvement and a continued deceleration in the growth of the overall e-vapor category, to approximately 5.0%-6.0% in 2015 and to 4.0%-5.0% thereafter
But Philip Morris expects the impact from e-vapor to decrease. When in fact, the likelihood is that:
It will continue to increase - there are thousands of vaping shops sprouting up everywhere. If these don't go bankrupt then the impact from vaping is sure to go up;
It won't be confined to Europe. So the accelerated volume trend in Europe is going to spread, instead of the other way around (Philip Morris expects the trend to moderate in Europe and not show up anywhere else).
Vaping has a very high number of advantages over smoking, including:
Being cheaper;
Being less harmful;
Being more diverse in terms of flavor;
Sometimes being allowed where smoking is forbidden;
Not leaving a stink in your clothes or home/car;
Leading to better breathing in the short term;
Allowing for the return of the sense of taste;
And e-cigs are even the basis for a new collectible industry, given their diversity.
Indeed, traditional cigarettes are increasingly seen with disgust, while at the same time e-cigs are getting an image of trendiness, which comes from their diversity and jewel-like collectible characteristics.
This is made worse for Philip Morris because Philip Morris relies on price increases to mitigate volume declines. So while traditional cigarettes are always increasing in price, e-cigs tend to be seeing drops in price due to the massive competition to provide them. The gulf is permanently getting wider, drawing more and more people away from traditional cigarettes.
The gulf is not small, either. At PMI's average retail price per pack, $3.22, a pack-a-day vice comes to $1175 per year. The savings from using e-cigs, which have so many other advantages, can easily be 80% on that. Traditional cigarettes are going to be destroyed by this gulf.
Dividends and buybacks already eat all the earnings
In the past (and even now), tobacco being an extraordinarily high-margin industry was obviously very attractive for investors. Now, it might well turn into a liability. PMI has gross margins of 65.7% (excluding the effect of excise taxes). If volume declines faster than expected the effect will be magnified by the large gross margins.
Furthermore, between dividends ($5.9 billion at $3.76 per share) and buybacks ($4 billion for 2014), Philip Morris is already distributing ($9.9 billion) in excess of its entire adjusted earnings (estimated to be around $8.5 billion for 2014, at $5.40 per share). In short, Philip Morris is already unlikely to want to increase dividends further.
Philip Morris's RRP strategy
Some will undoubtedly place some faith in Philip Morris's "Reduced Risk Products" strategy. This faith is misplaced because of three factors:
First, the e-cig industry will be much lower margin than the present PMI business, due to the massive competition;
Second, PMI cannot hope to match the diversity out there. And furthermore, PMI seems to be concentrating in entry-level products, which, while they might produce some quick sales volume, are likely to be superseded by more advanced vaping devices;
And third, the RRPs PMI is proposing/developing are plainly not attractive. Here's a sample (Source: Company presentation)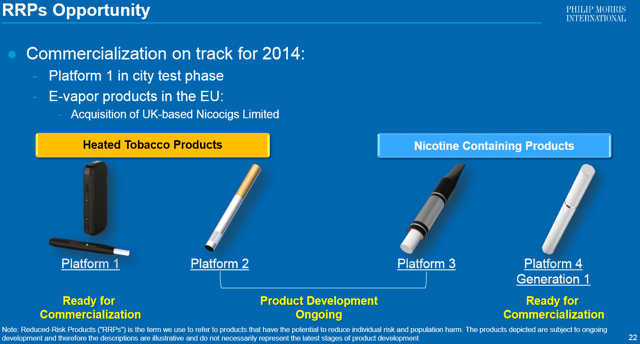 Now compare this to what's out there in the wild, in terms of e-cig mods (Source for images: ecigarettereviewed.com)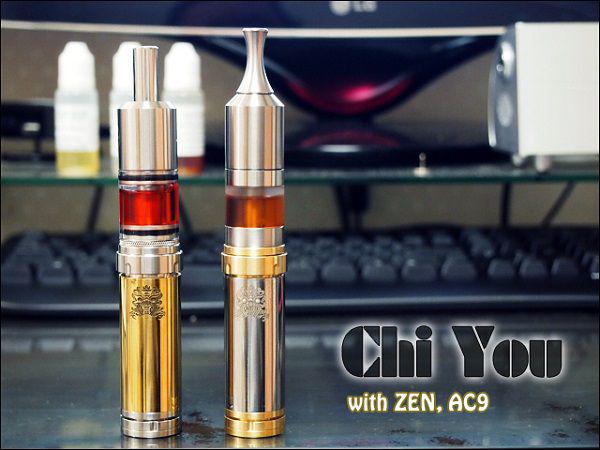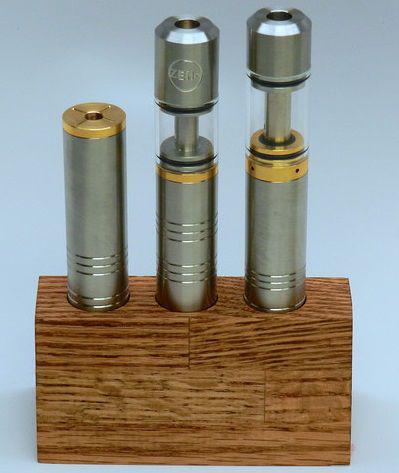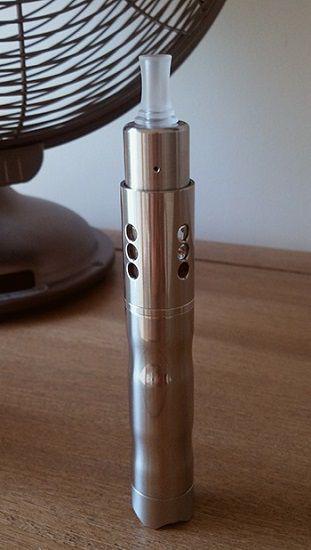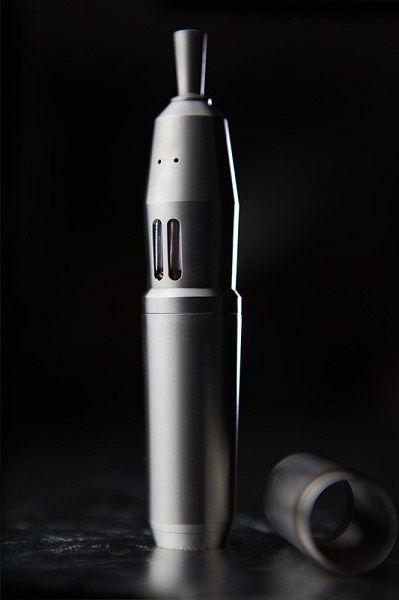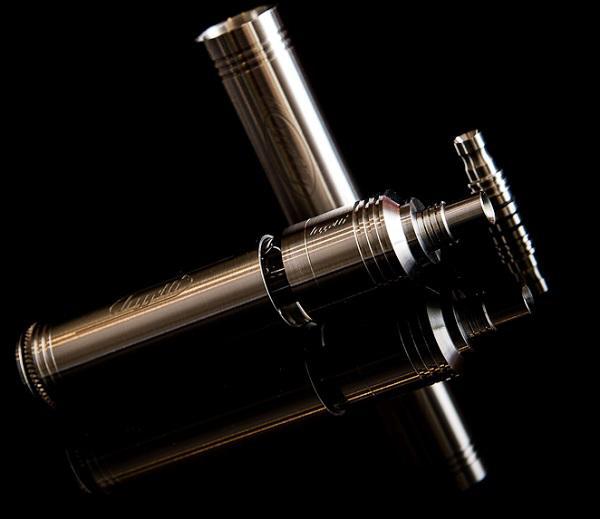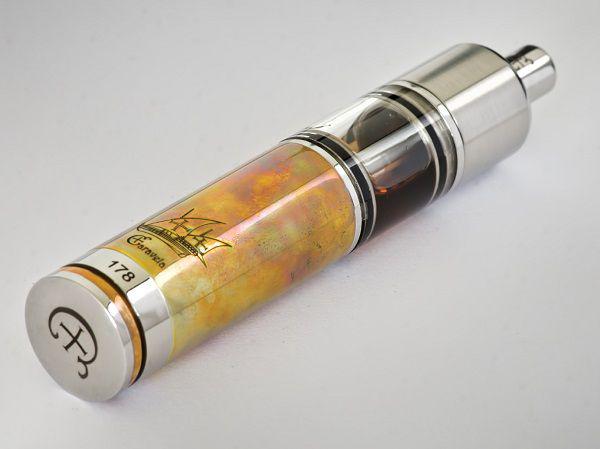 There's just no possible comparison. Philip Morris, and the other tobacco companies, will have a problem. And even if they win in terms of market share, they still have a problem, as these products will be sold with a much lower margin to begin with.
Either way, Philip Morris loses.
Conclusion
The impact of e-cigs in European cigarette volumes is already being felt by PMI. PMI expects this impact to moderate, but the most likely course is for the impact to deepen and spread. E-cigs have too many advantages to count and are going to take the cigarette market by storm. PMI stands ready to be disrupted and the process has already begun.
The major faith in PMI is still not dented. But a couple of more downward revisions to guidance will make sure of that. In the meantime, PMI is already outspending its own earnings in dividends and buybacks, so these are not likely to be expanded as expected by the market.
The whole thing seems to indicate major, massive, underperformance for PMI stock going forward. If these trends continue, deepen and spread then it won't take long for either buybacks or dividends to be threatened.
As I have said, thousands of vaping stores are popping up everywhere, this is bound have a significant and quickening effect on traditional tobacco. This is going to happen worldwide. Given the cost of traditional tobacco, if anything this is likely to accelerate even more in emerging countries.
Disclosure: The author has no positions in any stocks mentioned, but may initiate a short position in PM over the next 72 hours. The author wrote this article themselves, and it expresses their own opinions. The author is not receiving compensation for it (other than from Seeking Alpha). The author has no business relationship with any company whose stock is mentioned in this article.