For watchers of entire new industries, 2014 has put on quite a show so far. We've seen Amazon (NASDAQ:AMZN) break into drone delivery. We're seeing the internet of things pick up steam city by city as IP addresses are plugged into appliances with the snowball just starting to roll. Electric vehicle sales continue to increase month by month. The 3-D printing industry is starting to hatch. Any one of these industries upon a true breakthrough to the mass market will translate into nice gains for anyone holding the right companies, not to mention change the world. Here are four picks, one for each budding industry.
Unmanned aerial vehicles ("UAVs")
More commonly referred to as drones in the mainstream press and other publications, UAVs look set to be an integral part of a large number of industries in the near future. Currently, FAA regulations make it illegal for commercial entities to launch drones into US airspace, but this is set to change. The FAA has been directed to draft legislation that will allow commercial entities the use of drones now operational before September 2015, and it is currently possible for a company to apply for an exemption to the current regulations. One example of this in action is the recent announcement by gas and oil giant BP (NYSE:BP) that the FAA had granted the first commercial drone license on US land. The company operating in this space deserving more focus is AeroVironment, Inc. (NASDAQ:AVAV).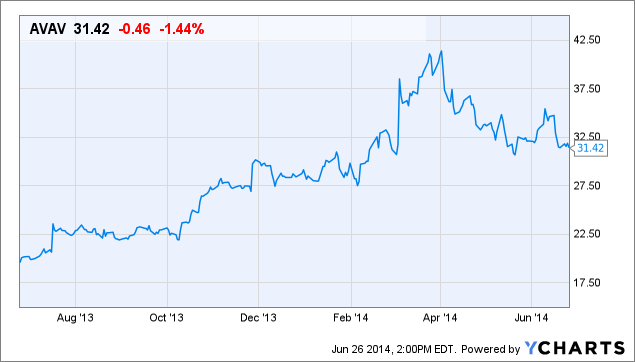 AeroVironment designs, develops, and manufactures UAVs alongside a range of other technologies for various industries and government agencies in the US. The company began as a supplier of unmanned aircraft systems to the Department of Defense. Much like Saab began as an airplane manufacturer for wartime purposes in the 30's and 40's and then evolved into a private sector company, AeroVironment is now evolving for civilian consumption as well. AeroVironment recently redesigned its flagship Puma drone for BP, and the drone is now the technology that hovers above and monitors Alaskan oilfields for the company.
The opportunity behind this company lay in its exposure offers to the UAV industry. Many of the other companies that are likely to gain market share in the UAV industry over the next 4 to 5 years are those with extensive operations across a range of industries; companies like Lockheed Martin (NYSE:LMT), for example. While Lockheed is highly likely to generate considerable revenues from the UAV space going forward, revenues generated will only be a very small portion of the company's total turnover. For this reason, even in the industry that analysts expect to generate nearly $100 billion over the next 10 years, the onset of commercial drones is unlikely to have a huge impact on the stock price of companies like Lockheed.
Also, drones are AeroVironment's lead venture, with UAVs accounting for $57 million of the company's $69 million revenues during the final quarter of 2014. For this reason, as the commercial space expands, the company's stock price will likely alter significantly in accordance with this expansion. In other words, it offers investors a much more direct exposure to the industry's growth.
From a technical standpoint, AVAV is also attractive because it moves relatively independently from the broader market, bucking market trends during times of turbulence. As you can see in the chart below, AVAV did not decline with the rest of the NASDAQ in late 2008. Most recently, during the last broad tech decline in March, Aerovironment actually rose substantially for most of that time. While the broader market has outperformed Aerovironment over the long term, it does provide something of a hedge against broader market volatility.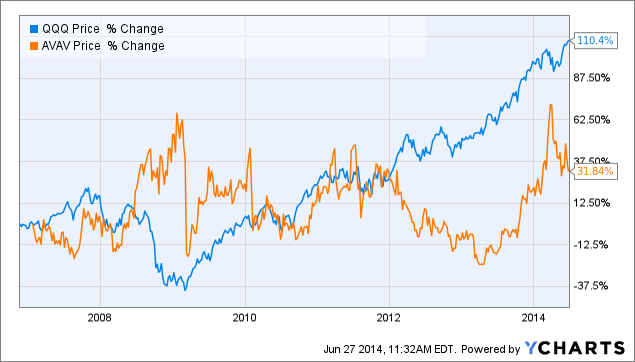 The Internet Of Things
Next up on the list is an industry that the media commonly refers to as the internet of things. In short, this phrase simply refers to the concept that everything, be it wastebins, vending machines or even livestock, will be connected to the internet in one way or another in the near future. For example, a number of cities including Boston, Chicago, and Philadelphia have put sensors on wastebins to detect garbage levels and optimize trash collection routes. A recent study suggests that by 2020 there will be up to 30 billion devices connected with unique IP addresses, the vast majority of which will be products and service objects, and that the total economic value added for the internet of things could be as much as $1.9 trillion.
So which company looks set to benefit from this potentially revolutionary change in the way things are managed and run? It's too early to tell which elements of the tnternet of things will be the most profitable. Moreover, current valuations as to the size of the industry are based much more around cost savings and efficiency maximization than revenue generation. However, one company that is almost certain to derive benefit as far as revenues are concerned is Cisco (NASDAQ:CSCO). The company has already emphasized its intense focus on the concept, and is already working on marketable solutions for embedded networks, industrial networking, and a range of other applications. Regardless of the application, somebody will have to design, build, and maintain the infrastructure, and Cisco looks like a hot favorite at present.
In order to achieve the $1.9 trillion worth of savings outlined in the study, organizations all over the world will have to pay companies like Cisco to install the infrastructure. Those who went through the NASDAQ bubble know full well how Cisco went parabolic at the height of the dot com revolution. Judging by its history and propensity for huge gains catalyzed by the internet, the internet of things may be just what Cisco needs to take its stock out of a 13-year funk and push it to a new trading range.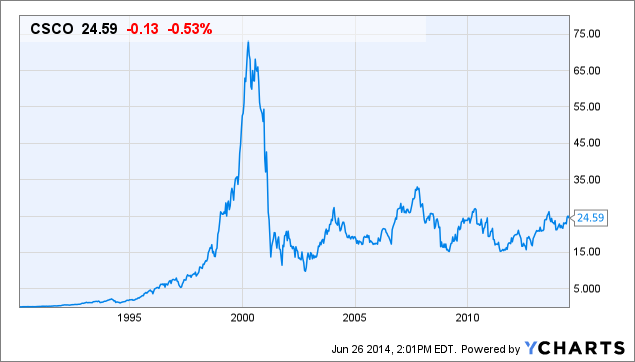 Electric Vehicles
Next up is the electric vehicle [EV] industry. This is not a brand new industry like UAV or the internet of things, but 2014/2015 may well be a period during which the industry finally achieves the growth that analysts and investors have hinted it is capable of over the past five years. Global EV sales totaled 120,000 during 2012, a number which the International Energy Agency expects to rise to 20 million by the end of 2020.
Many of the initial hurdles that have stunted the growth of the industry to date (charge time and range anxiety being two of the most prominent) have been addressed with fast chargers and ranges extended well into the triple digits in mileage. In addition, the widespread infrastructure that was inevitably needed before the industry could grow is finally starting to look like it is in place. This brings us nicely to this industry's selection, Car Charging Group (OTCPK:CCGI).
Car Charging Group was, two years ago, one of a handful of companies focused on the EV industry infrastructure. Initially, a large amount of government money was injected into the industry, and the inevitable boom and bust cycle that runs alongside government intervention in the markets has seen the majority of Car Charging Group's competitors run out of money. The company took advantage of this by acquiring four of its main competitors at deeply discounted cost, and now boasts the largest network of EV chargers in the world.
Car Charging is a similar selection to Cisco in the sense that like Cisco does not manufacture the devices to be connected to the internet of things but rather the infrastructure for it, Car Charging does not manufacture the cars themselves, but the infrastructure to enable their use. While it may be difficult to see which companies will generate the highest EV sales, it is less difficult to see that the company that owns and maintains the industry infrastructure should garner continued benefit, regardless of which car manufacturers succeed and which fail, and there will inevitably be both. CCGI's recent announcement of a partnership with Tesla (NASDAQ:TSLA) also makes the company an enticing candidate.
As a final note to this section, it is important to outline the major risk associated with the company. Car Charging Group's ability to finance its operations while the EV industry expands is fundamental to its potential as a high return investment in this growth industry. The importance of such an ability has been illustrated by the industry's now defunct competitors. But Car Charging has shown the ability to refrain from overspending up to now, has taken very little government grants and has focused on sustainable expansion. As of now, the company has enough cash at $8M to operate through Q1 2015.
3-D Printing
This industry is something of a contentious one for retail and institutional investors at present. The industry has been hit with a barrage of media hype that has led people to believe that desktop 3-D printing is just around the corner. The ability to fashion tools and cutlery, for example, has excited global markets to the point where many believe desktop 3-D printing is imminent. In reality, this is not the case. The driver of the 3-D printing industry over the next 10 years will be its application to the manufacturing space. It is this application that makes The ExOne Company (NASDAQ:XONE) an exciting company to watch.
ExOne is a manufacturer of 3-D printers, as are the majority of the other publicly traded companies in the space, but what sets this one aside from the others is its focus on printing metal objects. The likely buyers of the currently cost prohibitive 3-D printing technology will be large manufacturers for at least the next five years - not dissimilar to the evolution of computers, scanners and printers on their respective introductions to the market. A large number of manufacturing companies that are in a position to purchase 3-D printing technology are companies that produce fabricated metal parts for assembly. If ExOne can get a foothold in this niche, it could very quickly establish itself as a leading provider in the nascent industry.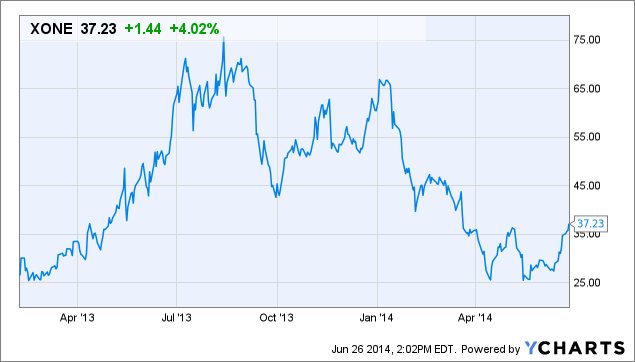 It is worth mentioning one of the major reasons why 3-D printing has been slow to experience mainstream adoption, even among large manufacturers. The reason is processing speed. Measured in per-unit processing speed, it currently takes days to produce a small number of units of any given 3-D printed object. This limits the technologies application to things like prototypes, test units and at a stretch, spacecraft parts. However, as a recent PWC report suggests, within 3 to 5 years it could take only hours to produce hundreds of units and beyond five years, minutes to produce thousands. It makes sense therefore, that as this per-unit process speed increases, adoption will expand. With revenues more than doubling since 2011 but profitability not yet reached, XONE may not stay cheap for long.
Disclosure: The author is long CCGI. The author wrote this article themselves, and it expresses their own opinions. The author is not receiving compensation for it (other than from Seeking Alpha). The author has no business relationship with any company whose stock is mentioned in this article.
Additional disclosure: I may initiate a long position in XONE over the next 72 hours.
Editor's Note: This article covers one or more stocks trading at less than $1 per share and/or with less than a $100 million market cap. Please be aware of the risks associated with these stocks.