It is estimated that by 2020, the number of internet users will reach close to 5 billion. As of late June 2014, according to Internet Live Stats, the amount of internet users has almost reached a total of 3 billion. This compares with 1.7 billion users in 2010 and only ~400 million in the year 2000.
As a dominant player in this sector, Google, Inc. (NASDAQ:GOOG) (NASDAQ:GOOGL) is poised to capitalize on this growth.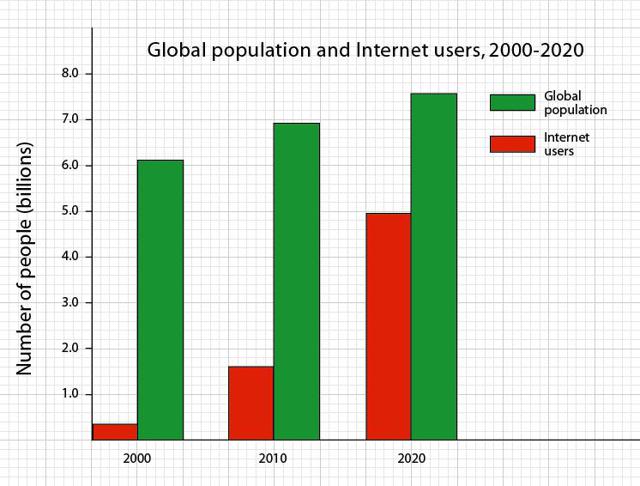 (Image source: Future Timeline)
So, how does Google generate its revenue? Even if we go back two years, Google's revenues came in almost entirely from advertising. In 2009, Google's advertising revenues made up 97% of its total revenue base. In 2010 and 2011, Google's advertising revenues made up 96% of its base.
As 96% of Google's revenue was generated through advertising, Google's acquisition of Motorola Mobility as well as other ventures such as Play store, where Android users go to buy apps, books and music, changed the landscape of its revenue generation in Q1. As of Q1 2014, Google's revenue breakdown was as follows: 68% site revenue, 22% network revenue and 10% other. In other terms, 90% advertising and 10% other.
In understanding that Google primarily generates revenue through advertising, most sources that the company promotes are based to drive this aspect of the company.
One source for driving advertising dollars to Google is through its search engine browser "Chrome." According to Wikipedia, in late 2008, Google released the majority of Chrome's source code as an open-source project called Chromium, on which Chrome releases are still based.
Since its inception in late 2008, Chrome has "taken off" as a major source for people surfing the internet. The chart below, sourced by StatCounter, indicates since 2010, Google's Chrome has outpaced Microsoft's (NASDAQ:MSFT) Internet Explorer and Firefox as a top search engine. (This chart is based on results from Desktop, Mobile, Tablet and Console browsing.)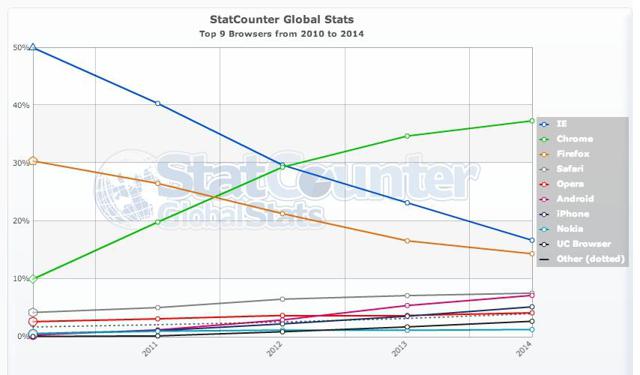 As far as market share goes, Google's Chrome has ~37% of the above indicated market share. Microsoft's Internet Explorer is currently second at ~17%, while Apple's (NASDAQ:AAPL) Safari and iPhone are quite low on the list, with only ~8% and ~5%, respectively.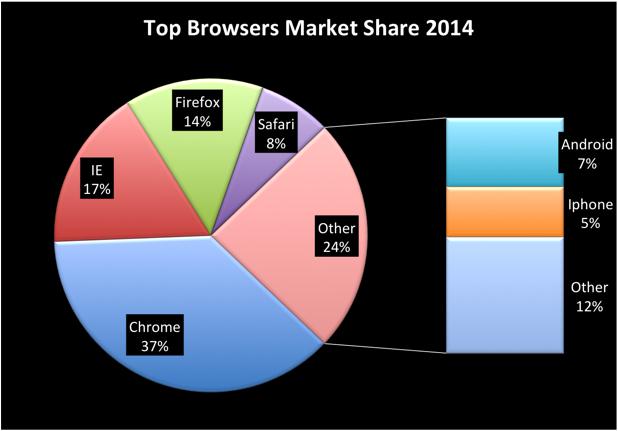 As Chrome is outpacing the market when it comes to the overall picture, this has produced a direct positive effect on the company's ability to source ad revenue. As Chrome's address bar doubles as a Google search bar, it brings a user directly to the Google search results page where the company hosts ads.
So, what does this mean for Google earnings and growth?
Profitability
In analyzing Google's profitability over the past few years, we can see that the company is profiting on the growing internet space, as well as driving traffic to its ads.
Net income 2011 = $9.737 billion
Net income 2012 = $10.737 billion
Net income 2013 = $12.920 billion
Net income 2014 TTM = $13.026 billion
Since 2011, Google's net profits have increased from $9.737 billion to $13.026 billion in 2014 TTM. This indicates a substantial increase of 33.78%.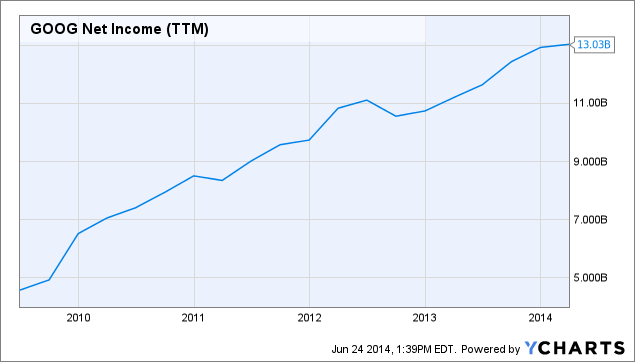 GOOG Net Income (TTM) data by YCharts
Operating Income
Operating income is the cash generated from the operations of a company, generally defined as revenue less all operating expenses, but calculated through a series of adjustments to net income.
Operating income 2011 = $11.742 billion
Operating income 2012 = $12.760 billion
Operating income 2013 = $13.966 billion
Operating income 2014 TTM = $14.333 billion
As we can see, over the past three and a half years, Google's operating income has also increased significantly. In 2011, Google reported an operating income of $11.742 billion. In 2014 TTM, Google reported an operating income of $14.333 billion. This represents an increase of 22.07%.
Based on the revenue and operating income metrics listed above, we can see the positive impacts that a growing internet space, coupled with a dominant browser has had on delivering users to the company's ads.
But, if we look a little deeper into the picture, things are not a rosy as they appear. IE (Internet Explorer) still has market share for desktops. Estimates are that IE has a 43% market share in this space, while Chrome has ~30% market share. Apple's Safari, on the other hand, is the most popular browser on mobile devices. So why is this of concern?
One major concern regarding Google's fundamentals are the profit margins. As the landscape of advertising is in constant flux, Google must be on the leading edge of technological change. A significant challenge for Google looking forward is the growing mobile ad space.
As many of Google's users are increasingly accessing their sites on smartphones, where ads currently provide less revenue than on tablets and desktops, this bodes the question, will growth outpace declining margins?
Gross Margin: Gross Income/Sales
Gross margin 2011 = $24.717 billion/$37.905 billion = 65.21%
Gross margin 2012 = $29.541 billion/$50.175 billion = 58.88%
Gross margin 2013 = $32.753 billion/$57.386 billion = 57.07%
Gross margin 2014 TTM = $35.611 billion/$62.294 billion = 57.16%
As we can see above, Google's gross margin has been declining since 2012. One of the reasons for this weakness is the increasing use of mobile devices. As ad revenues are not as strong in the mobile ad space, it is showing up on Google's balance sheet.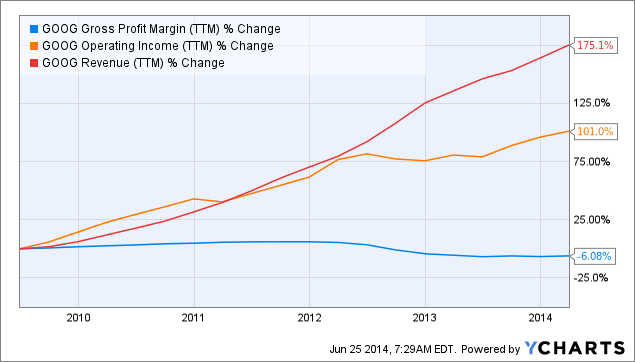 GOOG Gross Profit Margin (TTM) data by YCharts
The chart above reveals that profit margins have dropped, while revenue has increased. What this equals is a degradation in expectations for the company's operating income. The chart above indicates that operating income kept up with revenue growth until 2012. 2012 was the year that the profit margins dropped below the 60% range.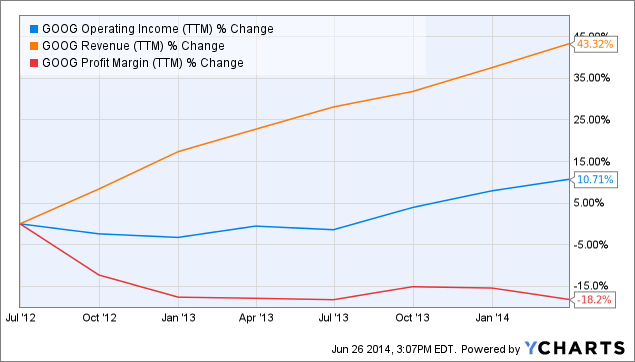 GOOG Operating Income (TTM) data by YCharts
If we take a look at the issue over a shorter time period, we can see that the issue is magnified.
So, the way I see it is, macro growth from the global internet space is currently outpacing a degradation of margins. As the internet expands into emerging markets and continues to broaden its branches throughout the globe, Google, as the dominant player in the space, will grow with it. At this point, as the mobile ad clicks become more dominant, an investor should have less expectations for the bottom line growth of the company.
Disclosure: The author is long GOOG, GOOGL, AAPL. The author wrote this article themselves, and it expresses their own opinions. The author is not receiving compensation for it (other than from Seeking Alpha). The author has no business relationship with any company whose stock is mentioned in this article.