A new survey by Accenture found that within the next five years, 57% of global energy consumers would be interested in solar panel or connected-home solution installation, as more people seek to lower their energy bills, increase energy efficiency, and further integrate technology into their lives. According to the survey, only 7% of energy consumers worldwide are currently interested in those options, meaning that there's a lot of opportunity for solar and smart grid companies in the coming years.
In addition to mounting consumer interest in these solutions, domestic demand for a smart grid is growing because the aging U.S. electrical grid is increasingly limited in its capabilities. Bloomberg reports that power outages have skyrocketed over the last three decades, up 285% from 1984. The argument for the smart grid is that a digitized system built on data and automation technology will be able to accurately determine the exact amount of energy needed in a location, resulting in a system that distributes power more efficiently than the status quo.
So which stocks can benefit from the growing demand for smart grid technology? A screen of smart grid stocks pulled from Alt Energy and the First Trust NASDAQ Clean Edge Smart Grid Infrastructure ETF reveals that Advanced Energy Industries (NASDAQ:AEIS), American Superconductor Corporation (NASDAQ:AMSC), and EnerNOC, Inc. (NASDAQ:ENOC) experienced a significant increase in institutional buying in the current quarter, suggesting bullish sentiment towards their future and the adoption of smart grid technology. Advanced Energy Industries manufactures power conversion products; American Superconductor Corporation offers advanced grid systems, engineering plan services, and wind energy solutions; EnerNOC provides energy intelligence software to energy retailers, power grid operators, utilities, and electricity end-users.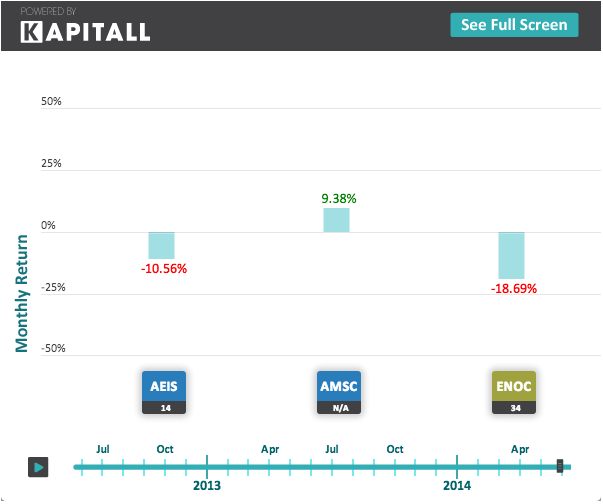 Click here for the full, interactive chart.
Net institutional purchases of Advanced Energy Industries totaled 2.1 million shares, which represents approximately 5.47% of the company's float of 38.38 million shares. The two major holders of the Advanced Energy Industries are Price (T.Rowe) Associate Inc. with 3 million shares and Frontier Capital Management Company with 2.7 million shares. Meanwhile, net institutional purchases of American Superconductor Corporation reached 4.9 million shares, roughly 7.61% of its float of 64.38 million shares. Susquehanna International Group and BlackRock Institutional Trust Company are the top two shareholders, owning 4.2 million and 2 million shares, respectively.
EnerNOC saw net institutional purchases of 1.5 million shares in the quarter, which is about 6.16% of the company's float of 24.35 million shares. The two top holders of company shares are Brown Capital Management with 1.6 million shares and Silvercrest Asset Management Group with 1.2 million shares.
A profitability screen then revealed that EnerNOC has reported rising gross profit margins year-over-year for the last three years. Since gross margin is the percentage of profit a company makes for each dollar it generates in sales (excluding production expenses), a consistent rise in gross margin indicates that the firm is in control of its costs and able to retain more profit from its revenue. In the twelve months ending December 31, 2011, EnerNOC's gross margin was 43.06%, up from 42.95% a year earlier. Gross margin increased to 44.41% during the twelve months ending December 31, 2012, and, at the end of 2013, rose to 49.85%.
In addition, EnerNOC's revenue growth overall is consistently better than most of its peers'. EnerNOC's revenue grew by 29.30% over the last five years, while the industry average stands at 10.55%. On a trailing twelve month basis, the software company's revenue increased 40.76% compared to the industry average of 14.31%. And EnerNOC's first-quarter revenue rose by 59.85% from the same period a year ago, eclipsing the industry average of 10.74%.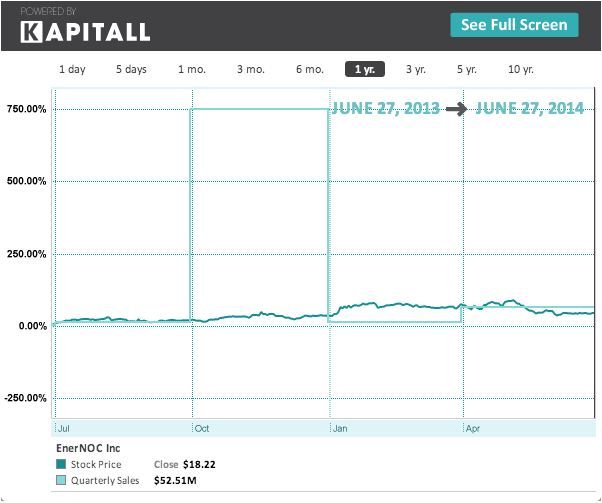 Click here for the full, interactive chart.
A look at EnerNOC's earnings shows that the company experienced a 2.68% growth year-over-year in first-quarter EPS compared to an industry average of -8.05%. The company beats the industry on a trailing twelve month basis, with 169.07% growth compared to 50.35%. Lastly, EnerNOC's projected EPS growth of 69.57% for next year is also better than the 10.55% industry average.
Disclosure: The author has no positions in any stocks mentioned, and no plans to initiate any positions within the next 72 hours.
Business relationship disclosure: Kapitall is a team of analysts. This article was written by Mary-Lynn Cesar, one of our writers. We did not receive compensation for this article (other than from Seeking Alpha), and we have no business relationship with any company whose stock is mentioned in this article.