Political turmoil and military violence in Iraq have once again taken control of the financial news headlines, giving investors little rest after the seemingly constant stories of unrest in the Ukraine. Situations like this tend to be pivotal for those that focus on the commodities space, as there are certain sentiment indicators and regions of the world that are particularly influenced by changes in generalized economic uncertainty.
Military conflicts will often lead to downside growth revisions or expectations that transportation routes for oil supplies could be disrupted. In most cases, this will put upside pressure on precious metals ETFs, like the SPDR Gold Trust ETF (NYSE:GLD) or iShares Silver Trust ETF (NYSE:SLV). Similarly bullish effects can also carry over into the United States Oil Fund LP ETF (NYSEARCA:USO), which could benefit if supply levels begin to show significant declines. But it is important to remember that these are just general rules, and not all market scenarios unfold in ways that can be assumed based on previous tendencies.
Underlying Factors: Production Output
This reminds me of a football coach I had in high school, who said: "The worst type of player is the one that never follows the coach's rules. It's also the player that does nothing but follow the coach's rules." In this case, investors will need to show some level of self-direction as there are significant reasons to believe that any price changes in oil based on negative news headlines out of Iraq will be transitory in nature. In short, Iraq is not going to be what guides the real moves in oil as we head into the second half of the year.
Instead, we will need to look at productivity levels (both in the US and in Iraq) as a better measure in determining where oil prices are likely to travel in the coming months. Stronger numbers out of the US and increased projections for energy exports out of Iraq suggest that any bullish moves that are inspired by short-term trader reactions to news scrolls could be equally weighted and lead to no significant changes in USO or in the underlying price of oil.
(Chart Source: US Energy Information Administration)
Dollar Impact: EUR/USD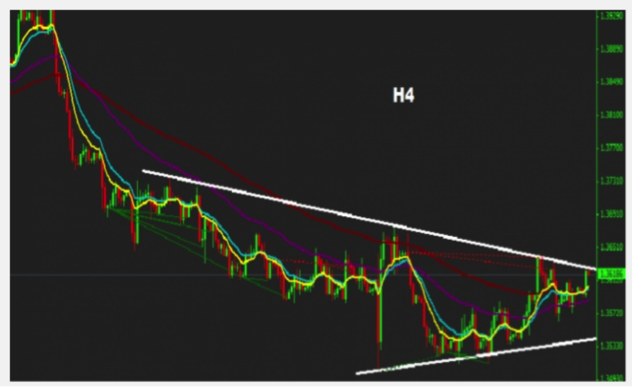 (Chart Source: Orbex)
Most stock investors watch the PowerShares DB US Dollar Index Bullish ETF (NYSE:UUP) as a means for assessing the strength or weakness of the US dollar. But the EUR/USD forex pair provides a more direct assessment of the relative strength of the currency against its most commonly traded counterpart. In the chart above, we can see a clear bullish trend in the US dollar that could gain in momentum if the 1.35 level is removed as support. A stronger dollar would provide another bearish counter balance for oil, which could deter further rallies in oil if Iraq continues to make headlines.
Disclosure: The author has no positions in any stocks mentioned, and no plans to initiate any positions within the next 72 hours. The author wrote this article themselves, and it expresses their own opinions. The author is not receiving compensation for it (other than from Seeking Alpha). The author has no business relationship with any company whose stock is mentioned in this article.