In spite of the recent run-up, Intel (NASDAQ:INTC) is still an attractive buy. INTC has been on a nice climb since my last Seeking Alpha article where I called for a Strong Buy for Intel due to improved PC sales. Intel breached a new 52-week high of $31 yesterday.
I was offline for 14 days so it pleases me very much to report that Intel has bested its chip rivals for the last 30 days.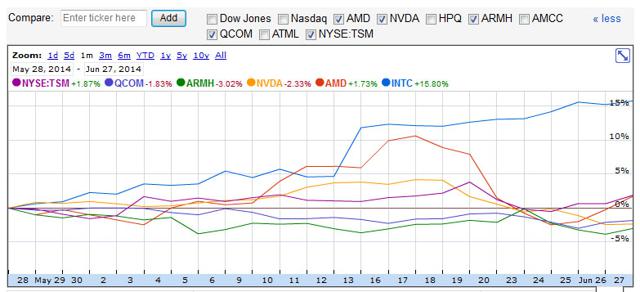 Source: Google Finance
A 30-day +15.80% performance reveals that INTC hit the radar of more and more value investors. June 27 delivered a new 10-year high for INTC. This momentous event also coincided with Intel's new effort to enter the Smart TV market. Google (NASDAQ:GOOG) (NASDAQ:GOOGL) and Intel unveiled the Android TV platform yesterday.
The Smart TV Gold Mine
These two tech giants want to compete with Apple (NASDAQ:AAPL) and Amazon (NASDAQ:AMZN) in the Smart TV sector. Google wants Intel to supply processors for Android TV products. The previous Google TV venture was a failure and Intel gave up and sold its OnCue Cloud TV assets to Verizon earlier this year. However, Intel and Google are hoping that the pervasive presence of Android OS among smartphone and tablet users will help Android TV.
In the battle for the living room, Google lost to Apple and Roku. The Apple TV hobby became a $1 billion business for Apple last year. The Smart TV industry is a new growth sector and Apple TV's growth over seven years is a testament to how Google and Intel missed this opportunity.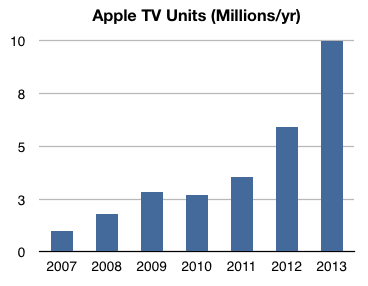 Source: Horace Dediu
Google and Intel know that a non-smartphone device like Smart TV is a boatload of money that they no longer want to miss. The massive opportunities presented by connected TV or IP TV are deep and strong future revenue streams.
The Smart TV gold mine is not only limited to hardware sales. Google, just like Apple is enjoying now, wants the drip money from selling video content and apps to consumers.
Google's success is Intel's success. Furthermore, Google will probably shoulder most of the subsidies or incentives to market Android. Selling processors without having to do contra revenue for Android TV is therefore great for the overall bottom line of Intel.
Android TV is Not Google TV 2.0
Android TV is not Google TV 2.0. Instead of again relying on the concept of marrying cable TV content with online content, this new Smart TV initiative will be leveraging games and apps as a primary selling point. Google TV and the old Intel OnCue Cloud TV service were unsuccessful due to the difficulty of negotiating with content providers.
Google (and Intel) hopes to sidestep this obstacle early by emphasizing gaming and apps usage on Android TV. The mafia of video and TV content providers will eventually become more amenable once Android TV makes decent penetration in U.S. households. Greed, like water, seeks its own level. Android TV is likely to become as ubiquitous as Android smartphones.
Android TV is a platform for OEMs to create products that are akin to Amazon s Fire TV, a set-top box with hardware controllers. Google has already seen some success with its $35 Google's Chromecast Smart TV dongle. Amazon does not publish sales for its Fire TV but I bet the product is selling well due to its game controller. The current Apple TV does not have this gaming option.
Android TV's future products will ship out with game controllers and not just remote controllers to navigate the UI. Physical controllers is why console gaming is still a robust industry. Tablet and smartphone gamers have recently risen. However, Microsoft and Sony are still raking in billions of dollars in sales because many casual and serious living room gamers do not like touch-based controls.
The Benefits to Intel Investors
Supplying chips to Android TV should be a long-term tailwind for INTC. Android TV products can provide more cover-up money for Intel's massive long-running contra revenue campaign for its smartphone/tablet chips. Google's push of the Android OS platform towards non-smartphone devices is where Intel can piggyback ride.
Consequently, Intel's strong support for Chrome OS and Android OS is incentive for Google to support Intel. Google will not ostracize x86 chips for ARM-based processors in servers, desktops, mobile, and smart devices. The Android TV partnership says Google and Intel will continue to enjoy a symbiotic partnership.
With Intel inside Microsoft and Google hardware products, INTC will remain relevant (and highly profitable) for the next ten years.
This is still true even if Intel remains a bench player in smartphones and tablets. Smart devices like the Android TV promise to become a bigger market for Intel processors.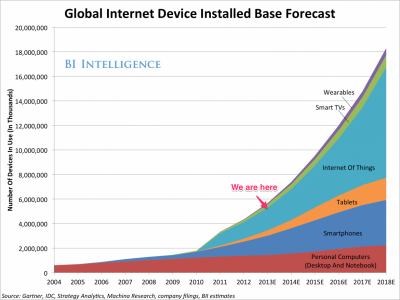 Source: BI Intelligence
Conclusion
Alpha Omega Mathematica's market-comparative scoring algorithm (which ignores event-driven factors) still rates INTC a Strong Buy. Some Seeking Alpha users might be tempted to do some profit taking on Monday. On the other hand, the Android TV event is a tangible reason why long-term investors should continue holding on to their INTC.
Intel breached $31, $32 is just around the corner. More investors bored with Apple and Qualcomm (NASDAQ:QCOM) might soon realize that Intel is not just a PC/smartphone chip company. Intel processors are worming inside new smart computing products. Intel is a versatile company that is strategically positioned to grow with the Internet of Things flow. Android TV is just a small step towards the rise of the Intel Inside Everywhere evolution.
Several technical indicators still rate INTC a BUY. BarChart's short-term, mid-term, and long-term technical indicator tracker gives INTC a 100% Buy recommendation. I am tempted to do some profit taking on Tesla (NASDAQ:TSLA) on Monday to increase my INTC holdings.
The stock market is changing its feather - Intel outperformed darling momo tickers like TSLA and Facebook (NASDAQ:FB) for the last 30 days. Intel, as a company, will never have the charisma of Elon Musk, but INTC's great value in plain sight will eventually attract more long-term bulls.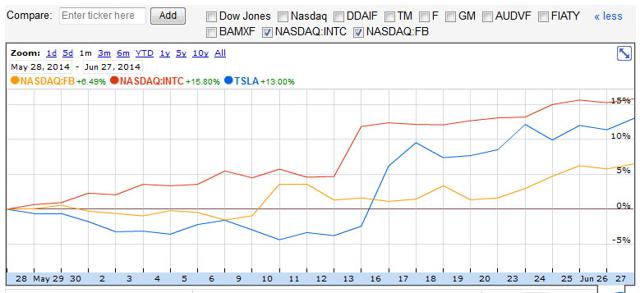 Disclosure: The author is long INTC, AAPL, GOOG, TSLA, FB. The author wrote this article themselves, and it expresses their own opinions. The author is not receiving compensation for it (other than from Seeking Alpha). The author has no business relationship with any company whose stock is mentioned in this article.