As the Dow Jones and S&P 500 continue to push new highs, the threat of a market correction or pullback remains in the front of many investors' minds. Stocks with high multiples are almost always the hardest hit during a pullback, because investors flock to safer assets and aren't willing to pay for companies with high multiples. Stocks that have high multiples with large market caps can become victim of their own success in the stock market as the P/E ratio and EPS growth begin to converge. There comes a point in a stock's growth pattern where it becomes increasingly difficult to expand at the same growth rate due to size, competition, logistics, and a number of other factors. This slowing EPS growth results in investors not willing to pay for high multiples and share prices decline to a level that more accurately values the company. Amazon (NASDAQ:AMZN) may be nearing this tipping point. Amazon is a Wall Street favorite and can seemingly do no wrong. However, there will be a point where fundamentals must be accounted for and wild valuations can no longer be sustainable. While I am a customer and a fan of Amazon, I wouldn't touch it as an investment at this level.
As an example of large growth stocks nearing unsustainable levels, I will use Wal-Mart's (NYSE:WMT) rise to power. By 2000, Wal-Mart was one of the largest companies in the world with a market cap of over $250 billion and a P/E ratio ranging from 40-55.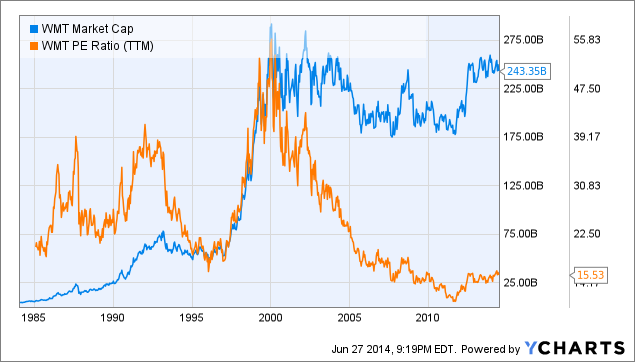 This marked the peak of Wal-Mart's stock for over 10 years as the P/E ratio and other multiples fell back to appropriate levels. Early investors in Wal-Mart enjoyed tremendous returns from the stock, but the same cannot be said for investors getting in near Wal-Mart's peak P/E ratio. Thinking Wal-Mart could continue its success unabated into virtually every market around the globe turned out to be surprisingly true. Wal-Mart now operates over 11,000 stores in 27 countries and employs 2.2 million people. However, long-term investors in Wal-Mart over the past 15 years have seen surprisingly little capital appreciation.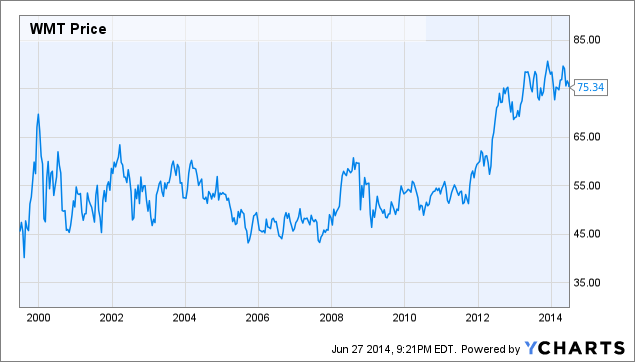 From 2000-2014, net income rose from roughly $5 billion to $16.02 billion and revenue has gone from roughly $175 billion to $476 billion.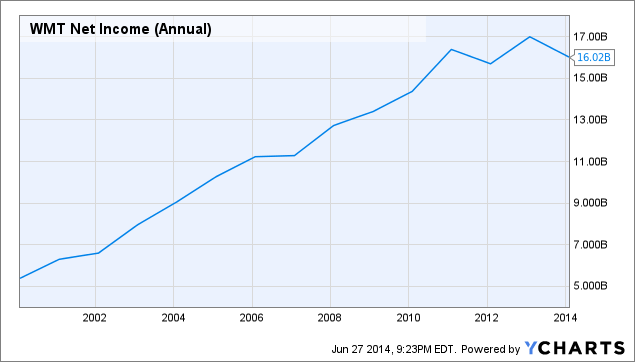 So why didn't shareholders see the share price continue to increase by leaps and bounds as they had in the past? The market began to readjust its view of the company and the excitement behind the growth died down, resulting in a new view of how the company should be valued. A high P/E for a company valued at over $250 billion is impossible to sustain and there will be a price adjustment.
With a market cap of $150 billion, does Amazon deserve a P/E over 500, a forward P/E over 200 and a FY2015 P/E over 100? Soon Amazon will reach a point where the market will want to see actual profits and if the stock doesn't deliver with incredible sustainable results, it too will begin to get revalued with realistic multiples. As the EPS growth and P/E ratios begin to converge for Amazon, the stock may enter a long period of stagnant price appreciation. Amazon as a company may very well continue to grow and maintain its dominance in the industry, but shareholders getting in at these levels may not experience the same success.
 

Three months ended May 31

 

($ millions)

2014

2013

Y/Y % change

Net Product Sales

$ 15,705

$ 13,271

18.3%

Net Service Sales

$ 4,036

$ 2,799

44.2%

Total Net Sales

$ 19,741

$ 16,070

22.8%

Operating Expenses

$ 19,595

$ 15,889

23.3%

Operating Income

$ 146

$ 181

-19.3%

Net Income

$ 108

$ 82

31.7%

EPS

$ 0.23

$ 0.18

27.8%
Source: Amazon Earnings Release
In the last quarter, sales at Amazon increased 22.8% to $19.7 billion. It's very likely that Amazon can continue to increase revenue at a pace of 15-25% over the next several years. After all, Amazon has one of the best logistic systems in the world and a loyal and expanding customer base that enjoys the ease of ordering online through Amazon.com. Amazon also continues to expand to other areas, including online content to compete with Netflix, cloud computing, and its own smartphone. But does this warrant a forward P/E of over 200 and when will Wall Street want to see profits?
Hurdles Ahead
1. International sales account for roughly 40% of Amazon's business. When most businesses look for expansion in the international market, China is the biggest prize. Here is Amazon's biggest hurdle. How do they compete with Alibaba? Alibaba operates primarily in China and in 2012 had sales of over $170 billion. Going against an established giant like Alibaba will limit any growth Amazon will hope to see in China.
2. Amazon had sales of almost $75 billion in 2013, but only $274 million in net income. An annual profit of 0.36% for an established company would result in a massive sell-off for most stocks, but Amazon continues to get free passes because of potential. When Amazon decides to focus on profits, it may be able to squeeze a few more percentage points out of cutting costs, but the primary way the company will increase profits will be through price increases. Customers love Amazon because of the ease and often because it can beat competitors' prices. When Amazon raises prices to a similar level as its competitors, will customers remain loyal? Even with a loyal customer base at higher prices, will the company still see the strong sales growth?
Unsustainable Levels
When Amazon begins to take advantage of its business model and really starts steadily producing strong earnings, it will need to bring in annual EPS of $6.50 to get to a P/E of 50. Analyst consensus earnings projections for 2015 are $4.17/share. For Amazon to get to a P/E of 50, the company must increase EPS by 55% to $6.50/share from 2015 to 2016. This also assumes a flat stock price of $325 for the next 2 and a half years. If Amazon stock grows by 10% a year for the next 2 and a half years, the stock price would be over $400/share and to get to a P/E of 50 it would have to double EPS to $8.25 from 2015 to 2016. This is why I believe Amazon is entering a pattern similar to Wal-Mart in 2000. The company will continue to thrive and grow, but the valuation of the stock is so out of whack that it's entering a growth trap.
Conclusion
Amazon is one of the best stories over the past decade and will grow its business model for years to come. However, the stock is so overvalued that investors should avoid it and think about cashing out their profits. Even a slight shift in investor sentiment toward Amazon could send the stock reeling. At such high multiples, the company is walking a fine line between continued success and stock stagnation. Whether it comes from a market correction or a few missed earnings reports, the stock will get re-valued at some point over the next couple of years. When this happens, the stock will enter a period of stagnation and become a growth trap. The P/E ratio and EPS growth will begin to converge resulting in a more fundamentally sound stock. Even with the company increasing revenue and net income, the stock price will likely fluctuate in a fairly tight trading range during this time as seen with Wal-Mart from 2000 to 2012. Because of the large downside risk and potential for extended periods of little capital appreciation, I remain a fan of Amazon, but not an investor.
Disclosure: The author has no positions in any stocks mentioned, and no plans to initiate any positions within the next 72 hours. The author wrote this article themselves, and it expresses their own opinions. The author is not receiving compensation for it (other than from Seeking Alpha). The author has no business relationship with any company whose stock is mentioned in this article.