Microsoft (NASDAQ:MSFT) is using the Android Open Source Project (ASOP) platform to defend itself from Google (NASDAQ:GOOG). Nadella might not be too happy about Microsoft's entire purchase of Nokia's phone business, but he knows the Nokia X platform was a sharp knife against Google. Shipping out the Nokia X2 confirms Nadella is committed to this tactic of using modified Android OS in the fight to contain Google's growth.
Microsoft's foray into becoming more Apple-like (hardware/software firm), calls for Microsoft to be more creative in its approach. Relying on Windows Phone alone is no longer enough to slow down the Android OS behemoth. Despite putting out $100 Windows 8 handsets, Microsoft is still a dwarf among giants.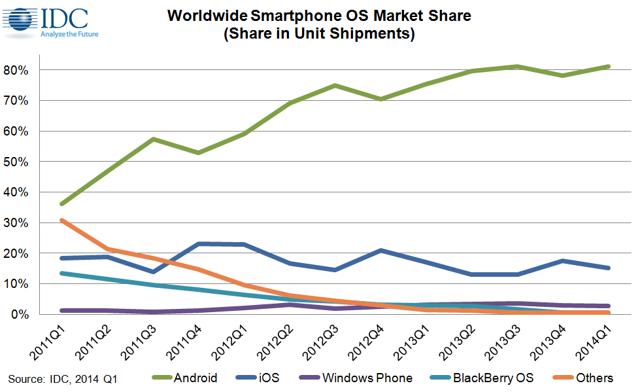 Click to enlarge
The chart above shows how grim the situation is for Microsoft's mobile campaign. Google enjoys over 80% market share in smartphones. Microsoft's lucrative cloud computing business is under threat - more people will eventually use their phones for their personal and enterprise cloud services.
Nokia X2 Is A Defensive Move for Microsoft
The battle is not just over smartphones. It is not a distraction for Microsoft to continue supporting the Nokia X platform. Selling a non-Google Android phone like the X2 helps Microsoft proliferate mobile usage of its cloud services like Skype, Bing, and HERE maps. This tactic is in line with Nadella's new plan to remodel Microsoft into a Cloud-First, Mobile-First company.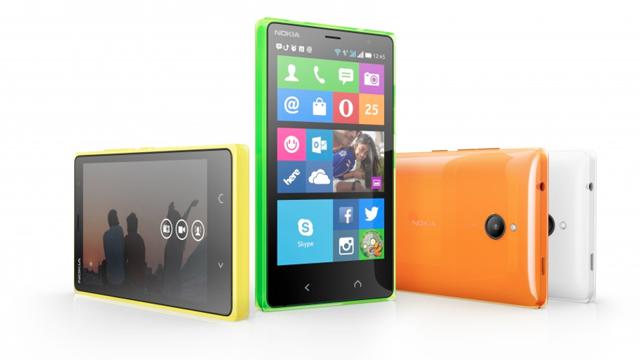 Click to enlarge
Source: Microsoft
The surging integration of smart devices with cloud services requires Microsoft to have more devices with Microsoft-branded apps. Microsoft is no longer a Windows/Office software company. Nadella gave away free Windows licenses to encourage more OEMs to make more Windows Phone products. Microsoft is also planning to deliver sub-$200 Windows mobile gadgets.
All these freebies and promos are still not attractive enough for more OEMs and consumers to abandon Android OS. The Nokia X2 is therefore a good way (and definitely faster method) to add more users of Microsoft Azure cloud/mobile infrastructure. It is not important that Microsoft will lose money (via subsidies) in marketing the $130 Nokia X2. What is important is that Microsoft steals mobile cloud computing customers away from Google.
Selling Android Phones Is Easier Than Selling Windows Phones
It is the current market reality that selling Android phones (with its massive library of apps), is much easier than selling Windows phones. Microsoft should still aggressively push Windows Phone 8.1. However, app developers and device manufacturers will still put Android OS as their priority platform. Majority of consumers will remain cold to Windows Phone as long as most app developers ignore it.
Incentives, subsidies, and outright bribes will not make an app developer completely drop Android for Windows Phone 8.1. The Android OS already owns more than 80% global market share. This reality is a compelling reason for Microsoft to continue making Nokia X2 versions profit from the global success of Google's Android OS.
A $130 Nokia X2 is more attractive than a $130 Lumia Windows phone. The X2 is also a good alternative to the very excellent $130 Moto E. The bigger 1GB RAM, faster dual-core SnapDragon 200 processor, ClearBlack Display, and bigger screen of the X2 makes it worthy substitute to the Moto E.
If Microsoft can deliver a 90% compatibility for Android games for the Nokia X2, I believe that emerging market residents like me will find the Nokia X2 a great buy over the Moto E.
Conclusion
Putting Bing inside Android phones is backstabbing Google's search advertising revenue. The world has made Android OS the dominant mobile platform. Google remains the runaway leader in mobile search engine usage. Nokia X2 can help Microsoft's Bing grab more market share from Google.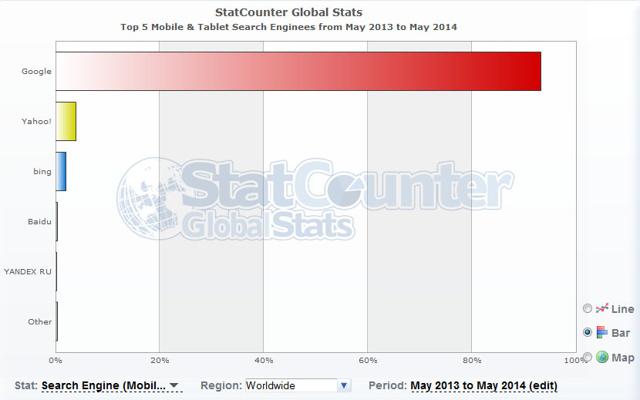 Click to enlarge
Source: StatsCounter
Furthermore, app developers, OEMs, and consumers prefer Android OS for their products. Microsoft should just use Google's strength to compete. No incentives or bribes will compel an app developer to prioritize programming apps for Windows Phone over Android OS.
Consequently, manufacturers are enthusiastic in making Windows Phone products if their apps count is much lower than iOS or Android. Consumers made Android smartphones dominant not only because they are cheap - they also bought them for the more than 1 million Android apps available.
I am not in favor of the Windows 8.1 UI skinning of the Nokia X2. I look forward to Microsoft coming out with new models of this phone with TouchWiz-like UI. This is to further convince buyers that Nokia X2 is no different from other Android phones.
Same look, same software operation, same hardware parts, same performance, but no Google apps and services.
Microsoft is a Strong Buy. Nadella is a pragmatic leader who is willing to forego personal feelings for the long-term benefit of Microsoft. Alpha Omega Mathematica gives MSFT an overall score of 93%. I am confident that the Growth Indicator Scores below should improve once Microsoft gets better smartphone sales with the help of the Nokia X2.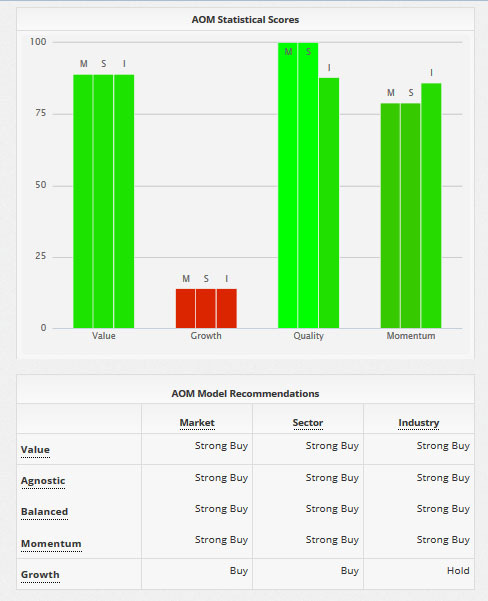 Source: getaom.com
Ten analysts from BarChart echo my bullish Buy call for MSFT. Short, medium, and long-term technical indicators also give MSFT a Buy rating. I plan to do some profit taking on Tesla (NASDAQ:TSLA) on Monday to increase my bet on Intel (NASDAQ:INTC)…and make a new investment on Microsoft.
Disclosure: The author is long GOOG, INTC, TSLA. The author wrote this article themselves, and it expresses their own opinions. The author is not receiving compensation for it (other than from Seeking Alpha). The author has no business relationship with any company whose stock is mentioned in this article.