As markets continue their recent run of instability, investors have grown more and more frustrated with the shaky returns that equities have generated. As a result, many have fled to fixed income, or precious metals to keep their assets safe. Bond ETFs have seen inflows of nearly $532 billion since January of 2009, and likewise precious metal ETFs have surged in popularity as gold has skyrocketed along with other traditional inflation hedges. In a time where investors have little faith in equities, government data reports can be a big market mover.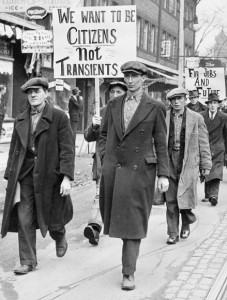 Today, some of the nation's most important economic indicators will be released, the change in non-farm payrolls and the official unemployment rate. Unemployment levels comments on our economy's production, consumption, wages, and consumer sentiment. A high unemployment rate points to lower consumer buying power, trickling down to manufacturers and businesses who struggle during times of low purchasing.
Additionally, it also puts pressure on the Fed to keep interest rates low so that businesses can cheaply borrow the capital required to increase production and eventually hire workers. So if things are really bad later today look for it to spur the Fed to ramp up its easing program in order to try to boost the struggling economy.
On the other hand, a low unemployment is great news for our economy; it suggests higher levels of consumption and production are right around the corner. While no one is forecasting a return to sub 5% unemployment anytime soon, many analysts were surprised by the sharp drop in first time claims for unemployment yesterday which could signal to many that the economic situation is finally beginning to bottom out.
Though there are many definitions for unemployment, the current official government definition is the number of people who are out of a job, but are actively seeking and are available to work. In August, unemployment stood at 9.6%, and that figure is estimated to rise for the month of September. This expectation comes despite a strong month in the stock market and increased optimism over growth in emerging markets, nevertheless, analysts believe that September's unemployment rate will come in at 9.7%. Though this change may be small, any rise in unemployment usually translates to a rough trading day for markets.
With this pivotal economic indicator on tap, today's ETF to watch will be the Vanguard S&P 500 ETF (NYSEARCA:VOO). This all U.S. fund spreads its assets evenly across various market sectors and charges an incredibly low expense ratio of just 0.06%. Though this ETF is just weeks old, it has already gained 4.2% since its debut in mid-September. If the unemployment rate comes in higher than the previous figure, look for VOO to take a hit on the day as many will fear that the recovery is not on track. But if unemployment sees a surprising drop (with jobless claims coming in lower than expected yesterday some are still hoping this may be a possibility), VOO should have a strong trading day, as all of its securities will reap the benefits of this valuable economic indicator.
Disclosure: No positions at time of writing.
Disclaimer: ETF Database is not an investment advisor, and any content published by ETF Database does not constitute individual investment advice. The opinions offered herein are not personalized recommendations to buy, sell or hold securities. From time to time, issuers of exchange-traded products mentioned herein may place paid advertisements with ETF Database. All content on ETF Database is produced independently of any advertising relationships.