U.S. stocks fell Thursday, sending the S&P 500 Index lower for a second day, as mining and energy companies fell after commodity prices erased gains and PepsiCo (NYSE:PEP) led consumer-staples shares lower. Chevron (NYSE:CVX) and Freeport-McMoRan Copper & Gold (NYSE:FCX) paced losses in commodity producers as a rebound in the dollar drove down oil and metals prices. PepsiCo shed 3% percent after lowering the top end of its annual profit forecast, while Marriott International slumped 5.8% after the largest U.S. hotel chain missed earnings projections.
The Euro continued its assent, breaking through the 1.40 glass ceiling at one stage on Thursday. Now adrenalin junkies may like the appeal of climbing a rock face without the use of ropes, leaving no obvious support levels on the ascent should they slip. I noted earlier in the week that the technical signals on EUR/USD do not yet point to any sign of vertigo, and this remains the case. But the trajectory of the upward moving trend-line is decidedly scary and typically such slopes are unsustainable. As a result, I think it pays to be a little more cautious ahead of the G7, notwithstanding the surprising silence of the ECB & Euro politician on the matter
This morning's highlight was of course another disappointing set of US jobs numbers with the monthly NFP report showing another 95k in job loses against a consensus market expectation for a -5k print. The main culprit was the loss of 159k government jobs. One would have to think nothwithstanding the comments from Fed President's Fisher & Bullard below that copper fastens the case for QE2 at the next Fed rendezvous, hence the muted reaction of the equity markets.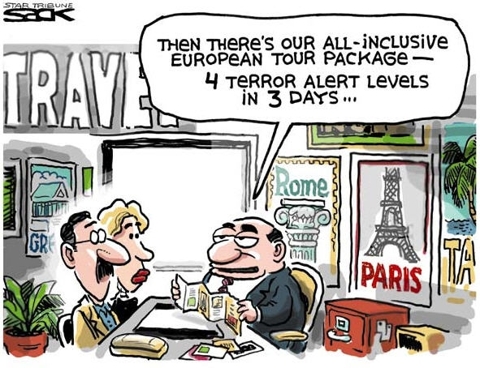 European stocks opened with a soft bunkered tone ahead of US non farm payrolls. Citigroup (NYSE:C) in a research note today downgraded European auto and media stocks to "underweight," while upgrading financial and food and beverage shares to "overweight"."Banks with strong balance sheets and exposure to growth via emerging markets should be well placed to deliver positive returns," Citigroup strategist Jonathan Stubbs wrote. For auto shares, "we would exercise some near-term caution as incentive schemes expire and the macroeconomic environment remains uncertain."
Today's Market Moving Stories
Overnight China's stocks rose the most in four months after Moody's Investors Service put the nation's debt rating on review for a possible upgrade, retail sales surged and the yuan climbed to its strongest against the dollar since 1993.
QE In The USA
In a speech, yesterday, Dallas Fed President Richard Fisher (a non-voter on the FOMC this year but a voter in 2011) suggested that a further round of policy easing could not yet be assumed, saying "there is a great deal of legitimate debate still to take place within the FOMC on the subject of quantitative easing and the pros and cons…of further monetary accommodation," adding that the FOMC "did little to…settle the debate" at the August meeting. However recent comments from New York Fed President Bill Dudley and Executive Vice President Brian Sack suggest to us that a November move is very likely. Fisher's own view on further easing was a very cautious one, concluding that the "efficacy of further accommodation at this point has yet to be established". Specifically he highlighted the "abundant liquidity" already in the financial system and the importance of fiscal and regulatory uncertainty in holding back business spending and employment. Seems to me the announcement of renewed policy easing at the November FOMC meeting is likely.
Meanwhile, speaking today in a CNBC interview, St Louis usually uber dovish Fed President James Bullard commented that further QE was a "tough call" and that "the risk of a double-dip recession has probably receded in the last six to eight weeks". He added; "the economy has slowed, but it hasn't slowed so much that it's an obvious case to do something. A very reasonable decision would be to say, "maybe we should push it off a meeting or two and see how the data comes in."
US Outlook
Retailers reported surprisingly solid sales gains for September, boosted by back-to-school shopping in the first half of the month, raising hopes for the holiday season.
US Consumer borrowing declined in August as Americans trimmed credit-card balances, showing consumers remained reluctant to take on more debt as joblessness climbed. Credit declined by $3.34 billion after falling a revised $4.09 billion in July, more than the previous estimate, according to a Federal Reserve report released today in Washington. Credit-card debt decreased for the 24th consecutive month.
The Federal Deposit Insurance Corp. has authorized more than 50 lawsuits against officers and directors of failed banks as the agency aims to recoup more than $1 billion in losses stemming from the credit crisis. The lawsuits were authorized during closed sessions of the FDIC board and haven't been made public. Why doesn't Ireland try this with Fingelton et al…then again Mt Ponsi scheme Brefne O'Brien is still at large!
UK Inflation
The MPC's has long been expecting that inflationary pressures would be banished by subdued activity. The September producer price data dealt a further blow to that expectation, with both input and output prices stronger than expected. Input prices rose by 0.7% m/m versus a consensus forecast of 0.4%, and upward revisions to the back data meant the annual inflation rate stood at 9.6% y/y in September against a consensus forecast of 8.6%. Headline output prices rose by 0.3% m/m (consensus 0.1%) while core output prices registered a 0.4% m/m gain (consensus 0.2%).
In y/y terms, headline output price inflation stood at 4.4% in September while core output price inflation was 4.6%. Although the read-across from producer prices to consumer prices is far from direct, it is difficult to argue that factory gate price inflation at these levels is consistent with hitting a 2% inflation target for CPI. Subdued growth may argue for more policy support, but the MPC targets inflation and the inflation data are not making it easy for the committee to respond to real economy weakness.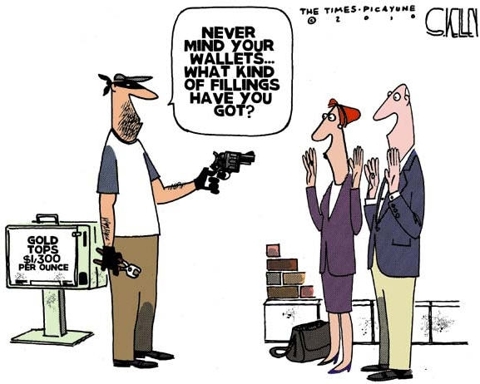 Company / Equity News
Barclays (NYSE:BCS) is off 3% Friday after Abu Dhabi's ruling family hedged its entire stake in the bank, with Nomura, the counterparty in the agreement, selling 649 million pounds in shares of the U.K. lender as part of the deal. Nomura sold 220 million shares in Barclays at 295 pence per share in connection with hedging activities on behalf of PCP Gulf Invest 3 Ltd., a company controlled by Abu Dhabi, according to a person familiar with the deal.
Credit Suisse (NYSE:CS) has fallen 2.2% after Barclays downgraded the shares to "underweight" from "equal weight," saying the Swiss bank has more of a capital shortfall than UBS and is trading "more expensively".
U.S. authorities ordered HSBC Holdings PLC's (HBC) North American unit to beef up its risk management and compliance with federal antimoney laundering laws after an investigation found the banking giant's procedures violate U.S. banking laws. Thursday's action, which came in the form of a "cease and desist" order from the Federal Reserve and the Office of the Comptroller of the Currency, is embarrassing because of the spotlight it shines on compliance lapses in a global bank with a cautious reputation and operations around the world.
Sage Group is softer after UBS cut its recommendation on the shares to "sell" from "neutral," saying it is sceptical about the possibility of any buyers for the U.K.'s largest software maker.
Elsewhere, Gecina has dropped 5.5% Friday after Banco Castilla-La Mancha sold 1 million shares in the French real- estate company for 86 euros each.
Goodbody's Stockbrokers on Kerry Group today: "Judging from the large turnout at Kerry's investor day in the City of London yesterday (the best attended ever for the company) there was a tacit acknowledgment that Kerry Group really has got something special going for it and that its unparalleled success was not a 25 year flash-in-the-pan. International institutional investors were clearly keen to learn more about the model that has delivered consistent earnings growth, combined with low volatility that has proved itself in good times and bad.
Sanofi-Aventis (NYSE:SNY) CEO Chris Viehbacher provided a possible price range of $69- a-share to $80-a-share to buy Genzyme Corp. at a Sept. 20 meeting with the U.S. company's chief. Henri Termeer, the Genzyme CEO, declined to agree to the range at the meeting, Cambridge, Massachusetts-based Genzyme said in a regulatory filing yesterday. Sanofi's existing offer of $18.5 billion, or $69-a-share, is "inadequate and opportunistic," Genzyme said, urging shareholders to reject it.
Betfair Group, which enables bettors to wager against each other online, set the price range for its proposed London share listing, giving the company a value of as much as 1.48 billion pounds ($2.4 billion). The indicative price range for the initial public offering on the London Stock Exchange is between 11 pounds and 14 pounds a share, Betfair said in a Regulatory News Service statement today. That gives a market value of 1.16 billion pounds to 1.48 billion pounds, which would make Betfair eligible for the FTSE 250 index, the London-based company said. Betfair provides a medium for bettors to wager between themselves over the Internet, rather than with a bookmaker. The company receives commissions on all winning bets, usually of between 2 percent and 5 percent.
Adobe Systems (NASDAQ:ADBE) shares surged 12% yesterday after a New York Times report fuelled speculation that Microsoft Corp. (NASDAQ:MSFT) may work more closely with the company or possibly acquire it. Microsoft Chief Executive Officer Steve Ballmer recently met with Adobe CEO Shantanu Narayen to discuss closer collaboration, the Times said.
Staying with tech, IBM (NYSE:IBM) rose to the highest level since it went public in 1915 as investors show support for Chief Executive Officer Sam Palmisano's strategy of remaking the 99-year-old company. IBM gained 88 cents to $138.72 at 4:01 p.m. in New York Stock Exchange composite trading, topping the previous record of $137.88, adjusting for stock splits, reached in July 1999. Palmisano has focused on services and software, making the company once known for mainframe computers into the world's biggest computer-services provider.
But Micron Technology (NASDAQ:MU) fell 2.3% to $6.95 in after hours trading. The largest U.S. maker of computer-memory chips reported fourth quarter net income of 32 cents a share. Analysts had estimated a profit of 38 cents.
Alcoa (NYSE:AA) rose 3 % after hours to $12.57. The largest U.S. aluminum producer reported third-quarter earnings excluding certain items were 9 cents a share, topping the 5-cent average estimate of analysts surveyed by Bloomberg.
In the UK, Virgin Media is interested in extending its super-fast broadband network by running fiber- optic cables along BT Group Plc's (NYSE:BT) telegraph pole network, the Financial Times said, citing Virgin Media. The move could help to expand Virgin Media's network coverage to as many as 16 million U.K. households, the FT said.
Disclosure:
None