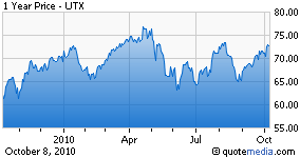 United Technologies (NYSE:UTX) is a diversified conglomerate that provides a broad range of high technology products and services to the global aerospace and commercial building industries. Its core operating subsidiaries include Carrier, Hamilton Sundstrand, Otis, Pratt and Whitney, Sikorsky, UTC Fire & Security Systems, and UTC Power.
Looking back, George David retired as CEO last year after serving 34 years with United Technologies. During his fourteen years as CEO, the company's market capitalization rose from $8 to $64 billion. A member the Dow Jones Industrial Average, United Technologies is one of just two companies in the Dow Jones whose share price more than doubled in the past ten years. Likewise, the company's dividend rate over the same period more than tripled. Their substantial increase in dividends is quite impressive for a company that spent $3.7 billion on company-and-customer-funded research and development last year alone.
Among other things, Hamilton Sundstrand is the largest integrated systems supplier on the new Boeing 787 Dreamliner. In addition, Sikorsky's X2 Technology Aircraft was recognized as one of the world's top new technologies by Time and Popular Science magazines. Sikorsky's also manufactures the famed military helicopter, the Black Hawk. Lastly, Otis, named after the inventor of the elevator, is the most profitable company in the elevator and escalator industry.
UTC Power also boasts a very lucrative green-energy product portfolio. Moreover, newly appointed CEO and Chairman Louis Chenevert talks briefly about the value-added by UTC Power solutions:
A Whole Foods Market in Dedham, Massachusetts is meeting approximately 90% of its electricity and hot water requirement on-site with fuel cell technology by UTC Power…100% of the power of a Cabela's [a large outdoor sporting goods retailer] in East Hartford, Connecticut comes from four UTC Power fuel cells.
With a Standard and Poor's debt rating of A, P/E and dividend yield of approximately, 16 and 2.3% respectively, United Technologies might warrant a great investment for the investor seeking exposure to the Industrial Technology market. After all, United Technologies has trampled over a fellow industrial competitor, General Electric (NYSE:GE), in regards to shareholder return this past decade.
Disclosure: Author long GE