Exelon (NYSE:EXC) is an interesting case study showing how some companies provide a dividend to attract equity investors, while also issuing shares on the back end to reduce the value of the same investor group's stock. By combining a high dividend yield alongside stock dilution, many companies can manage to afford the high dividend yield simply because they are giving you money in a nice envelope up front, and essentially pick-pocketing you on the back-end.
There was an interesting post by Meb Faber a few days ago that illustrated this point very well:
The overall dividend yield for the market is about 2.2%, and the highest yielders are at 4.3% - this is what attracts the bees to the honey. However, what is missed is the net buyback... Note that the broad universe, the median stock isn't buying back any shares, and the dividend stocks are actually net issuers! That is what I like to call sneaky dilution - they pay you dividends with one hand, but issue stock with the other hand. (Emphasis Added)
In the case of Exelon we have the perfect example of this in effect. Here we can see the Number of Shares Outstanding rising over the last 2 years while the Dividend decreases on a per share basis to cover the spread.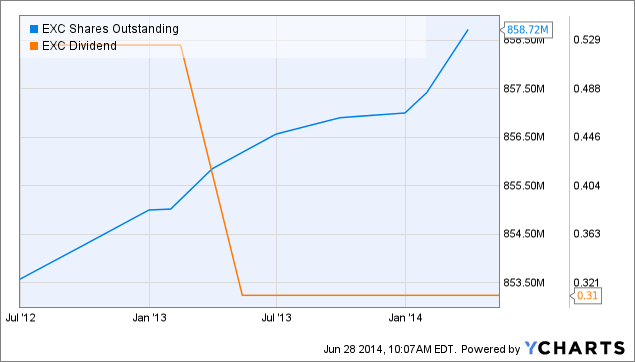 EXC Shares Outstanding data by YCharts
To illustrate Meb's point more clearly, or more precisely, we can see the following: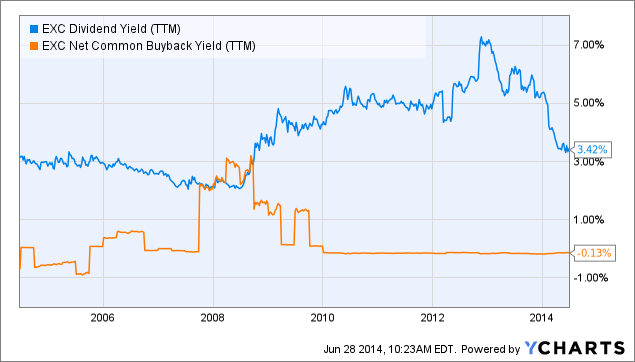 EXC Dividend Yield (TTM) data by YCharts
One shouldn't buy Exelon because the dividend yield is 3.42% as this is reduced by management's dilution of those shares with a negative buyback yield of -0.13%. This may not seem like much, but one can also see that in the past the two yields have netted zero. It is also difficult to determine the extent to which this will continue happening in the future, which provides a certain level of uncertainty to the stock which can be an issue for some investors. There is therefore an 'uncertainty of management' item for consideration with respect to Exelon.
In conclusion, I'm not saying that Exelon is a poor company for investment. However, the company is certainly engaged in a form of "sneaky dilution" which could present an issue for some investors down the road. And finally, if one does consider Exelon for investment purposes, they should be cautious of choosing it simply because it is a dividend payer.
Disclosure: The author has no positions in any stocks mentioned, and no plans to initiate any positions within the next 72 hours. The author wrote this article themselves, and it expresses their own opinions. The author is not receiving compensation for it (other than from Seeking Alpha). The author has no business relationship with any company whose stock is mentioned in this article.