By David Russell
Agriculture stocks are surging today, and traders are getting long using options on a fund that tracks the entire sector.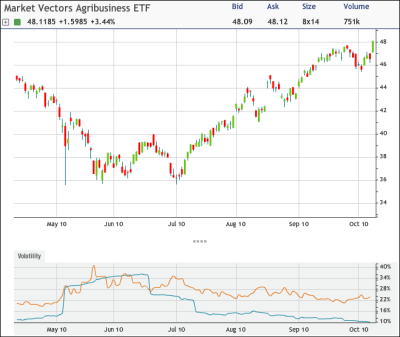 The Market Vectors Agribusiness (NYSEARCA:MOO) exchange-traded fund is up 3.44 percent to $48.12 in midday trading and has gained 33 percent since the beginning of July. It holds stakes in fertilizer and seed companies such as Potash (NYSE:POT), Mosaic (NYSE:MOS), and Monsanto (NYSE:MON).
optionMONSTER's Heat Seeker tracking system detected the purchase of 3,000 October 47 calls on MOO for $1.15 and $1.25 against open interest of just 168 contracts. The calls only have one week until expiration, so the investor is looking for a short-term move.
The rally in agriculture followed a report by the U.S. government that supplies of wheat, corn, and soybeans would be lower than previously expected. That drove up grain prices and hammered companies such as Tyson Foods (NYSE:TSN) and Smithfield Foods (NYSE:SFD) that purchase food for animals.
MOO also the sale of 2,000 November 50 puts for $3.10 against open interest of 15 contracts. The trade, a somewhat unusual in-the-money put sale, will let the investor leverage a rally to $50 but no higher.
Overall options volume in MOO is 12 times greater than average so far today.

Disclosure: No position