I am initiating on Michael Kors (NYSE:KORS) with a bullish view and a DCF-backed target price of $119, implying a 31% upside from Friday's close. I believe KORS provides investors with an unique multi-year growth story due to ongoing accessories innovation and a healthy mix of distribution channels that put KORS on the path to become an iconic global brand.
I forecast revenue growth of 17% in the next four years with an assumed 30% normalized operating margin. Store count is projected to grow at a 14% CAGR in the next four years as KORS expands its geographical reach, in particular emerging markets and Europe where KORS is best positioned for market share expansion. My DCF model assumes Beta of 1.0, 8% cost of equity and 3% terminal growth rate to derive a target price of $119, or 31% total share return in the next twelve months.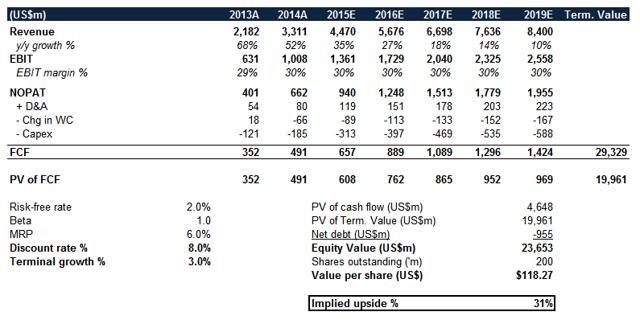 Withstanding the industry headwind
My view of the overall apparel sector is that sales growth will remain stagnant due to competition from cheaper alternatives (i.e. H&M, Zara) with the addition of margin pressure due to weak store traffic as purchasing behaviors shift to online. Nonetheless, I see companies that focus on brand accumulation and non-apparel categories (i.e. accessories, beauty products, and footwear) will likely withstand the headwind and maintain steady store traffic. Meanwhile, I still see an ecommerce platform to be critical to companies such as KORS as it opens up an additional distribution channel and a platform for brand engagement (i.e. mobile apps, email alerts). KORS stands out among the US-listed softlines brand due to its focus on accessories (estimated to be 80% of FY14 sale) and strong ramp up of its ecommerce platform.
Well-balanced channel mix
KORS maintains a well-balanced mix of retail and wholesale distribution channels. Based on my channel check, I conclude that KORS distribution strategy is well executed. In the company's own retail channels, handbags and accessories stacked the shelves with ~15% of the handbag collection consists of KOR's high-end products, "MK Collection." In addition, both footwear and hand accessories (i.e. watch/jewelry) have a balanced and broad lineups. No apparel products could be found in the retail networks, and I believe this is the right strategic move given the overall industry headwind.
The wholesale channels, which consist of mostly Macy's and Nordstrom have more selection than the company-owned channels but pricing is also lower, which is better suited for the entry-level luxury consumers. Moreover, apparel items could be found in wholesale channels, indicating a differentiated strategy that KORS pursue.
Overall, I believe KORS' channel mix ensures a better coverage of the consumer segments, decreases the likelihood of brand dilution and protects pricing power.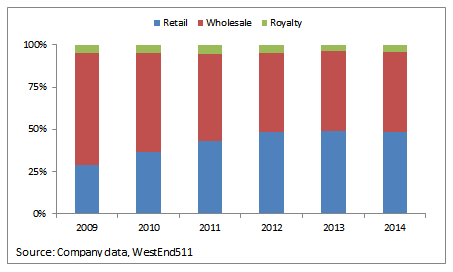 The path towards becoming an iconic global brand
In my view, KORS has the potential of becoming an iconic global brand in the next five years, driven by a combination of differentiated channel strategy, continuous product innovation and brand accumulation in overseas market. In FY14, international accounted for 16% of KORS sales (compared with 11% in FY13 and 9% in FY12). KORS' entry into Europe has proven to be successful with sales growing at a 161% CAGR over the past three years. Asia, on the other hand, saw sales CAGR of 230% over the same period, although from a lower base.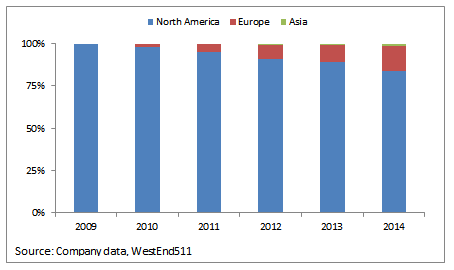 Nonetheless, Europe and Asia could continue its growth trajectory on the back of recovering consumer sentiment and rising disposable income, in particular Asia's middle class. Besides Japan, China is no doubt a strategic market for KORS as indicated by the opening of two flagship stores in Beijing and Shanghai since January. KORS could overtake Coach (NYSE:COH) in China as the premier entry-level luxury brand as the younger working class generation place a greater emphasis on trendy accessory items rather than the classic looks that Coach offers, in my view.

Valuation
I value KORS with a DCF-backed price target of $119, implying 31% upside from Friday's close. I forecast a four-year revenue CAGR of 17% on the back of solid execution and international rollout. I see KORS to maintain a normalized 30% operating margin with the help of ecommerce, pricing power and lower marketing spend due to increasing brand awareness. Capex is forecasted to be 7% of sale as it expands its global footprint. My DCF model assumes an 8% discount rate on 2% risk-free rate, Beta of 1.0 and market risk premium of 6%. Assuming a terminal growth of 3%, I derive a price target of $119/share.
Disclosure: The author has no positions in any stocks mentioned, and no plans to initiate any positions within the next 72 hours. The author wrote this article themselves, and it expresses their own opinions. The author is not receiving compensation for it (other than from Seeking Alpha). The author has no business relationship with any company whose stock is mentioned in this article.