By Ivan Y.
In my last article on silver (NYSEARCA:SLV), I wrote about how June was historically the worst month of the year for silver. It had declined in price in fourteen of the last twenty years in June. Now that we are almost at the end of the month, it appears that silver has moved against that historical tendency this year. It is currently up over 11% for the month, which is the best performance it has had in at least the last 24 years. I say 'at least' because the data I have only goes back so far. Silver's positive performance this month is due to several reasons:
The ECB's announcement of negative interest rates on June 5th.
The U.S. government's announcement of a 2.13% CPI inflation rate for May 2014. Inflation has not been this high since October 2012. On top of this, after the Fed meeting on June 17-18, the market started to believe that Janet Yellen and the Fed are behind the curve on inflation.

Throughout June, ISIS militants in Iraq made advances and captured most or all of Mosul, Fallujah, and Tikrit.
Hedge funds and managed futures funds built up record short positions on COMEX silver futures. The record position occurred on June 3rd and shorts have been covering the last three weeks.
Silver has rallied by over $2 from its bottom in early June, but where is it headed now? Although I have been long SLV since almost literally the first day it began trading in April/May 2006, I believe the signals show that silver is either at or very close to a short-term top. The first problem is the RSI. The RSI for SLV is at 78. That indicates a very overbought condition. If you look at a 3-year chart for SLV or spot silver, it's very clear that every time the RSI goes above 70, a pull-back in price follows.
The second problem that I see is the fact that many of the short positions from the June 3rd record high have already been covered. On June 3rd, there was a total of 49,012 contracts (equivalent to 245 million ounces) held short by the so-called Large Speculators (i.e. hedge funds and managed futures funds). On June 24th, those short positions have been cut in half to 24,830 contracts. Based on these two signals, the RSI and COT, it seems that silver is at or approaching a short-term top.
A Little Good News
For silver bulls, there is at least one reason to believe that prices have further upside, and that is that July is historically a good month for silver.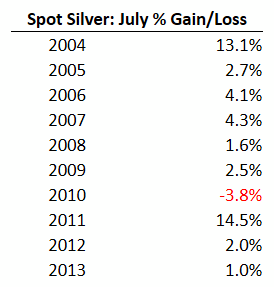 As you can see, silver has gone up in nine of the past ten years. That's better than Larry Bird's career free throw percentage of 89%. Even though last year was a dismal year for silver, it still managed to eke out a small gain. Please note that if I expanded the above table to show the last twenty years, the picture for July would not look as pretty. It would look more like Dennis Rodman's career free throw percentage of 58%.
Final Thoughts
If you are a long-term silver bull and already have your positions and plan to hold for several years, then nothing I wrote about in this article really matters. Any price movement in the next week or month is just noise and won't have any impact on the price in the long-term. However, if silver does indeed experience a sell-off due to overbought conditions, then another opportunity to accumulate may present itself.
Disclosure: The author is long SLV. The author wrote this article themselves, and it expresses their own opinions. The author is not receiving compensation for it (other than from Seeking Alpha). The author has no business relationship with any company whose stock is mentioned in this article.