The world's best-selling wearable high definition action camera company GoPro (GPRO) went public this Thursday in what is the largest IPO for any electronic consumer company in 23 years, since Duracell offered its IPO in 1991. The company raised $427.2 million by selling 17.8 million class A shares priced at $24 , as compared to Duracell which managed to raise $433 million at its debut. The IPO, which values the company at $2.96 billion, is also the first IPO offering for any consumer electronic company since Skullcandy (SKUL) went public in 2011 for $188 million. GoPro is building upon its momentum and showing no signs of slowing down. Living up to the hype, the company's stock price rocketed up on its first day of trading gaining 30.6% and closing at $31.34, a befitting action packed debut for a company loved by its daredevil customers. The reason for such a huge increase in its price was due to the fact it was heavily oversubscribed. As of Friday, the stock continued with its upward trend and was trading at $35.92, showing an increase of 14.61%, around 4 PM.
Company Profile
The CEO of the company Nicholas Woodman is also the President of the company and has served as its Chairman since January 2014, and along with his family has a 48% voting control in the company. His post-offering stake in the company with 52.4 million shares as of Thursday has increased to $1.64 billion. The company is headquartered in San Mateo, California whereas it has established subsidiaries in Hong Kong, Germany and Cayman Islands.
GoPro's current statistics and its potential for growth
GoPro was the most popular video camcorder company in the United States for the year ended 2013 and its Hero series cameras accounted for more than 45% of the total camcorder market in the country. After debuting in July 2009, the high definition video recording company has sold 8.5 million devices around the globe, which is a remarkable achievement for a relatively new company. GoPro is particularly preferred by athletes and hikers who are able to attach the cameras on their helmets and film their progress and performance. The company has over 2 million subscribers on YouTube and according to the company, more than 1 billion views and over 50 million watched hours of videos as of the first quarter of 2014. The company was ranked at number one on YouTube for the first quarter of 2014 for engaging the most number of users on its YouTube channel.
The company generates most of its revenue through focusing on hardware, but seeks to expand in other fields as well, with recent partnerships with Microsoft's (MSFT) Xbox and Virgin America which would allow it to earn revenues through advertising and sponsoring on its channels. GoPro has also introduced easy to use video editing software GoPro Studio, which can further help it to increase profits as demand for its video cameras increases. Until 31st March 2014, there had been 4.3 million downloads of this software and approximately 20,000 videos per day are edited using this software. In addition to YouTube, the company has around 7.5 million likes on Facebook (FB), 2.3 million followers on Instagram and over 1 million followers on Twitter (TWTR) which shows its popularity in social media. The followers, likes and video views are a steep rise showing a continuous trend.
The company's products have been endorsed by top channels such as The Discovery Channel and ESPN as well as Olympic champion Shaun White, and the surfer champion Kelly Slater. In addition, it has a marketing relationship with over 120 athletes, adventurers and celebrities.
Potential Problems for GoPro in the future
GoPro is dependent on another company Ambarella Inc. (AMBA) to provide it with the chip that powers its cameras. However, there is a risk involved that GoPro might be relying a little too much on Ambarella, especially since it is also providing chips to Google (GOOG) for the DropCam, a home security camera company which it recently acquired. GoPro also faces competition from famous camera companies such as Sony, Nikon, Olympus, Canon which also are introducing light weight and easy to use camcorders. However, GoPro still leads in the field of Action video recorders, which are most suitable for athletes and sportsmen.
Financial Outlook of GoPro
The company's revenues have been showing a steady increase, rising from $526 million in 2012 to $985.7 million in 2013. As of the first quarter of 2014, the company has so far reported revenues worth $235.7 million. The increase of its revenues is closely linked to the rising demand for its camcorders, with 3.8 million units shipped in 2013, compared to 2.3 million shipped in 2012. The units shipped in the first quarter of 2014 stood around 0.9 million.
The company has also been heavily investing in research and development, with expenses in the first quarter of 2014 139% higher at around $28 million as compared to $12 million for the same period in 2013 with efforts being made to expand the company's product profile.
The net income of GoPro has also been showing a positive trend showing an almost 100% increase in 2013, growing from $32.3 million in 2012 to $60.6 million in 2013. The reported net income for the first quarter of 2014 has $11 million. This positive trend can be attributed to the increase in revenues, which have resulted in greater gross profits, and a control on the sales, marketing and general expenses which have not increased in the same proportion as the revenues.
Net cash provided by operating activities, which is an important measure of a company's liquidity position, has also improved tremendously for GoPro, increasing from $8.4 million in 2012 to $102.5 million in 2013. The figure was $17.7 million for the first quarter of 2014. Therefore, the company is expected not to face any liquidity risks in the near future, and would be able to meet its short-term obligations.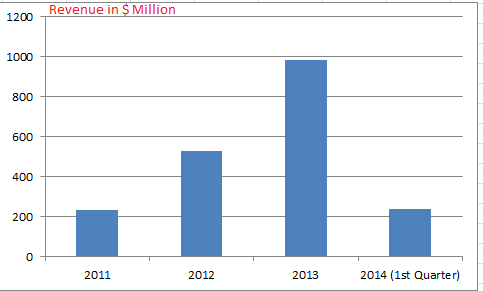 Source: Author
Conclusion
With the company's brand getting ever popular, the revenue and income streams are anticipated to show an upward trend which would further strengthen the financial stability of the company. The stock has been growing in double digits for the last two days, and looking at the current trends and people's perceptions about the company, the stock is predicted to rise up even higher. Therefore, in my opinion, the stock is a must buy when the markets open again on Monday.
Disclosure: The author has no positions in any stocks mentioned, and no plans to initiate any positions within the next 72 hours. The author wrote this article themselves, and it expresses their own opinions. The author is not receiving compensation for it (other than from Seeking Alpha). The author has no business relationship with any company whose stock is mentioned in this article.