In late January, I recommended that investors buy the molecular diagnostics company Cepheid (NASDAQ:CPHD) just below $47, with 25% near term upside. The stock immediately rose close to $56 before retracing back. I believe that the stock could rise again due to some new developments, which I will analyze in this article.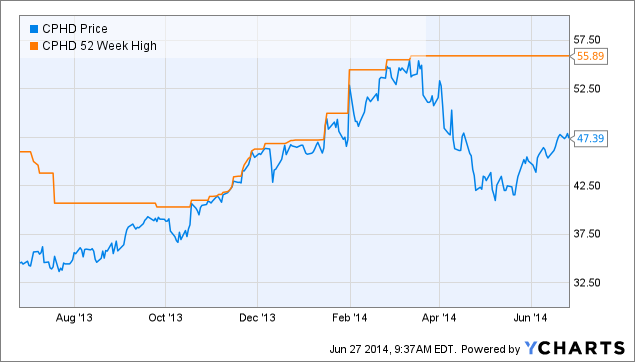 CPHD data by YCharts
Cepheid is developing a fast diagnostic test for detecting multidrug-resistant pathogens. For revolutionizing infectious disease therapy through the test, the company is partnering with pharmaceutical majors including AstraZeneca (NYSE:AZN), GlaxoSmithKline (NYSE:GSK) and Cubist Pharmaceuticals (CBST).
Xpert Carba-R: Cepheid's Revolutionary Test
Cepheid's Xpert Carba-R diagnostic test can detect carbapenemase-producing (resistant) gram-negative bacteria from rectal swab samples. At present, the test is commercially available outside the US and in the US it is under development. Its US commercial release could be in 2015, subject to regulatory approval. Currently the consortium of the pharmaceutical companies mentioned above is working together to expand the number of body sample types from rectal swabs, which will vastly expand the test's potential.
Potential of Xpert Carba-R
A research report released in 2013 by the CDC claimed that nearly 50% of all prescribed antimicrobial agents are ineffective. More than 2 million people in the US develop serious bacterial infections that are resistant to multiple antimicrobial agents. The report further said:
Antibiotic-resistant infections add considerable and avoidable costs to the already overburdened US healthcare system. In most cases, antibiotic-resistant infections require prolonged and/or costlier treatments, extend hospital stays, necessitate additional doctor visits and healthcare use, and result in greater disability and death compared with infections that are easily treatable with antibiotics. The total economic cost of antibiotic resistance to the US economy has been difficult to calculate. Estimates vary but have ranged as high as $20 billion in excess direct healthcare costs, with additional costs to society for lost productivity as high as $35 billion a year (2008 dollars).
The report suggests that the market potential of Xpert Carba-R could be huge in the US alone, in dollar terms.
Antibiotic Resistance Handling: The Current Scenario
Currently, four core actions can be taken to prevent antibiotic resistance, which are, (1) preventing infections from developing, (2) tracking resistance patterns, (3) improving prescribing of antibiotics, and (4) developing new antibiotics and diagnostic tests.
Among the four possible ways to tackle antibiotic resistance, Cepheid's Xpert Carba-R falls in the fourth category. For investors, however, it would be necessary to know the current alternatives of Xpert Carba-R and how Xpert Carba-R could be superior to the existing diagnostic tests.
In today's settings, antibiotic resistance detection is performed in labs in association with a patient's healthcare provider for providing customized solutions. For example, a company, known as bioMérieux, provides its customers resistance detection solutions using their instruments and reagents, with no readily available diagnostic tests. This procedure is costlier and takes up to 24 to 72 hours, whereas Xpert Carba-R can identify the superbug in just two hours.
Recently, two researchers at the University of Fribourg, Switzerland, Prof. Patrice Nordmann and Dr. Laurent Poirel, have developed a new test, called CarbAcineto NP test, which allows the detection of carbapenemase activity in A. baumannii. The test is similar to Cepheid's Xpert Carba-R, but the only difference is that the test can be performed on already isolated bacteria or on the infection site where bacteria is present, whereas Cepheid's test will be able to identify carbapenemase-producing bacteria from rectal swab samples. This essentially means that Cepheid's test will identify the drug-resistant bacteria from rectal swab, but the CarbAcineto NP test will detect whether an isolated bacteria is drug-resistant or not. From users' (who are generally the healthcare providers, not the patients) point of view, Cepheid's test will be handier. Cepheid's test will be commercially more viable also since it is able to detect the superbug itself, which will help the pathological labs perform their jobs in an uncomplicated way.
Valuation
In my last article on Cepheid, I estimated that the enterprise value of company would be $3.975 billion, which would translate into a share of price of $58.60. That valuation was based on Cepheid's total addressable market in TB. If I include Xpert Carba-R in the valuation procedure, the valuation will not change substantially because it will take time for the company to realize revenue from Xpert Carba-R. Although the product is not yet commercialized in the US, I believe that obtaining FDA approval won't be difficult because Xpert Carba-R has already obtained the CE-IVD (in vitro diagnostic) mark. The company will start shipping the product immediately under the European Directive.
Cepheid realized meaningful revenue growth during the first quarter of 2014, with revenue hitting $107 million, a 16% year-over-year rise. However, the company faced a net loss due to higher overall costs. Its R&D and SG&A expenses rose significantly. The good news is that the company successfully launched the new HPV molecular diagnostic test in Europe in the quarter.
Potential of Cepheid's Xpert HPV Test
It is well known that there is a positive correlation between HPV and cervical cancer. However, traditional nucleic acid amplification tests are complicated with batch testing delaying results. But the Xpert HPV test is capable of detecting cervical cancer-related human papillomaviruses in just 60 minutes. Currently Qiagen's (NASDAQ:QGEN) HPV test and Roche's (OTCQX:RHHBY) Cobas HPV test are the primary screening methods for cervical cancer, both of which are based on nucleic acid amplification.
Xpert HPV has been compared with the traditional techniques mentioned above for clinical evaluations. It has delivered equivalent numbers of true positives and far less false positives in women with negative biopsies. Cepheid expects that Xpert HPV will obtain FDA approval by 2016 or 2017.
The Bottom Line
Cepheid's stock has seen significant correction from the top after the company declared negative bottom-line in the first quarter of 2014. However, the stock is rising again driven by its future prospects. I think that the stock is a good investing opportunity around the current price.
Disclosure: The author has no positions in any stocks mentioned, and no plans to initiate any positions within the next 72 hours. The author wrote this article themselves, and it expresses their own opinions. The author is not receiving compensation for it (other than from Seeking Alpha). The author has no business relationship with any company whose stock is mentioned in this article.
Editor's Note: This article discusses one or more securities that do not trade on a major U.S. exchange. Please be aware of the risks associated with these stocks.