In this article, I use financial ratio analysis to compare the performance of Johnson & Johnson (NYSE:JNJ) against two of its major competitors in the consumer goods sector - Procter & Gamble (NYSE:PG) and Kimberly-Clark (NYSE:KMB). In addition, the dividend discount model suggests that at current rates of dividend and earnings per share growth of approximately 7% per annum - Johnson & Johnson's five-year forward price target is $129. However, according to the company's historical P/E ratio trend, Johnson & Johnson is trading significantly above its 5-Year Average P/E ratio, and investors would do well in waiting for a pull-back to capture the full gains from share price appreciation.
Financial Ratio Analysis

Source: YCharts
We can see that on a P/E ratio basis, all three companies are trading significantly above their average P/E ratio over the last five-year period. In particular, Johnson & Johnson is trading at a P/E ratio of 20.05, which is significantly higher than the average P/E ratio of 17.02 achieved in the last five years. A pull-back of 15% would yield a price of $90, so in my opinion, a price range of $90-$100 might be seen as a good entry point for value investors.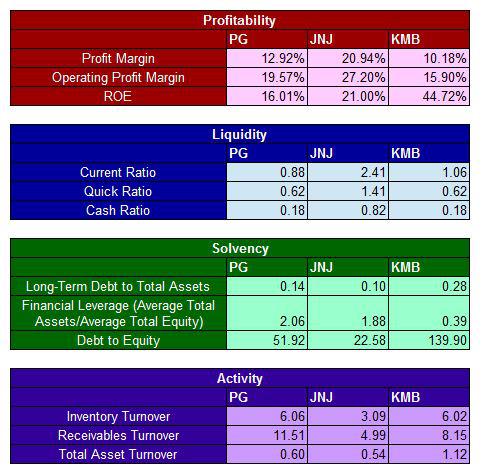 Source: Yahoo Finance and Author's Calculations
The above metrics show that Johnson & Johnson is in many ways showing superior performance to its competitors:
Profitability: JNJ has shown the highest profit margins and operating profit margins of the three firms. While KMB shows a higher ROE, this is likely due to the higher debt levels held by this company.
Liquidity: In terms of liquidity, JNJ has again shown superior performance, with the highest current, cash and quick ratios of the three firms in question.
Solvency: JNJ once again shows respectable performance in terms of meeting its long-term debt obligations, with the firm having the lowest debt/equity ratio and long-term debt to total assets ratio of the three firms.
Activity: While on an activity basis, PG and KMB show higher inventory turnover than JNJ, JNJ still shows higher profit margins, which means it is reasonable to assume that the company is making more profit from the inventory that it is selling. In this regard, lower inventory levels on the part of JNJ should not be a major concern given the company's superior performance in other areas.
Dividend Discount Model
Using a discount rate of 7% (as a traditionally accepted long-term rate of return on the S&P 500), I build a dividend discount model to forecast Johnson & Johnson's dividend growth and growth in earnings on a Terminal P/E basis to forecast a target price of $129.09 for the year 2018. On the basis of historical performance, I forecast a 7% year-on-year increase in both Dividends per Share and Earnings per Share.

Source: Business Insider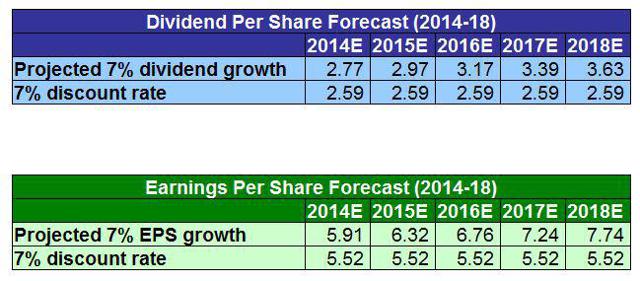 Conclusion
To conclude, Johnson & Johnson has shown superior performance on the majority of financial metrics analyzed. However, it is trading significantly above its 5-Year historical average P/E ratio and with the current EPS and DPS growth rate estimation of 7% per annum, an upside to $129 from current levels would equate to just under a 5% return per year. In my view, even income-oriented investors should expect a higher rate of return from a company that otherwise appears to be performing very well. For instance, if investors were to wait for a 15% pull-back (which, all else being equal would bring the P/E ratio back to its historical average), this would yield a price of $90, and an appreciation to $129 would then result in an 11% annual rate of return. Therefore, my overall view is that Johnson & Johnson is a great company, but investors should be patient in commencing a position.
Disclosure: The author has no positions in any stocks mentioned, and no plans to initiate any positions within the next 72 hours. The author wrote this article themselves, and it expresses their own opinions. The author is not receiving compensation for it (other than from Seeking Alpha). The author has no business relationship with any company whose stock is mentioned in this article.