By Maulik Mody

Treasuries continued to slide after the Labor Department reports for September showed that jobs fell in the U.S. mainly as the Government cut payrolls. Investors bid up stock price as they bet that today's last unemployment reports before the FOMC meeting in early November will add to the concerns of the Fed and invoke action. The slow pace at which the private sector is adding jobs suggested that the even a year after the recession, the economy is incapable of producing enough jobs to absorb the unemployed.
Economic Data
The monthly employment report released today showed that the U.S. lost more jobs than forecasted in September, indicating a sluggish job market. After the drop in non-farm payrolls for August was revised to 57,000, employers cut their staff by 95,000 in September, versus a cut of 5000 forecasted by economists.
Private payrolls, which exclude government agencies, climbed 64,000 in September after an upwardly revised rise of 93,000 in August. But this rise fails to stabilize the labor market, as private sectors shed more than 8.5 million jobs from 2008 through 2009. Private payrolls have been rising this year by the average increase has been less than 100,000 a month. This has been rightfully called the slowest recovery since the recession of 1930's because at this pace of adding jobs, it will take the economy at least 7 years to employ all those who lost jobs during this recession.
Manufacturing payroll fell by 6000 in September, after shedding 28,000 in August. The unemployment rate unexpectedly remained flat at 9.6%, while economist had expected it to rise to 9.7%. Economists believe that this is a strong indication that the recovery is slowing and predict that the sluggish growth will keep unemployment above 9% through 2011 and restrain consumer spending.
In other releases, the average hourly earnings for all employees on a seasonal basis remained unchanged. Considering year-to-date, it continued to increase by 1.7%. The average weekly hours remained flat at 34.2. Wholesale inventories in the U.S. beat expectations to grow 0.8% in August as companies kept stockpiles in line with demand.
Interest Rates
Yields continued to fall in the front end of the curve as investors speculated that today's poor job numbers will considerably move the Fed's decision to purchase Treasuries. The 2-Yr continued to rally as its yield touched a new floor of 0.34%. The belly of the curve flattened as the 5-Yr yield fell 3 bp to 1.10%. The benchmark 10-yr bond fell slightly as its yield inched up a basis point to 2.39%. The 30-Yr bond got cheaper as its yield jumped 3 bp higher to 3.75%. (Click to enlarge0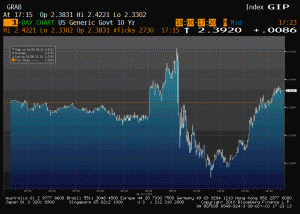 Inflation expectations, as seen in the yield differential between the 10-Yr Treasuries and 10-Yr inflation indexed bonds, widened 6 bp to 1.98%.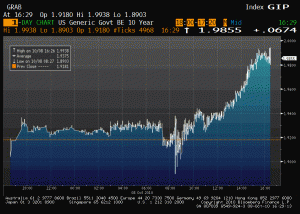 Government bonds gained across the Atlantic as concerns about the U.S. economy grew. France's benchmark 5-Y bond appreciated in price as its yield fell 3 bp to 1.66%. Germany's 5-Yr bond also gained pushing its yield 2 bp lower to 1.42%. 5-Yr U.K. Gilts were trading 3 bp lower at 1.55%.
Yields tightened across the peripherals too. Yield on Portugal's benchmark bond fell 6 bp to 4.86%. Italy's 5-Yr bond yield slipped 3 bp to 2.63%. Greece bond gained slightly as its yield fell a basis point to 9.64%. Spain's 5-Yr bond rallied and pushed its yield 6 bp lower to 2.92%.
Across The Capital Markets
Stocks ended in the green territory after investors speculated that the poor payroll data will act as a strong impetus for the Fed to take steps. The S&P improved 0.6% to 1165.15. NASDAQ gained 0.8% to 2401.91. Dow Jones teased the 11K mark but ended on the greener side at 11006.48. The VIX Volatility index fell to 20.71.
The DXY dollar index weakened slightly to 77.18. The dollar is likely to fall further if investors' belief that the Fed will start asset purchases strengthens further. Euro strengthened slightly against the dollar to 1.3939.
Gold futures continued to gain as investors sought the glowing metal to hedge against the falling dollar.
Disclosure: None