KB Home Inc (NYSE:KBH) reported blowout earnings for 2Q 2014. Revenues of $565 million were 8% higher than the $524 million reported a year earlier. The company also reported net income of $27 million versus a net loss of $3 million a year earlier. Here are the details:
Total revenue increased 8% to $565 million from $524 million in 2Q 2013 mainly due higher average selling prices.
Homes delivered were 1,751, down 3% from the 1,797 delivered in 2Q 2013.
Average sales price was $319,700, a 10% increase over 2Q 2013.
According to the company, the robust average selling price was not a happenstance; it was a result of KB Home's focus on positioning its new communities in land-constrained areas with higher household incomes.
Operating income was 6% of revenue for the quarter, which blew away the 2% operating income margin for 2Q 2013.
Catalysts
KB Home's earnings and business prospects are driven by the following catalysts:
Interest Rates
Interest rates were driven down after the financial crisis of 2008 by the Fed's quantitative easing program. However, even after the Fed has tapered back on its bond buying under quantitative easing, interest rates have still remained low. Such low rates [i] imply that bond traders and investors expect the economy to slow and [ii] is a de facto admission that those big ticket items that drive the economy - housing starts, for instance - have already started to deteriorate. In fact, during the first quarter of 2014 the economy actually contracted. That deterioration of the economy's vital signs spells trouble for cyclical stocks like KB Home.
Below is a chart of housing starts: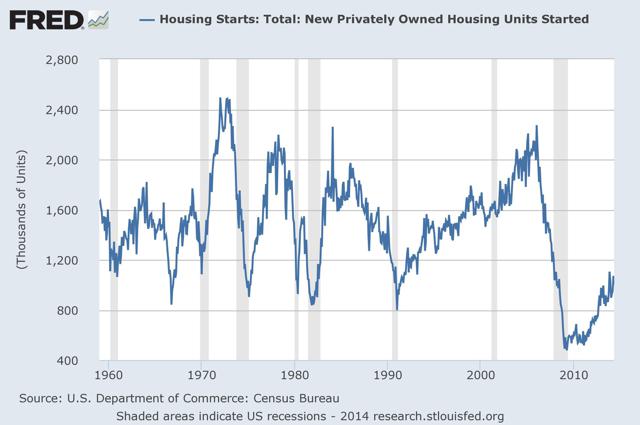 Housing starts hit a trough in 2009 after the financial crisis materialized. However, they have never approached their pre-crisis levels, and that's amid record low interest rates.
With such record low rates, this may be as good as it gets for housing.
Quality of Home Sales
Housing has historically been driven by demographics. When individuals reached their mid-twenties or older, got married, or started a family, etc., it would not be too long before they bought their first home. That's changing, however. Requirements that first-time home buyers have pristine credit and come up with a 20% down payment act as deterrents. Furthermore, millennials, who you would expect to be first-time home buyers, are saddled with student loan debt that has tripled to $1.2 trillion over the past decade.
That begs the question, "Who are the home buyers that are driving prices to record levels?" In 1Q 2014, first-time home buyers represented 52% of mortgages that KB Home originated. The company has not divulged its percentage for 2Q 2014. The housing market is being impacted by investors and all cash buyers - not the steady, predictable customer base one would expect from homebuilders.
Rising Home Prices
KB Home's 2Q 2014 operating income of $34.3 million versus 2Q 2013 operating income of $8.7 million - despite a decline in homes delivered - demonstrates how sensitive the company's earnings are to home prices. That said, home prices are rising nation-wide.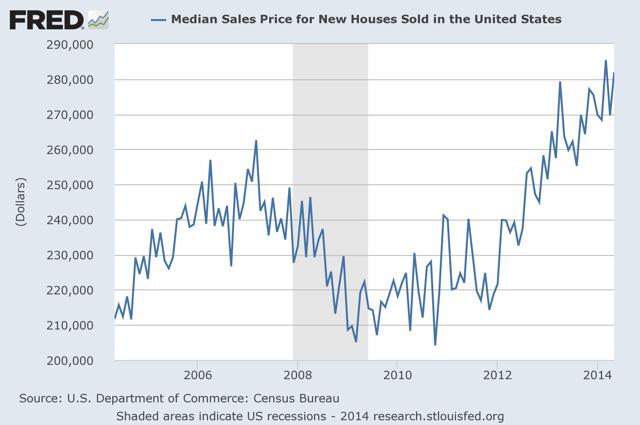 In 2014, the median sales prices of new homes were the highest they have been in the past ten years. How much higher can home prices go? Investors in KB Home are essentially betting that home prices can remain at these levels, masking the decline in the company's homes delivered.
Conclusion
KB Home reported positive results for 2Q 2014. Revenue, operating income and operating income margin were higher in comparison to the same period last year. However, homes delivered declined three percent versus 2Q 2013. The company's earnings and story are predicated on home prices remaining at record levels, which I do not believe will happen. I rate KB Home a sell.
Disclosure: The author has no positions in any stocks mentioned, and no plans to initiate any positions within the next 72 hours. The author wrote this article themselves, and it expresses their own opinions. The author is not receiving compensation for it (other than from Seeking Alpha). The author has no business relationship with any company whose stock is mentioned in this article.