YouTube Fans Funding Feature
Last week at the VidCon conference in Anaheim, CA, YouTube (NASDAQ:GOOG) (NASDAQ:GOOGL) announced a few new features that it plans to implement on its website. One of these features is a new "tip jar" that allows viewers to tip their favorite contributors any amount, from $1 to $500. At first glance, this new feature seems reasonable. YouTube is one of the most popular platforms through which young new artists can express themselves and reach a broad audience. Enabling fans to reward their favorite YouTube artists for their effort and hard work seems logical. At a second glance, the new "tip jar" feature will allow artists who seek initial funding to record an album or go on tour to fund their plans through this new feature. It works similarly to other crowdfunding services that already exist. The funding feature is not limited to the music industry, and any entrepreneur can publish his or her business model or innovative idea on YouTube and reach a wider audience than crowdfunding sites do.
Crowdfunding in a few words
Crowdfunding is a term used to define crowd-backed financing. It enables a large number of people to fund new initiatives that require small amounts of seed funding. As shown in Chart 1, crowdfunding is the first phase of the business funding lifecycle, before angel funding and before different institutional methods of funding.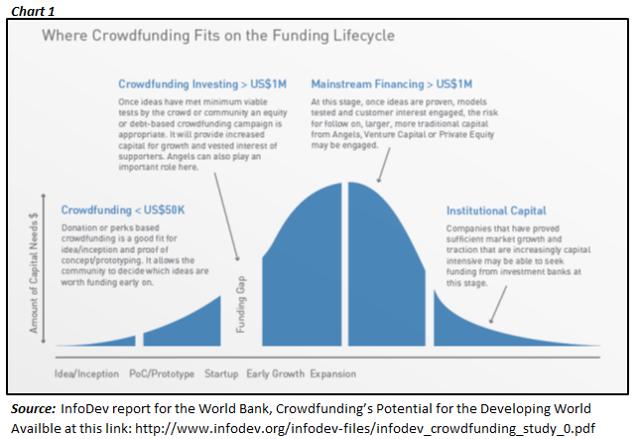 There are many platforms that enable crowdfunding worldwide, and the most known ones are Indiegogo and Kickstarter. Crowdfunding projects vary from social causes and business and entrepreneurship projects to music recording and performing arts. According to a report published by Crowdsourcing.com, global crowdfunding platforms raised $2.7 billion in 2012 and $5.1 billion in 2013. Google could not overlook this increasingly hot market.
Market impact
YouTube's announcement of the fans-funding feature is coming only a short time after Google announced its new Google Domains service. In an earlier article about Google Domains, I explain why I think Google is going to change the web services market as we know it, and I believe that some of the points raised there are relevant for this case, as well. In both cases, Google enters a very competitive market that has a dominant market leader: GoDaddy in the web services market and Indiegogo/Kickstarter in the crowdfunding market. Google is expected to gain substantial market share at the leader's expense and decrease the market share in which the rest of the players can compete.
In the Google Domains case, which is similar to YouTube's "tip jar" case, Google is not expected to attract more revenues that can directly be attributed to the new initiative. These new services that Google announced are targeted at driving more traffic to its advertising and increasing revenues in the long term through ads. Although Indiegogo and Kickstarter are still far from going public, Google's announcement will have an impact on the value of shares held by private investors. Investors intimidated by Google's presence may rush to sell their portions and drive the prices down. Furthermore, future funding rounds for Indiegogo and Kickstarter might be harder in light of Google's presence in the market. A significant venture capital firm will think twice before getting into a market Google is already active in.
Google's plans to enter the crowdfunding market may start an acquisition battle between the different players in the market. The biggest players will try to gain as much market share as possible, probably by acquiring medium-size players (Patreon, for example). Medium-size players will try to find smaller, innovative competitors to acquire, or, on the other hand, they may attempt to engage in a merger with one of the big players. The only chance for small players to remain in the market is to be innovative enough to be acquired by bigger players, and this will drive innovation in the crowdfunding market in the short term. This might end with interesting inventions.
Conclusions
YouTube announced at VidCon its plans to implement a feature that will allow users to tip their favorite YouTube contributors. The new feature will enable YouTube contributors to reach out to the YouTube community and seek crowdfunding. Similar to Google Domains, this new initiative is not expected to drive new revenues directly; it is expected to attract new customers to Google's advertising services, which will benefit Google in the long term. The crowdfunding market is likely to turn into an acquisition battlefield between the big players that try to compete with and fight back against Google.
Disclosure: The author has no positions in any stocks mentioned, and no plans to initiate any positions within the next 72 hours. The author wrote this article themselves, and it expresses their own opinions. The author is not receiving compensation for it (other than from Seeking Alpha). The author has no business relationship with any company whose stock is mentioned in this article.
Additional disclosure: Information provided in this article is for informational purposes only and should not be regarded as investment advice or a recommendation regarding any particular security or course of action. This information is the writer's personal opinion about the companies mentioned in the article. Investors should conduct their own due diligence and consult with a registered financial adviser before making any investment decision. Lior Ronen and Finro Financial Consulting and Analysis are not registered financial advisers and shall not have any liability for any damages of any kind whatsoever relating to this material. By accepting this material, you acknowledge, understand and accept the foregoing.