Over the last couple of months, I was shocked by the rally in shares of cigarette giant Philip Morris (NYSE:PM). While I didn't think shares deserved to plunge to $75 because 2014 was going to be a weak year for the company, the snapback rally to more than $91 was a bit much in my opinion. We had yet to receive a large amount of good news, and the cigarette names were all rising on buyout rumors.
Well, we recently saw a pullback in shares, but it wasn't for the reason I was hoping for. Philip Morris cut its 2014 reported EPS forecast due to some restructuring charges. Additionally, some weakness in the business may put the company's adjusted EPS growth forecast in jeopardy. Today, I'll detail how a bad year for Philip Morris just took another hit, why the future is not as bright, and what investors should do with this stock now.
Reduction in the forecast:
Philip Morris reduced its reported EPS forecast for the year from a range of $5.09 to $5.19 to a new range of $4.87 to $4.97. On an adjusted basis, the company is still targeting 6% to 8% growth, when taking into account the following:
a $0.01 per share charge recorded as asset impairment and exit costs in the first quarter of 2014 relating to the decision to cease cigarette production in Australia by the end of 2014;
a pre-tax charge, related to the contemplated decision to discontinue cigarette production in the Netherlands in 2014, of approximately $495 million, or $0.24 per share, the majority of which is expected to be recorded in the second quarter of 2014; and
an unfavorable currency impact, at prevailing exchange rates, of approximately $0.61 for the full-year 2014.
There are a couple of key takeaways here. First, the company did maintain its currency impact forecast for the year, as compared to the forecast given at the Q1 earnings report. This means that currencies are not getting worse, but they haven't gotten better either. Investors should be okay with this, because the currency hit is the main driver of the weak forecast for 2014.
Second, the company is obviously closing facilities since cigarette demand is decreasing. The Netherlands closure is not the first one we've seen, and that closure should help reduce expenses in the long term. Why have production facilities open if they are not needed? Charges will be taken upfront but you hope in the long term the savings are more.
Why results could get worse:
Investors can most likely live with a one-time charge to close a production facility. We've known the business will struggle during this "investment year" where the company is transitioning to more reduced risk products. The problem is that even though we are expecting a down year in terms of results, we might need to reduce our expectations even more. Here's a statement from the company from the above press release.
We continue to face significant currency headwinds, an improving but weak macro-economic environment in the EU and known challenges in Asia, partly offset by a robust performance in a number of markets and the contribution of our business development initiatives. Furthermore, we have recently witnessed significant price discounting at the low end of the market in Australia which, were it to persist, could lead us to be at the lower end of our 2014 guidance for full-year currency-neutral adjusted diluted EPS growth of 6%-8%.
The 6% to 8% adjusted EPS growth forecast was already below the company's mid to long term goal for 10% to 12% growth, which in November 2013 was the goal for 2015 and beyond. Now, the company is looking for adjusted EPS growth in 2015 (and the next couple of years) of 8% to 10%, based on share repurchases of $2 billion to $3 billion per year. The company is taking down its medium term forecast for adjusted EPS. Also, this means that the buyback will be even less in 2015 than the $4 billion target for 2014, or the $6 billion target we saw in previous years. Remember, Philip Morris has a lot of debt, and we're starting to see the impact of that when combined with weak results.
Reduced risk products:
The company is expected to launch new reduced risk products later this year, and that should help revenues to rebound as we get into 2015. The company provided this statement in the press release in regards to new items:
In addition to our exciting plans for the global roll-out of our Marlboro Architecture 2.0 and our new commercial approach, we are on the verge of leading a paradigm shift with the accelerated commercialization of our Reduced-Risk Products.
Well, the future may be coming soon. Philip Morris also announced an e-cigarette acquisition, purchasing Nicocigs, a leading U.K. based e-vapor company. Nicocigs has over 27% of the UK market. Philip Morris already has a licensing and distribution agreement with Altria (NYSE:MO), so this acquisition will bolster the reduced risk product movement for the company.
What this all means:
There are a couple of key takeaways from last week's news. First, I stand by my dividend prediction for a six cent raise to $1.00 per quarter when the dividend is potentially raised later this year. While most people I talked to thought my prediction was a little light, I think it now is very realistic. In fact, I may need to lower it after the Q2 report, depending on what the company says. If the adjusted EPS forecast is reduced or cash flows continue to be very weak, we might not see $1.00 per quarter until 2015.
Additionally, the company for 2015 and the near-term is targeting yearly share repurchases in the $2 billion to $3 billion range. I've been saying for a couple of years now that the buyback was going to be cut. Investors that may have been spoiled in past years with a huge buyback need to readjust their expectations. Philip Morris is still a capital return powerhouse, but the company just doesn't have the resources currently to do what it did in recent years. A decreased buyback means less in capital returns, smaller dividend increases, and less EPS growth. I've been saying that this picture could play out into 2015, and things are starting to go as I figured. Investors should start to worry a bit. It makes sense that part of the reason for the reduction in the medium term forecast has to do with less share repurchases.
At this point, I think investors looking to enter Philip Morris may be best served by looking at domestic counterpart Altria. Altria offers a higher dividend yield currently, and I think Altria's dividend raise this year should be at least equal to, if not above, that of Philip Morris. The domestic business seems to be doing a little better right now. Additionally, Altria's balance sheet is in much better shape at the moment, so Altria should have more financial flexibility for buybacks over the next couple of years. While I've been saying that Philip Morris' buyback would come down as we got into 2014-2015, you're looking at the buyback being cut by half to two-thirds into 2015. That really changes the situation. I recently did argue that investors should wait for a pullback in Altria, and I still believe that. A pullback in the market could push these names lower, and they have come off recent highs a bit already. If I had to choose between Altria and Philip Morris right now, I would have to lean towards Altria.
Final thoughts:
Philip Morris cut its yearly earnings forecast thanks to a plant closure. While this one-time charge did not impact the company's adjusted EPS forecast, pricing in Australia soon might. Philip Morris has also reduced its medium term EPS forecast, and the buyback will be cut even further in 2015. It looks like the worst case scenario may be starting to play out for 2014, and that's why shares have really pulled back lately, as you'll see in the chart below. The stock has broken below its 50-day and 200-day moving averages.
So what should investors do today? Well, I don't know if I'd step in and buy Philip Morris just yet, but I wouldn't short shares either. The last time we got bad news, shares went from the low $90s to $75. I don't see this stock dropping that much this time around, but if the market does pull back here, I could see the low $80s for Philip Morris, or even the high $70s in the worst case. Right now, I think that new money should head Altria's way, at least until we get the Q2 quarterly results for Philip Morris. Then, we can see how bad things really are, and adjust accordingly.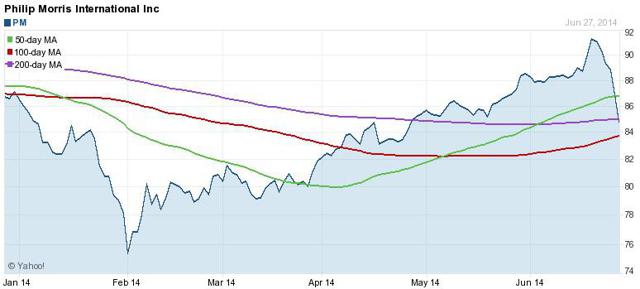 (Source: Yahoo! Finance)
Disclosure: The author has no positions in any stocks mentioned, and no plans to initiate any positions within the next 72 hours. The author wrote this article themselves, and it expresses their own opinions. The author is not receiving compensation for it (other than from Seeking Alpha). The author has no business relationship with any company whose stock is mentioned in this article.
Additional disclosure: Investors are always reminded that before making any investment, you should do your own proper due diligence on any name directly or indirectly mentioned in this article. Investors should also consider seeking advice from a broker or financial adviser before making any investment decisions. Any material in this article should be considered general information, and not relied on as a formal investment recommendation.