Most REIT investors know that American Realty Capital Properties (ARCP) has been one of the most transformational real estate companies in modern day history. As I have researched this net lease REIT for almost 3 years (IPO was September 6, 2011) I have become fixated on the record number of liquidity events sparked by the quest for durable investor income.
It has become apparent that the traditional Triple Net REIT known more as pure dividend vehicle has evolved into a growth story where the insatiable quest for yield has become more of a race to the biggest. In this highly-fragmented industry with well over $2 trillion of potential net lease targets, ARCP has become more like the kid in the candy store gobbling up just about everything in sight.
The appetite for growth became even more evident when ARCP announced back in May that it was acquiring around $1.5 billion of Red Lobster stores in a sale/leaseback transaction. This deal, being acquired by ARCP at an 8% cap rate is opportunistic, but clearly has risk. As I referenced in a previous article:
Golden Gate (the private equity buyer) will be buying a mature seafood chain with a brand (name) that's declining. The biggest risk for all of the parties concerned will be the investors in ARCP. The most concerning metric for me is Red Lobster's declining traffic growth. While the seafood chain once enjoyed a powerful competitive advantage in the restaurant space it seems that the brand has significantly eroded and appears to be less sustainable over time.
Now that ARCP is gaining significant exposure with a non-investment grade tenant, the risk for tenant default becomes much greater, especially when you consider the exposure in Red Lobster that ARCP will be adding.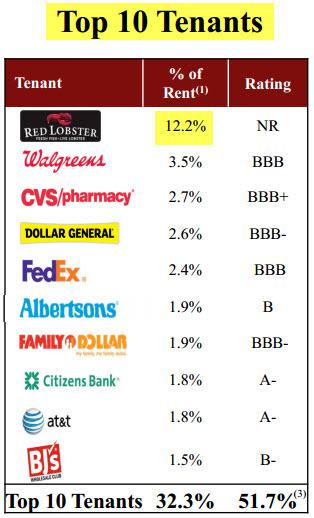 The percentage of investment grade versus non-investment grade rent checks does not concern me in so much as the fact that ARCP will have a large number of non-investment grade revenue with one tenant. I'm not worried so much that Red Lobster will fail this year, or even next year. My biggest concern has to do with the potential risks associated with likely lease restructuring in years 3-5. In other words, I'm not saying Red Lobster was a "bad bet", it's just a big one. As I explained:
I did not say that Red Lobster is a dying brand but Golden Gate will have to working feverishly hard to move the needle and get the stores back to profitability. Over the years brands have become less about trust and more about certainty and to resurrect the struggling chain Golden Gate must get customers to come back again and again - repeatability is the hallmark for any successful brand.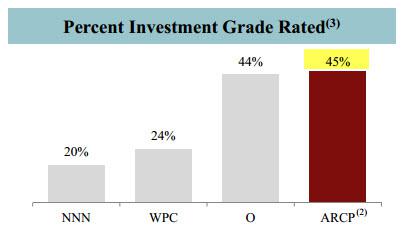 Here's what the portfolio will look like when the Red Lobster deal closes: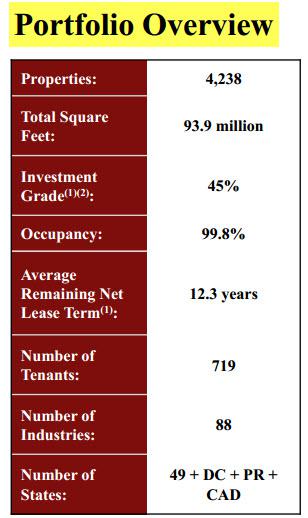 Kay Takes Over on October 1st
On June 20th ARCP announced that David Kay, current president of ARCP, would take over as CEO in October. In a letter addressed to shareholders Kay provided a few key points:
Rest assured that our emphasis has been, and will continue to be, on driving long-term value for all stockholders by establishing ARCP as the leading net lease REIT through a focused and deliberate plan. We are managing the company for the long term - not based on day-to-day stock volatility - because the business of real estate is a long-term proposition.
That sounds assuring. Kay also went on to explain the disposition of the $1.98 billion multi-tenant retail properties in a sell to Blackstone/DDR. Kay explained that the transaction "allow(s) us to deliver value to our stockholders and further clarify our core net lease investment strategy. Additionally, this will result in the elimination of $600 million of secured debt and will provide $1.4 billion of capital for net lease acquisitions."
I was never a big fan of the ARCP shopping center spin-off and I think the decision to make a clean break from single tenant to multi-tenant was a wise choice. There's even a better reason and I'll tell you about that a little later (below). It's most likely that ARCP will deploy the proceeds from the multi-tenant sale to acquire the Red Lobster portfolio. It's almost an even match: $1.5 billion to buy Red Lobster and $1.4 billion to dispose of the shopping centers.
Kay also went on to discuss the recent common equity offering:
The long-only dedicated REIT investors were supportive, buying aggressively which resulted in the upsizing of the offering by an additional 20 million shares and net proceeds of approximately $1.59 billion. We dramatically transformed our stockholder base focusing on investors looking for solid, long-term returns. Feedback from dedicated REIT and long-only investors who participated in the offering remains positive regarding our strategy to delever the company.
Including Red Lobster, ARCP plans to acquire around $4.5 billion in 2014 (at an average 7.9% cap rate). This should provide the company with ample purchasing power for the balance of the year. Current CEO, Nicholas Schorsch, explains ARCP's current capitalization:
With leverage at target levels and available capacity, there is no need to raise additional equity. As explained above, primary growth and portfolio enhancement will be accomplished by adhering to our granular acquisition plan. Additional opportunities can be realized from the active management of our existing assets. By culling through the portfolio and identifying properties above market value, non-core assets, shorter lease terms and less desirable tenants, we will have the opportunity to pursue dispositions, harvest and re-deploy capital, extend leases and augment the overall quality of our portfolio.
Since Schorsch announced his departure as CEO (effective October 1st) shares are up almost 3%.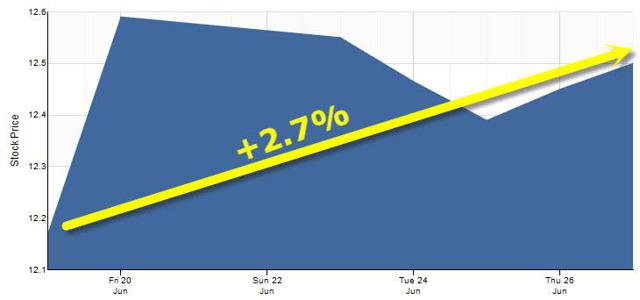 ARCP May Have a Secret Sauce and It's Not Tartar Sauce
ARCP is the largest net lease REIT with a market capitalization of $11.35 billion.

The $30 billion (in assets) company is structured with 5 operating segments: office/warehouse, retail, restaurant, build-to-suit, and Cole Capital.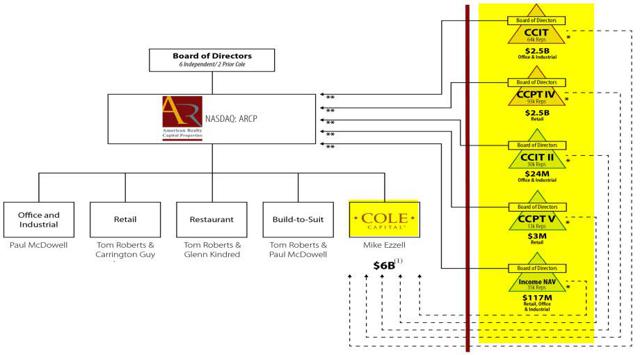 When ARCP acquired Cole (back in February 2014) it purchased a portfolio of assets and also an advisory business that generates substantial fee-based income. To date, there has not been a lot of trading history with this type of dual-income structure, and the market does not have the depth of research coverage with such a hybrid platform. This trading structure however is not unique as W.P. Carey (NYSE:WPC) has a similar investment platform as it merged its real estate company and its advisor last year and the shares have performed very well since then.
ARCP's private capital business, Cole Capital™, is an alternative broker-dealer with fully integrated teams across external and internal sales, marketing, sales analytics, events, national accounts, due diligence, compliance and shareholder services. According to Robert Stanger & Co. industry reports, Cole Capital™ is the only non-traded REIT sponsor to rank in the top 3 for the past five years and has raised just under $1 billion through May (2014).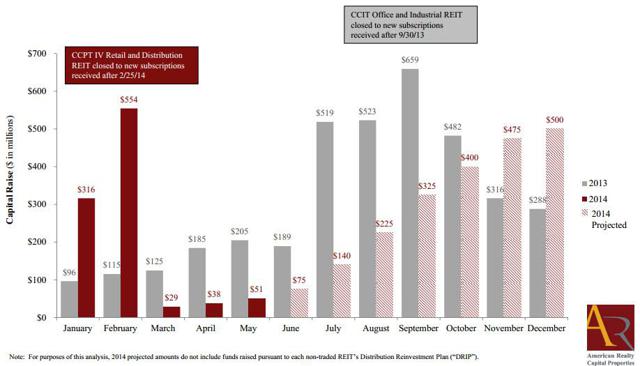 Cole is simply a "cash cow" and in 2014 the company's capital raising activities is tracking consistent with 2013 and on pace to meet the $3.1 billion fund-raising target this year.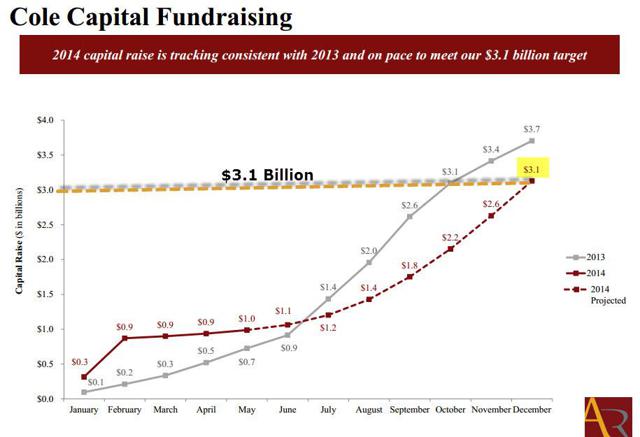 Translating that to deals, Cole's various entities should acquire over $4.9 billion this year (2014).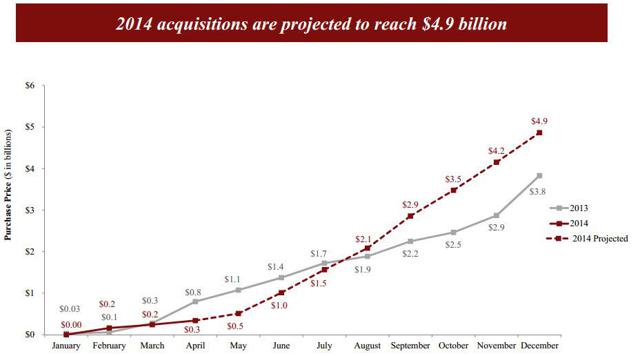 Last week I attended the IMN Non-Traded REIT conference in New York City and while interacting with the various financial products advisors it became apparent that the event should be renamed the IMN "Nick Schorsch Show". Why is that? Well, just take a look at the Top 2 Non-Traded REIT sponsors in 2013 - combined, Cole and American Realty Capital (not the REIT) enjoyed a dominating 50% market share. Source: Robert Stanger & Company.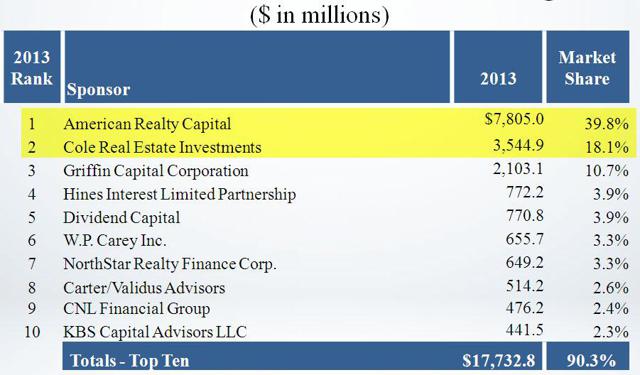 Last year the Non-Traded REIT market was a historic year for fund raising as the industry brought in over $19.596 billion in 2013. Source: Robert Stanger & Company.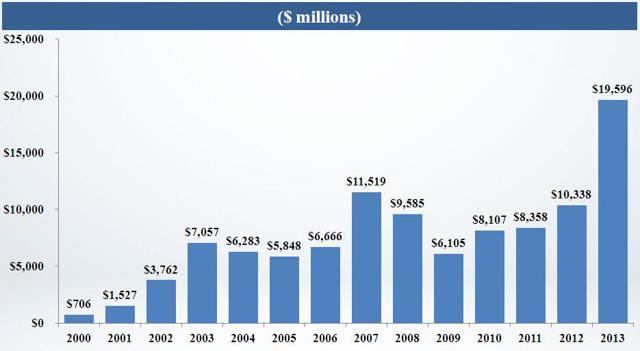 That's 90% more than 2012. Source: Robert Stanger & Company.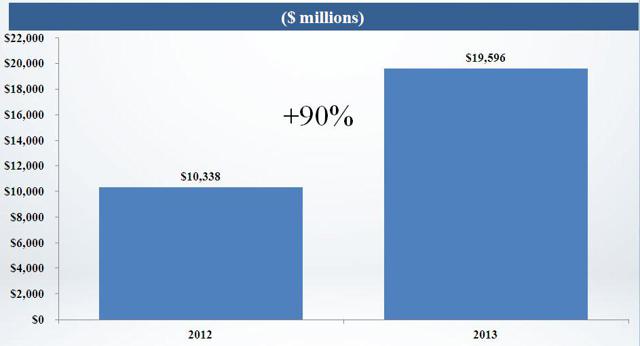 So why does ARCP own Cole Capital today? Wouldn't it be best for ARCP to spin Cole or better yet, merge the "cash cow" with Nick Schorsch's "crown jewel" RCS Capital (NYSE:RCAP)? As mentioned above, Schorsch is moving his "day to day" job function to RCAP where he has created a formidable empire as a leading integrated financial service company. Just take a look at the key operating and financial metrics: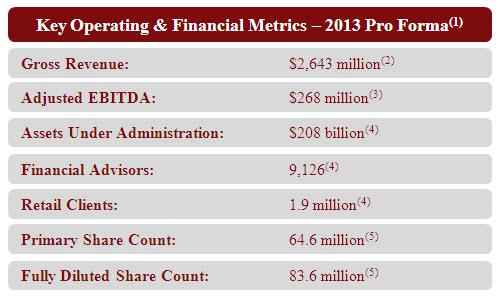 Cole Capital would fit snugly under the RCAP's Wholesale Distribution platform that generated revenues of around $868 million in 2013. RCAP already has the largest wholesale broker-dealer with 43% market share (as of May 2014) and to date, RCAP has successfully launched 18 public Non-Traded REIT programs currently on the platform. RCAP's Wholesale revenue model is driven by the amount of equity raised for direct investment programs (like Cole) and RCAP distribution consists of 260 broker dealers and 900 selling agreements (over 80,000 financial advisors with access to RCAP products).

To put RCAP into perspective, the Wholesale Distribution business is just 33% of RCAP's business model and the other equally sustainable revenue drivers include Retail Advice (generates commissions, advisory fees, and asset management fees), Investment Banking (Financial Advisor for M&A activities and Transfer Agent), and Investment Management.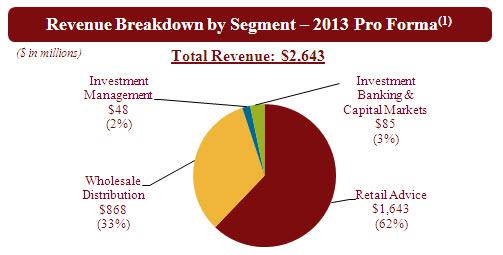 I'll save the RCAP article for another day but as you can see (below) the current share price of RCAP ($20.52) suggests there could be considerable upside in the conglomerative and transformational platform. RCAP recently completed a 24 million share offering (including 19 million primary shares and 5 million secondary shares) at $20.25, with a concurrent 2.5 million shares to Luxor Capital in a private offering. The virtues of RCAP's rapid expansion could harvest substantial profits but investors should recognize that RCAP is not a REIT but a more speculative financial products powerhouse.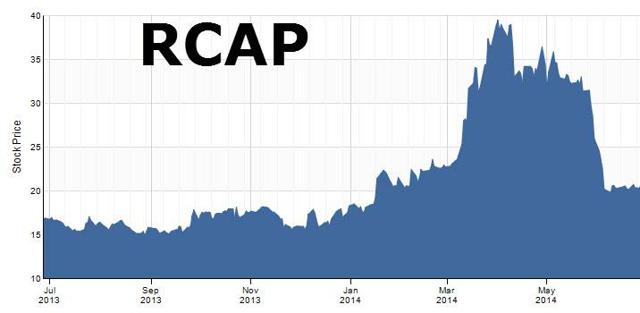 Concerning Cole, I believe that ARCP investors could reap substantial benefits when (or if) the company opts to convert ARCP to a "pure play" Net Lease REIT. Cole generates around $140 million after tax (annualized) and that translates into a market value of around $2.25 billion. By pruning Cole away from ARCP the immediate reduction in revenue ($.09) would be significantly multiplied by the massive profit of over $5 billion that ARCP could put to work immediately.
ARCP has proven that it can source assets and as interest rates begin to rise, more companies like Red Lobster will seek out firms that can efficiently monetize large net lease portfolios (size and scale does matter). Translation: ARC could add another $3.00 a share in AFFO to the bottom line - that return is incalculable.
What About Red Lobster?
Yes, ARCP has a secret sauce and investors should recognize the potential value in Cole Capital. But what about the value of Red Lobster?
To give you a better picture, I put together a few charts to illustrate the potential that is unfolding for ARCP investors. In FULL DISCLOSURE: The following charts are modeled by the author and they should not be construed as factual. The 2014 estimates are solely estimates by the author and they should not be relied upon.
Here is my model for ARCP's rental revenue for the 4 quarters of 2014. Note, I increased the revenue in the 3rd quarter for the Red Lobster transaction and I also reduced revenue associated with the disposition of the shopping center portfolio/sale.

Here is a snapshot of the historical revenue and my estimated 2014 calculation:

Here is a snapshot of my estimated AFFO for 2014:

Here is a snapshot of the historical AFFO and my estimated 2014 calculation:

Here is a snapshot of my estimated AFFO per share for 2014: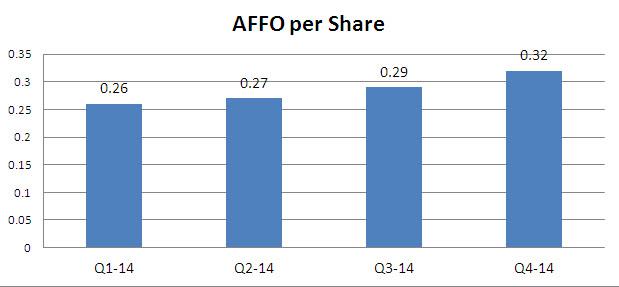 Here is a snapshot of the historical AFFO per share and estimated 2014 calculation: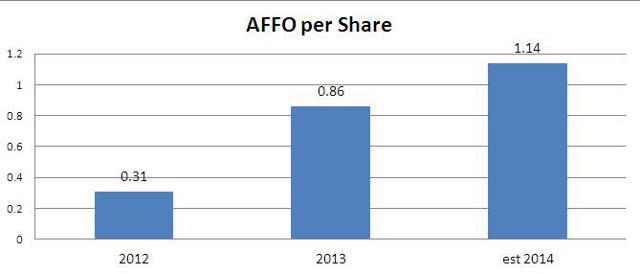 Here is a snapshot of my estimated quarterly dividend payouts (remember, ARCP pays monthly):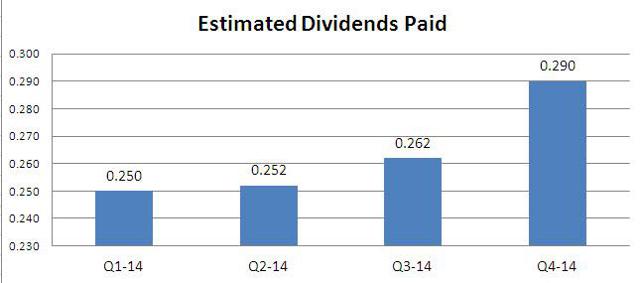 Here is a snapshot of the historical dividend payments and my estimates for 2014: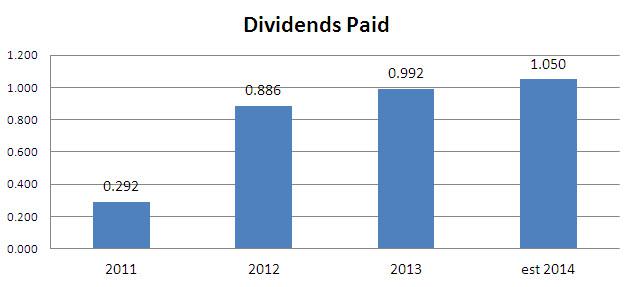 Is ARCP a Buy Today?
Given ARCP's current price of $12.50 I consider the shares an attractive buying opportunity. The P/FFO multiple of 11.5x is a good indicator that this security is trading moderately below the peer average of 14.6x.

ARCP's dividend yield is 8% and given the company's improved credit fundamentals, I believe that the dividend is safe for the short term. As I mentioned above, the considerable Red Lobster exposure is a risk and it will take a few quarters (or even years) before we'll know the fate of the seafood brand. I'm confident that ARCP will reduce its exposure in Red Lobster by a combination of selling off assets and growing the company's core asset base. (Cole Capital could provide significant buying power).

In terms of growth, American Realty Capital Trust V (ARCT5) announced that it has engaged financial advisers to assist in evaluating potential strategic alternatives following the closing of its $1.7 billion best-efforts offering. The company has engaged J.P. Morgan Securities LLC and RCS Capital, the investment banking and capital markets division of Realty Capital Securities LLC, to explore liquidity strategies. It's likely that ARCT5 will look to monetize assets sometime next year…
Remember, I'm not a seafood lover but I do see some attractive ingredients brewing with ARCP and Cole Capital could be the icing on the cake. Conclusively, ARCP may have a secret sauce and it's not tartar sauce.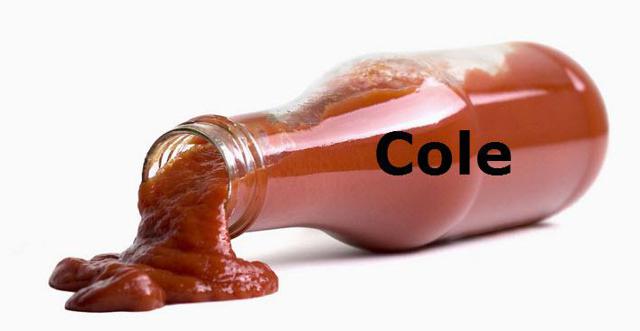 SPECIAL REPORT: Check out my Top 10 Rhino REIT Report HERE.
Sources: SNL Financial, The Stanger Report, and ARCP and RCAP Investor Presentations.
REITs mentioned: (NYSE:GPT), (NYSE:GTY), (NYSE:NNN), (NYSE:O), (NYSE:ADC), (NYSE:LXP), (NYSE:SRC), (NYSE:CSG), (NYSE:EPR), and (NYSE:OLP).
Disclaimer: This article is intended to provide information to interested parties. As I have no knowledge of individual investor circumstances, goals, and/or portfolio concentration or diversification, readers are expected to complete their own due diligence before purchasing any stocks mentioned or recommended.
Disclosure: The author is long O, DLR, VTR, HTA, STAG, UMH, CSG, GPT, ARCP, ROIC, HCN, OHI, LXP, KIM, WPC, DOC, UDF. The author wrote this article themselves, and it expresses their own opinions. The author is not receiving compensation for it (other than from Seeking Alpha). The author has no business relationship with any company whose stock is mentioned in this article.