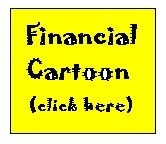 Outlook Summary: The equity markets shifted into higher gear Friday as the DJIA crossed 11,000 on expectation that the Fed will deploy quantitative easing ("QE II") as the major underpinning of an economic recovery—employment, remained sluggish.
Cause for Celebration? This should not be a cause for celebration. If QE II is the source of the markets' upward drift in the past month and a half, we may be setting ourselves up for, "buy on rumor sell on news". Such a strategy will end up in a lower dollar, higher commodity prices—on little demand, and a beggar thy neighbor currency policy.
The $18.5 Billion Pleasant Surprise: This week Standard & Poor's research arm published a report declaring the corporate dividend recovery is "comfortably" underway. The report noted that of the 7,000 publicly-owned companies it tracks, 299 companies upped their dividend in the third quarter bringing the year's tally to 1,033 dividend boosters. Effectively, this is a transfer of a net $18.5 billion from corporate coffers into the pockets of shareholders.
A Preview: In April of this year I published an article entitled, The Case for DVY: Income & Potential Capital Appreciation (4/28/10). The article advanced the case that we were likely at the bottom of the corporate dividend cycle and investors could take advantage of the likely rise in corporate dividends by buying ETFs that focus owning large-cap dividend paying stocks. While DVY was the focus of that particular article, SDY has been added to the recommended list as well.
Timing: They say the similarity between comedy and investing is timing. For those who haven't read the above reference article, I'd recommend doing so. It includes important information regarding the "buy" and "sell" timing for this type of investment.
Good for Equity CEFs: This news also has important implications for many of the equity CEFs as they are likely to participate and "pay-through" any increases in corporate distributions they receive to their investors.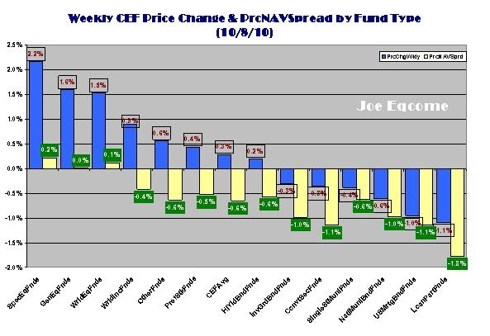 CEF Weekly Review: The 13 closed-end fund (CEF) types on average posted a 0.3% increase for the week ending 10/8/10. The high-low spread was +3.3%. On an aggregate, unweighted basis, the weekly average price change for the 500 plus CEFs was also up 0.3%.
The PowerShares CEF Income Composite (NYSEARCA:PCEF), an ETF that invests in taxable income CEFs, was up 0.5% for the week. The S&P 500 was up 1.6% for the week and extended its positive YTD performance to 4.5%.
(Click here for YTD CEF Performance. The table is based on a smaller CEF sample size as all the data fields are not available for the CEF universe.)
The Eqcome CEF Fear Index increased for the week. The average price was up 0.3% while NAV was up 0.8%. The CBOE Volatility Index (VIX), which typically moves inversely with the stock market—but is mostly a measurement of volatility based on stock options' premiums—slid throughout most of the week falling 8.0%. The VIX has been experiencing lower "highs" since the "flash crash" of May.
The S&P's recent advances continued to be fueled on low volume. Weekly average daily trading volume for the S&P 500 slipped 3.2% from the previous week to 3.9 billion shares as trading continued to register below the 4.0 billion shares threshold.
Investor Absenteeism: "Money Flow" into the DJIA ticked up 1.6% for the week and the up/down ratio was 1.13 versus 1.08 for the month. The basic materials sector experienced the greatest change, up 3.66%; the telecommunications' sector the least, down 1.22%.
The total inflows into mutual funds for the week ending 9/29/10 were up $3.26 billion with equity fund investors withdrawing $3.0 billion—despite an increase of $1.1 billion in net inflow into foreign equity funds. Bond funds continue to rake in the bulk of investor monies. Both taxable and muni funds in total increased $5.42 billion. Money market fund decreased by $500 million to $2.8 trillion as of 10/6/10.
CEF Weekly Fund Type Performance: Equity-oriented CEF fund types led the performance parade while fixed-income fund types lagged behind.
SpecEqFnds jumped on the strength of real estate (+2.8%) and other tangible assets such as natural resource and metals. The advance in hard assets categories was also reflected in comparable ETF performance (see chart below). With the prospects of monetary easing, LoanPartFnds experienced the greatest decline.
The PrcNAVSprds [*] typically move in the direction of stock prices. However, this week was not the case as 4 of the 13 fund types experienced share price growth lagging its related NAV. Several of the fixed-income oriented funds registered greater NAV than share price appreciation (thereby generating a negative spread): WrldEqFnds, OtherFnds, PrefStkFnds and HiYldBndFnds.
Weekly CEF Winners and Losers: The CEFs with the greatest positive spread was DWS RREEF World Real Estate Fund (DRP). DRP's price surged 10.9% while its NAV advanced 2.5% generating a positive PrcNAVSprd of 8.4%. DRP was one of three Deutsche Bank's advised CEFs that benefited from this week's announcement that their respective boards would seek "initiatives" to enhance shareholder liquidity.
RREEF real estate securities advisor has always been an "also ran" in the business. Western Investments, a CEF activist investor that owned 8.8% of the CEF, was a motivating factor in the board's respective decisions.
DRP will merge into DWS RREEF Global Real Estate Securities Fund, an open-end (mutual fund) at NAV (RRGAX & RRGIX). Two other CEFs impacted by the announcement were: DWS Dreman Value Income Edge Fund (NYSE:DHG) and DWS Global High Income Fund (NYSE:LBF)—both will be subjects of self-tender offers of up to 25% of the outstanding shares at 99% of NAV.
Tag Along? For those investors who would like to follow Western Investment in the CEF sector, their next biggest holding (6.2%) is in RiverSource LaSalle International Real Estate Fund (NYSE:SLS). SLS's shares were up 3.4% for the week while its NAV was up 2.8% for a positive PrcNAVSprd of 0.8%. Shares for the week traded below its average 3 month volume. SLS trades at a 4.5% discount with an annualized quarterly yield of 7.1%. Comparable real estate CEFs trade at an average discount of 10%.
One of the CEFs having the greatest negative PrcNAVSprd for the week was First Trust/FIDAC Mortgage Income Fund (NYSE:FMY). FMY's share price dropped 7.5% while its NAV declined a more modest 0.5% generating a negative PrcNAVSprd of 7.0%.
FMY's stock price took a tumble earlier in the week on unusually large volume both on Tuesday and Wednesday. Trading volume seemed to stabilize during the latter part of the week. As FMY is an investor in mortgage securities, it could have fallen victim of the system-wide halt of the foreclosure process and pressure for lenders to reduce principal balances on certain home mortgages. There was no activity by its major shareholder SIT Investment Associates which owns approximately 13% of FMY.
Economic & Earnings Outlook: (Click here for next week's economic calendar; click here for earnings' announcements and estimates.)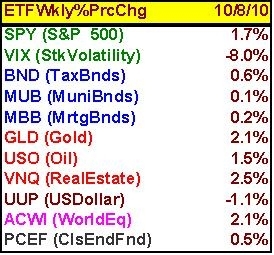 ETFs: For a more detailed EFT performance by sectors, click here.
Insider Trading: Insider trading has been extremely quiet so far in September with one major exception. Rodney F. Dammeyer, a director of Invesco Van Kampen Trust for Investment Grade Munis Fund (NYSE:VGM), has accumulated 68,137 shares in VGM at $15.04 per share for a total capital expenditure of $1,024,550.
Interestingly, Mr. Dammeyer had sold out of his position in VGM during March of last year. He began to again accumulate shares in August of this year with buying accelerating into September. He currently owns 84,637 shares of the stock for a $1.3 million current investment.
Mr. Dammeyer is President of CAC, LLC, a private company providing capital investment and management advisory services and is the retired Vice Chairman of Anixter International. Mr. Dammeyer is a director of other Invesco funds.
VGM currently pays an annualized monthly distribution of 7.0% with a taxable equivalent yield of 10.8%. It currently trades at a slight premium to its current share price. Approximately one-third of its portfolio is leveraged with Auction Rate Preferred Shares.
(Click here for a hyperlink to the Joe Eqcome's CEF Weekly Insider Report.)
CEF Distribution Announcements This Week: The following is a link to a table of CEF distribution announcements this week as well as the previous week's with yet expired ex-dividend dates. The list is not intended to be inclusive. (Click here for Joe Eqcome's Weekly CEF Distribution Announcements)
Significant CEF Corporate Events: Two Nuveen muni funds offered up MuniFund Term Preferred Shares (MTP) to redeem their outstanding Auction Rate Preferred Shares (ARPS) this week: Nuveen Pennsylvania Dividend Advantage Muni Fund (NYSEMKT:NXM) and Nuveen New Jersey Dividend Advantage Municipal Fund (NUJ). The amount raised was $23.2 and $32.1 million, respectively.
SunAmerica Focused Alpha Growth Fund (FGF) commenced its "In-Kind Tender Offer" on October 7th to acquire up to 30% of its outstanding shares at a price equal to 98.5% of its NAV per share. The offer will expire at 5:00 p.m., Eastern Time on November 11, 2010, unless extended.
CEF Focus Stock(s) for the Week: The focus stocks this week are those involved in the portfolio changes for the CEFDisc10™. (CEFDisc10™ is a companion portfolio to the CEFBig10™ and the CEFMuni10™ portfolio family whose primary investment objective is capital appreciation with a secondary investment objective of current income.) (See website for details.)
Criterion: The portfolio was constructed based upon primary research which demonstrated that extreme relative premium/discounts appear to be a better predictor of future stock price performance than nominal premium/discounts.
Returns: For the month of September the CEFDisc10™ average price change was 7.2% versus 3.6% for the Eqcome CEF Price Index.
Portfolio Changes: Three stocks were replaced as a result of their having met short-term price objections: Claymore Dividend and Income Fund (DCS), Eaton Vance Tax Managed Global (NYSE:EXG) and Ibero-America Fund (NYSE:SNF).
Those stocks were replaced with CEFs that met the relative discount criterion to be included in the CEFDisc10™. Those stocks consisted of: AllianceBernstein Income Fund (NYSE:ACG), Eaton Vance Tax Advantage Global Dividend (NYSE:ETG) and Templeton Russia & East Europe Fund (NYSE:TRF).
For additional details regarding the portfolio changes in the CEFDisc10™ portfolio see, CEFDisc10 Portfolio Change for Sept '10[7] (10/7/10).

Disclosure: Author owns a diversified portfolio of CEFs and ETFs and is long stocks in the CEFDisc10™
[*] All things being equal, price and NAV should move in tandem. A price movement greater than the NAV generates a positive PrcNAVSprd and may be interpreted as negative on a near-term basis and indicate that the stock is overvalued relative to its NAV which in theory is the stock's intrinsic value. The opposite would be true for a negative PrcNAVSprd.