It's "game on" again for Sirius XM (NASDAQ:SIRI). Thursday, the stock hit a low of $1.24 (as if they read what I wrote, and took it there intentionally) which now gives us a range to work with. The bottom is now established at $1.24 while the top stands at a 52 week high of $1.31. Sirius XM shares were stuck within that range Friday, with a high of $1.29 and a low of $1.26 being printed. This would be the consolidation period I was expecting to occur in the mid $1.30 range (OK...so I missed by four cents), and I would normally look for a breakout above $1.31 or below $1.24. I say normally, because the anomaly I have been writing about for the past six weeks looks to be confirming its final leg in the form of a bullish triangle.
To quickly bring everyone up to speed, the anomaly began with what should have been a sell signal on Sirius XM. I discovered that nearly one year ago however, the same pattern developed, yet shares of Sirius XM more then doubled over the next few weeks. As of Friday, the pattern remains nearly identical to the last breakout: (Click to enlarge)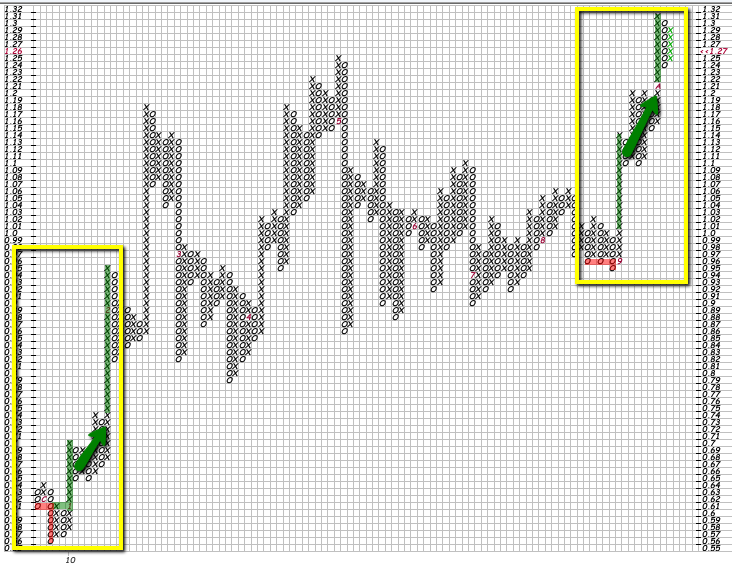 In reporting on this anomaly, I was able to issue several alerts on SIRI starting at .95, then $1.06, and then $1.10, after which the price rose to $1.20. I was then able to suggest taking some profits at that level, and repurchasing at $1.10 which turned out to be the bottom of the last range. Shares of SIRI then exploded to the upside, reaching the aforementioned 52 week high of $1.31. This is where the stock stands today. Take note of the orange highlighted areas: (Click to enlarge)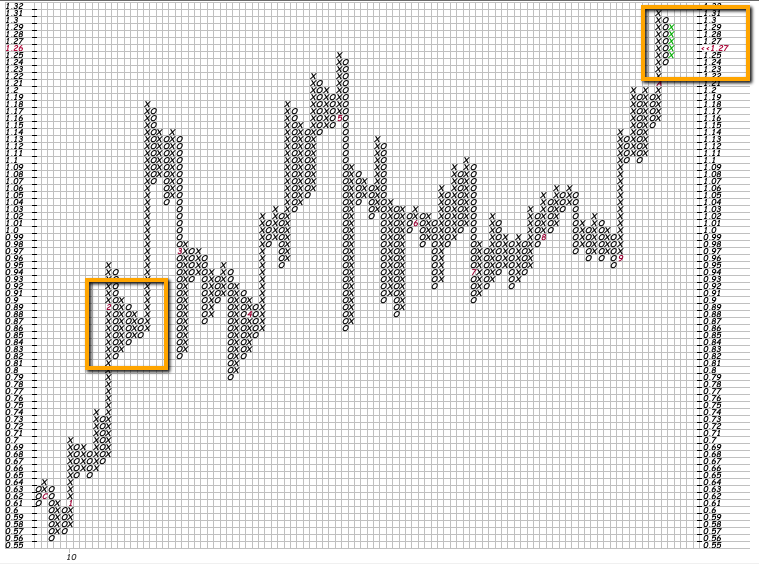 This is the final battle between supply and demand, as the lower tops meet higher bottoms and it one of the most well known point & figure patterns. In the final leg of the previous anomaly, Sirius XM shares consolidated, formed a bullish triangle at .86, and catapulted SIRI shares to $1.18. Here's another look at it: (Click to enlarge)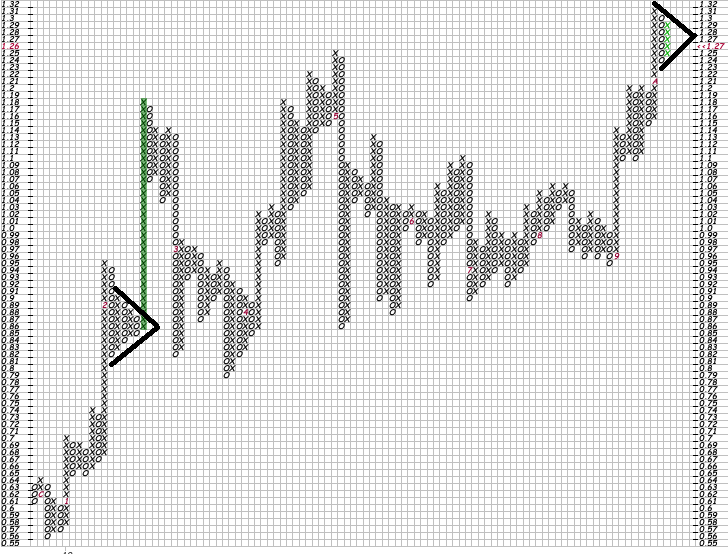 There are some things to keep in mind with regards to these triangle formations. For starters, the rules state that there must be at least 5 columns in a triangle. There are only 3, currently. The most important thing to remember here is that the triangle (if it confirms) can form into either a bullish triangle, which would send shares soaring to new heights, or a bearish triangle which can result in devastating declines. Typically, stocks that are trading above their uptrend lines such as Sirius XM will form bullish triangles, while stocks trending down tend to form bearish triangles.
As you can see by the chart above, $1.27 is the centerpoint of the developing triangle. The trading range has already tightened to $1.26/$1.30. The best way to play the triangle's upside potential is to buy here, with the caveat being that downside risk must be managed as well. Normally, I do not recommend stop loss orders be used. TD Ameritrade has a feature called trailing stops which I will set at .05. If a bullish triangle does develop, the downside will not even be tested.
Furthermore, if the triangle develops, there will be a steep rise in price of the stock. The trailing stop will allow me to lock in most of those gains without trying to beat Wall Street's trading programs.
...More on this as it develops!
Disclosure: Long SIRI