by Mike McDermott
EXECUTIVE SUMMARY: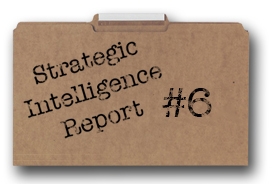 • Precious metals are in high demand as investors look for safety in the face of currency uncertainty.
• The latest FOMC statement offered a clear indication that more quantitative easing is on the way.
• Silver offers a unique opportunity because it is BOTH a precious metal as well as an industrial metal.

• Three silver miners offer excellent trading opportunities due to their robust value and active price movement:
~~~~~~~~~~~~~~~~~~~~~~~~~~~~~~~~~~~~~~~~~~~~~~~
As the global economy continues to fight to escape the clutches of widespread recession, policy makers across the world are pulling out all of the stops.
Unfortunately, while a worldwide recovery would be the best solution for all parties involved, it appears there are going to be clear winners and clear losers with some nations unable to foster new growth or stable employment. Governments are increasingly willing to play the nuclear card of devaluing their currency in order to make their exports more attractive in the global marketplace.
As more countries take this tactic, currency stability is becoming a significant issue not only for participants in the financial markets, but also for individual consumers and citizens. As individuals become more uncomfortable with the long-term value of their currency, precious metals are rising in price. Traders and investors are seeking stability in the value of their capital, and in many cases positions in precious metals offer a hedge against potential devaluation of their home currency.
The Federal Open Market Committee recently spooked investors by strongly insinuating that its next steps will include additional quantitative easing – or inflating the federal balance sheet by purchasing assets like treasuries and mortgage securities on the open market. This type of move is likely to continue to support strong prices for silver, gold, and other precious metals; and so we are actively seeking trading opportunities to profit from these moves.
The Unique Position of Silver
Last month we took a look at three gold miners which we believed had the potential for substantial trading gains. Our top pick, Allied Nevada Gold Corp. (NYSEMKT:ANV) is now up more than 11% and the other two names are showing healthy returns as well.
Today, I want to take a look at three silver producers which also have the potential for some very attractive returns. Similar to the gold positions, these stocks are likely to trade higher primarily as a function of the value of assets underground.
Earnings are important over the long haul, but as the price of silver increases, the actual value of resources controlled by the individual companies should continue to lift the share price of these well-run companies.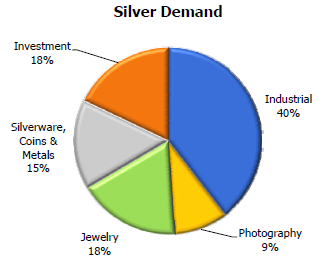 click to enlarge
Silver is a unique resource because the metal is both used in various products and processes, and is also stored as a measure of value similar to gold. In its natural form, silver has the highest electrical conductivity of any element and also has the highest thermal conductivity. The metal also has antimicrobial properties which are used and researched for medical purposes
So while the overwhelming majority of gold production over centuries of mining is still being stored either in the form of bullion, jewelry or artifacts, silver is actually being put to use, leading some to believe the price of silver could experience a larger percentage gain than gold.
An Attractive Trading Opportunity
Silver has been dubbed "the great disappointer" because of its volatile nature. For buy and hold investors, holding long-term positions in silver has often been a frustrating endeavor. But as Mercenary Traders, we are able to take advantage of supply / demand imbalances, pursuing profits when the trading environment is attractive, and stepping aside when the direction is ambiguous.
Today's action in silver is anything BUT ambiguous with a strong positive trend in place. The global currency competition appears to be in the early stages of getting started and the companies sitting on top of solid silver deposits are likely to offer traders multiple entry points with attractive reward to risk dynamics.
So let's take a look at some silver investments on the rise…
Silver Standard Resources (SSRI)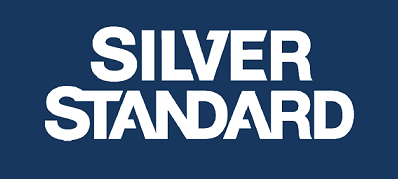 • Diversified pipeline of silver properties spread from Argentina to Canada.
• Production in Pirquitas Mine in Argentina has led to revenue growth and expected 2011 earnings.
• The valuation of silver reserves dwarf the company's current market cap.
• As additional properties begin to enter the production stage, earnings could accelerate quickly.
Silver Standard resources appears to have an incredible future ahead of it. For the last several years, the company has been diligently acquiring and developing its properties in North, Central and South America. This year, preparations were finally rewarded as the Pirquitas Mine in Argentina began production.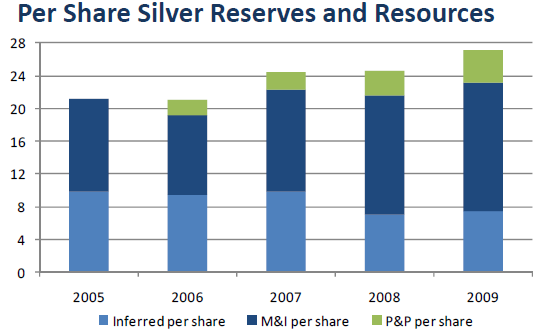 click to enlarge
Analysts expect the company to turn an accounting profit in 2011, but the real story is not the current earnings of the company but instead the value of the resources held by the company.
Management's latest presentation indicated that the company's current projects encompass 286.8 million "proven and probable" reserves with an additional 1.11 billion ounces "measured and indicated", along with 519 million ounces "inferred."
As each project moves down the chain from pipeline to exploration to growth and finally to production, SSRI gains more information about the resources within each project. This information has led to not only a higher estimated quantity of available ounces of silver, but also the quality of those estimates have been increasing substantially.
According to a mid-year company presentation, each share of stock represents about 27 ounces of potential silver production – using all three measures of reserves. Even if only half of these reserves never materialize, we can still assume that each share of stock accounts for 13.5 ounces of silver – which is currently trading at about $23 per ounce on the spot market.
Obviously, there are production costs associated with mining these deposits, but keep in mind the company also produces by-products (precious as well as industrial metals) which are sold to defray the cost of mining. Management estimates that there are more than 42 million ounces of gold (measured, indicated and inferred) in the pipeline – enough to offset billions in mining costs over the course of several years.
As the price of silver continues its push higher and Silver Standard is able to successfully move its reserves into production, it is easy to make an argument for a stock price at four times its current value – and that is assuming significant exploration and production expenses.
The stock appears to be breaking above a consolidation area between $20 and $21 and traders may wish to buy any close above $21 to hold for the next leg higher. Since SSRI is still in the early stages of production, it is difficult to accurately predict the long-term "fair price," but it appears to be much higher than investors are currently willing to pay.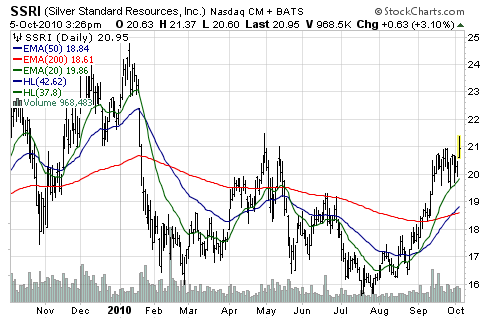 click to enlarge
Hecla Mining Company (HL)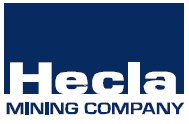 • The largest silver producer in the US.
• Negative silver production costs when accounting for by-product credits.
• Zero debt and $200 million in available cash.
• Aggressive exploration and production budget should lead to significant future profits.
In contrast to Silver Standard Resources, Hecla Mining Company has been generating profits for more than a year now. In the first half of 2010, the company produced 5.1 million ounces of silver at a negative production cost of $2.41 per ounce. This simply means that the revenues from the by-products produced, more than covers the costs associated with mining the silver.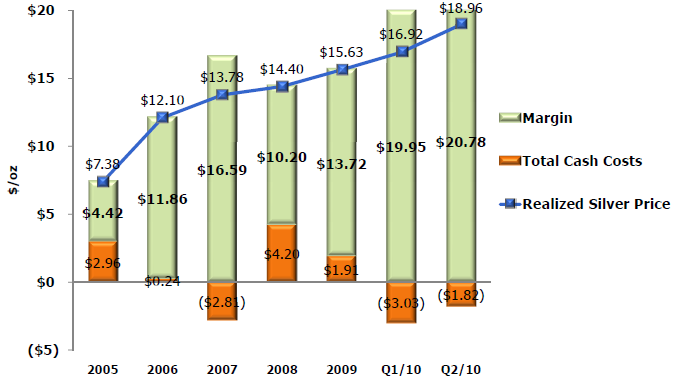 click to enlarge
The net result has been expanding profit margins which have been helped by rising prices in silver. With a realized margin of $20.78 per ounce in the second quarter – and a strong positive trend in the spot price of silver in the second half, Hecla's prospects look very attractive.
The bulk of Hecla's production comes from its two producing assets, "Greens Creek Mine" in Alaska and the "Lucky Friday" mine in Idaho.
The Greens Creek mine has been operating for approximately two decades, but continual new discoveries have allowed production to continue with an estimated 10 years of reserves still underground.
The Lucky Friday mine has actually been in production for nearly 70 years, and yet additional resources are being located and the company expects to increase production over the coming years. The new production will come from deeper deposits (increasing the production costs) but since HL is one of the lowest-cost producers in business, they can afford to make the investment in the additional production.
Hecla isn't content to simply sit on the existing mines. Instead, management has allocated $20 million towards exploration and production in 2010 and has two projects (in San Juan and Mexico) which are likely to add incremental value to the company as reserves are identified.
With no debt and roughly $200 million in cash, the company is in sound financial shape, and investors are counting on the value of its 140 million silver ounces in reserve (along with more than 170 million in the "resources" category) to continue to support a rising share price.
Assuming only the 140 million reserve ounces are mined at a net production cost that is offset by the by-products, the net asset value for the stock would be roughly $11.00 per share. But with the additional resources coupled with the exploration properties in San Juan and Mexico, along with the rising price of silver, I expect HL to trade well into the teens over the next several quarters.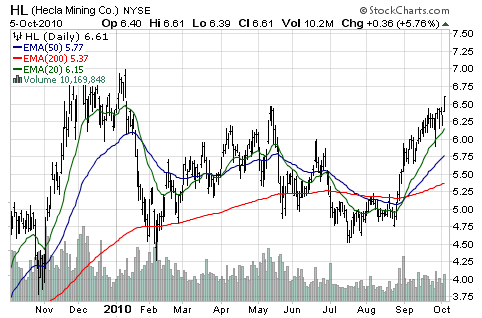 click to enlarge
Silver Wheaton Corp. (SLW)

• Diversified revenue stream with interests in mines around the globe.
• Acquisition strategy allows management to pick the best resources with minimal risk.
• Growth in proven reserves adds stability to income stream.
• More than $700 million in cash or available credit for further acquisitions.
Silver Wheaton has a unique approach to producing silver. Rather than spending years developing its own properties, SLW purchases interests in existing mines - providing the operator with needed cash for production and thereby sharing in the revenue stream of the partially owned property.
The strategy has been successful since the company was founded in 2004, and in six short years has become the "largest metals streaming company in the world."
Silver Wheaton currently has 15 silver purchase agreements which are basically options to purchase silver production at a fixed cost. This strategy (offering upfront cash payments for the rights to purchase future silver production) allows SLW to operate with minimal risk – and during periods like the current environment where the price of silver is trending higher, SLW can cash in on the agreements and generate significant profits.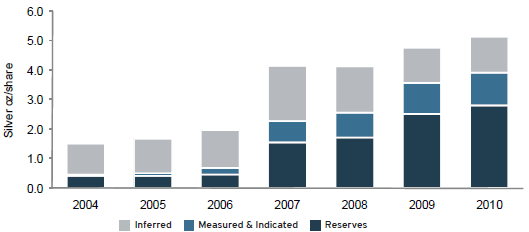 click to enlarge
Over the last 12 months, the company's interests have produced more than 16 million ounces of silver, generating nearly $118 million in net earnings. And the company continues to grow its base of reserves, adding resources at a faster rate than it is producing and selling existing stock.
For the current year, analysts expect SLW to generate 69 cents per share (a gain of 82% over last year) and in 2011 the expectation is for growth of another 42%.
Silver Wheaton is publicly forecasting 130% production growth from the levels at the end of 2009 through fiscal 2013. In 2010, management expects to produce 22.2 million ounces of silver along with 20,000 ounces of gold. Of course this doesn't include any additional acquisitions the company may make in the meantime. And further acquisitions are certainly likely as the company is sitting on a cash balance of $323 million and has another $400 million of available credit.
Assuming a flat silver spot price and only using the "reserves" category (ignoring "measured, indicated and inferred" categories) Silver Wheaton still has access to nearly $50 per share in resources. With the price of silver continuing to climb and management on the hunt for additional production, SLW could easily triple its current price.
Now SLW is certainly a bit extended on its chart – a function of quality execution by the company and increasing confidence by market participants. The best bet at this point may be to wait for SLW to back off and give a better entry point. Or as traders we could take a page out of Silver Wheaton's playbook and buy a longer-term call option on the stock.
The January (2012) calls with a $35 strike price are currently offered for $3.25 and if silver continues to benefit from the flight to safety, the calls could see a significant increase over a few months time.
Bottom line: Silver Wheaton is executing its strategy flawlessly and while the stock may be a bit speculative at this price, the long-term outlook for the company is attractive to say the least.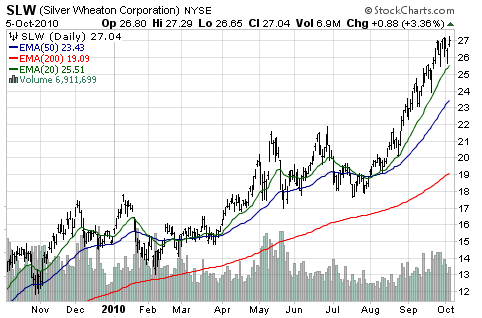 click to enlarge
Disclosure: As active traders, authors may have positions long or short in any securities mentioned. Full disclaimer can be found here.