Alcoa (NYSE:AA) has rallied over 40% so far this year, thanks in part to automotive makers' decisions to produce more cars out of aluminum instead of steel.
If this decision by the car industry is going to significantly affect demand, you would expect aluminum to rise as well. For a while, it had not kept pace, and caused some to scratch their heads.
One Seeking Alpha contributor noted the divergence in Alcoa's stock price and the price of an aluminum ETF, but aluminum futures prices do seem to reflect increasing demand expectations for aluminum and have rallied since last Fall. The ETF is still dislocated, but that may be attributable to other factors in its composition.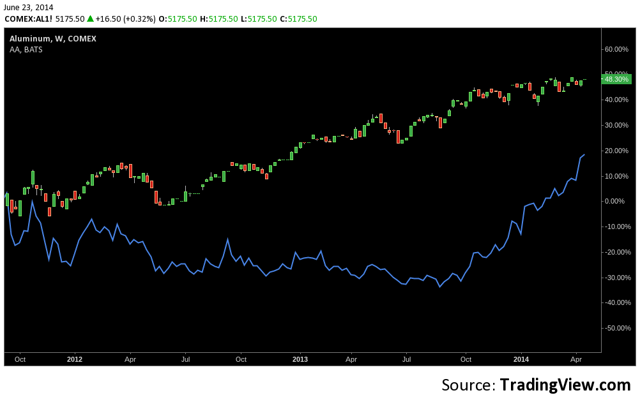 So aluminum is confirming the demand expectations, which should provide a significant long-term macroeconomic trend for "commodity-producer Alcoa" to ride. What about "aerospace Alcoa?"
The other area that will provide even more certain revenue growth going forward is Alcoa's Engineered Products and Solutions Division. That is the area that makes its aerospace parts. Alcoa added to that division with the $2.85 billion purchase of Firth-Rixson, the maker of jet engine components.
The move further removes Alcoa's dependence on aluminum prices for revenues and profits, unlike competitors Aluminum Corporation of China (NYSE:ACH) and Century Aluminum (NASDAQ:CENX).
By moving into the growing aerospace industry, Alcoa is remaking its business. No longer only a commodity provider, it is now partly a miner and commodity supplier, and partly a vertically integrated aerospace supplier with intellectual property.
Alcoa already produces fastening systems, jet engine airfoils, aerospace sheet and forgings. It is also expanding one of its aerospace plants in Virginia, and broke ground on a large expansion in Indiana. This company is going "all-in" on aerospace, and that should pay off with higher growth in revenues and profits going forward. And if aluminum prices do really rebound, that's icing on the cake.
According to Zacks, the Firth-Rixson acquisition will increase Alcoa's aerospace revenues by 20%.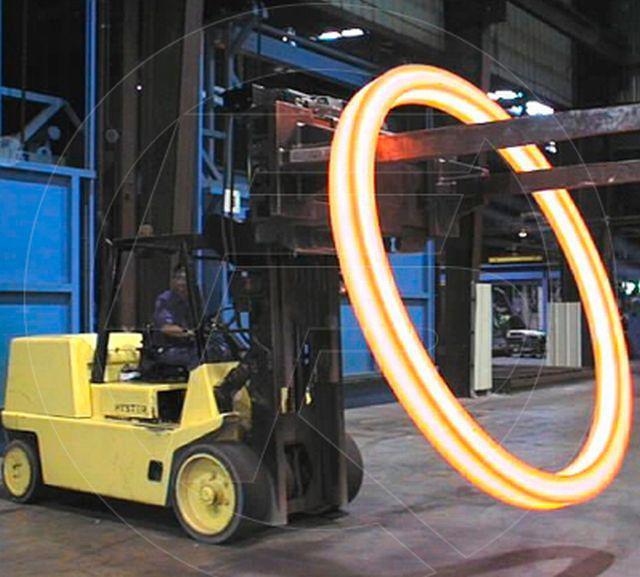 Metrics
Alcoa has some issues aside from its aerospace division growth. The company should lose money this year, and its forward P/E ratio is 21. That seems high, but when looking at its projected 5-year earnings growth rate of 49%, it results in a PEG of .69. That actually suggests undervaluation using a longer-term perspective.
Because the stock is up almost 95% over the past 12 months and up 41% year-to-date, and because its EPS growth is expected to be so high, Alcoa is susceptible to any news that may affect those earnings projections. The higher the projections, the more room for disappointment.
Chart
Alcoa has had a strong year, as you can see by the ten green bars (each indicating a monthly gain) in a row. Now, it will face two price hurdles in the form of a moving average and the 2011 highs. The more significant of these is the 2011 high, because investors that bought right there may be tempted to unload shares once they are back to "even." It will add some share supply, but it will be interesting to see if the recent strength can outweigh the sellers there.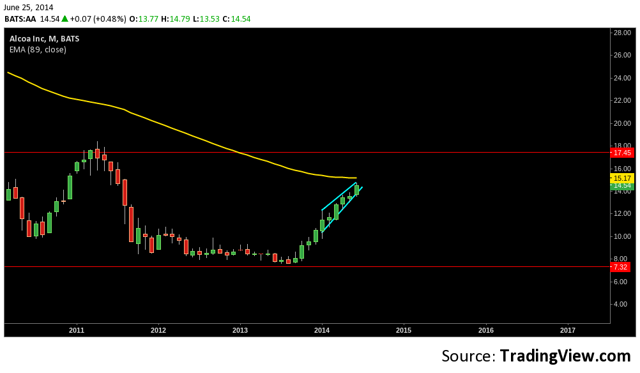 And below is a chart of 2014, showing an ascending wedge. Typically, when these break, they mark a top for that time period. In this case, that may mark the 2014 high. A target for a pullback, should this wedge break, would be $12.35, or possibly the bottom of the wedge at $10.85.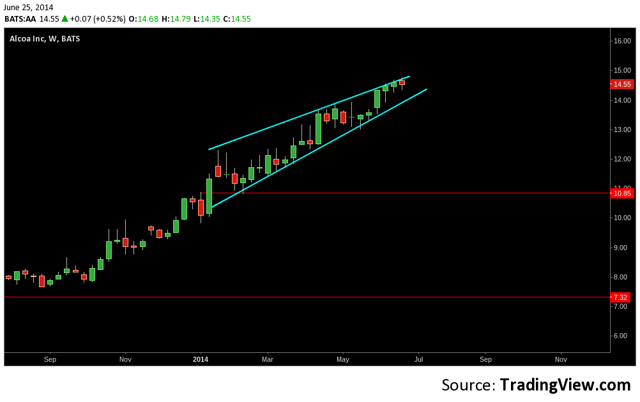 The Play
Because of the significant move over the past 12 months, the stock seems a little overextended and more likely to pull back at resistance. However, Alcoa has displayed tremendous strength, and it can be difficult to predict when a pullback will occur. I would not initiate a full position here. I would buy half now and wait 30 days before considering purchasing more.
Disclaimer: We do not know your personal financial situation, so the information contained in this article represents an opinion, and should not be construed as personalized investment advice. Past performance is no guarantee of future results. Do your own research on individual issues.
Disclosure: The author has no positions in any stocks mentioned, and no plans to initiate any positions within the next 72 hours. The author wrote this article themselves, and it expresses their own opinions. The author is not receiving compensation for it (other than from Seeking Alpha). The author has no business relationship with any company whose stock is mentioned in this article.