In a report released Tuesday by China's National Audit Office, several irregularities were noted in the books and records of 25 gold processors that resulted in 94.4 billion yuan (~$15 billion) of improper gold-backed loans.
These loans were constructed to allow market participants to take advantage of swings in interest rates and foreign exchange spreads. The resulting loans produced a profit of 900 million yuan for the 25 gold processors in the report. The report did not disclose the names of the companies involved, how the transactions were structured or what "irregularities" made then appear to be potentially illegal.
This report is on the back of a recent probe into the operator of Qingdao port in which an alleged fraud of using the same collateral too back multiple loans is being investigated.
Both the National Audit report and the Qingdao investigation have put pressure on global gold (NYSEARCA:GLD) and other commodities prices (NYSEARCA:IAU) as bankers seek to confirm the legitimacy of collateral.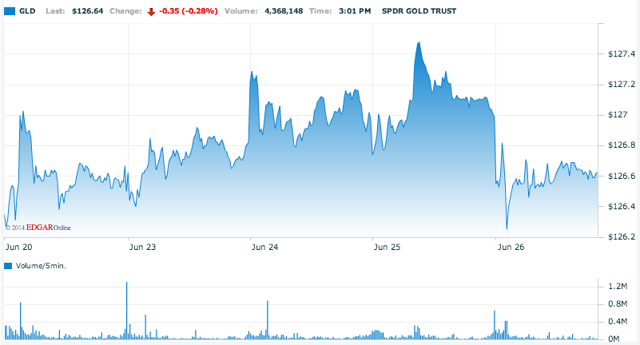 (Nasdaq.com)
In addition, there is fear that China may crack down further on the practice of granting loans backed by various types of commodities therefore forcing the unwinding of many transactions, dumping an oversupply of metals on the market and further depressing prices.
Closely Monitoring China's Gold Trade
China closely controls its gold trade allowing only 12 banks to import gold and monitors the flow of gold via a quota system. The gold is then sold or lent to Chinese manufacturers who then obtain letters of credit from other Chinese banks, which are backed by the gold held in bonded warehouses.
The manufacturer then takes that letter of credit and gets a $US dollar denominated loan by using an offshore subsidiary provide by an offshore bank. The proceeds of the loan are then converted to Chinese yuan and invested in high-yield assets in mainland China until the gold is needed in production or sold.
This interest rate arbitrage is not illegal in China and boosts the profits of the country's manufactures. China is one of the world's largest consumers of gold, which is primarily used to manufacturer jewelry. Other commodities such as copper and aluminum are also used as collateral for the loans and follow a similar scheme.
Concerns For China
The report has confirmed what many have thought for a long time and the hasty and significant retreat of offshore banks to provide commodity secured loans given the recent announcements could mean that many struggling Chinese business could be forced into financial distress. Even more serious, the loss of liquidity for the Chinese market could lead to more serious problems for the Chinese economy overall, depressing the value of the yuan.
Negative Impacts On Gold Prices
On Thursday, June 26, gold prices fell on the news. The WSJ reported a drop of $8.20 (0.6%) for the most actively traded contract at $1,314.40 a troy ounce, for August delivery, on New York Mercantile Exchange Comex division.
Warren Buffett Weighing In
Highly successful, well respected investor Warren Buffet would almost certainly scoff at the continued speculative nature of gold's valuation. He once described how all of the gold ever mined, at current prices, would "equal all of the farmland in the United States… 10 Exxon Mobils…and $1 trillion of walking-around money". Buffet strongly suggests here that other investments have more solid value.
Buffets own holding company, Berkshire Hathaway (BRK.A, BRK.B), is comprised of growth companies in industries as diverse as insurance and reinsurance, freight rail transportation, utilities and energy, finance, manufacturing, services and retailing.
A strong advocate of fundamental analysis, which has proved a concrete, extremely profitable strategy for the nearly 84-year old "Oracle of Omaha" and third richest person in the world in 2012--Buffet's words carry significant weight on investment topics and should be kept in mind by individuals betting on gold's whimsical values.
GLD has been on a protracted decline since 2012.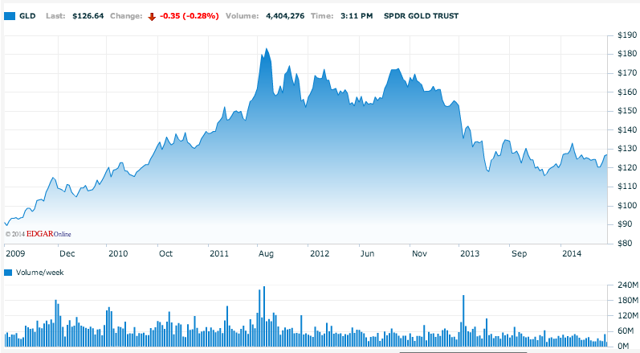 (NASDAQ.COM)
While many unanswered questions still exist, regarding these particular Chinese loans, it is clear the problem could get worse before it gets better. As China decides on an ongoing basis how to deal with these massive instances of deception, GLD will likely feel continued pressure.
We recommend investors take profits now in this shaky holding and focus on growth prospects that are backed by tangible, predictable value.
Our top pick for the second half of 2014 is Heritage Insurance Holdings (NYSE:HRTG), a Florida-based property and casualty insurance holding company, which is increasingly a market leader in a positive regulatory environment. HRTG has had a strong market performance, following its May 22 IPO.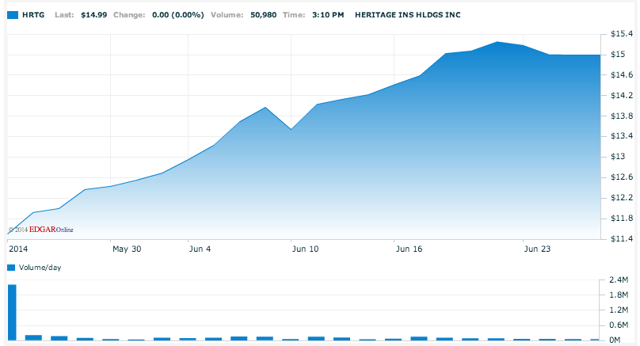 We invite readers interested in GLD to click the +FOLLOW button above the title of this article - and those wishing to receive the latest developments on GLD to click the +Get real time alerts.
Disclosure: The author has no positions in any stocks mentioned, and no plans to initiate any positions within the next 72 hours. The author wrote this article themselves, and it expresses their own opinions. The author is not receiving compensation for it (other than from Seeking Alpha). The author has no business relationship with any company whose stock is mentioned in this article.