The Current Picture
Following a stellar fourth quarter and subsequent jump in stock price, eyes have been on Nvidia (NASDAQ:NVDA) and its actions revolving the expansion of its GPU business. With GeForce GTX revenues up over 50% from the beginning of the year, there has been little doubt that the company can maintain its dominance in the desktop GPU business. However, with market trends shifting away from desktops, investors are wary of the company's ability to expand its efforts into new horizons.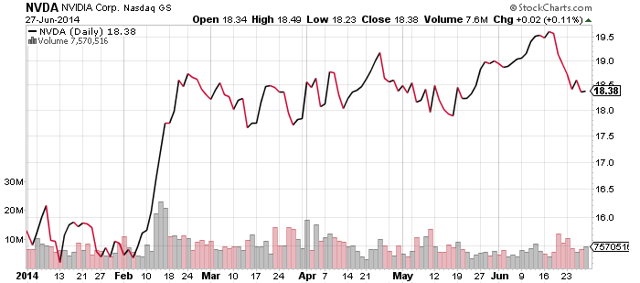 Click to enlarge
source: stockcharts.com
Android Alliance
Tegra integration into Google's (NASDAQ:GOOG) (NASDAQ:GOOGL) new Android ventures provides new channels of revenues for Nvidia's bottom line. While previously strung most closely to computers, Nvidia can now expand its GPU efforts into the consumer's living room and/or even car.
Roughly 30 automobile companies, including Toyota, Honda, Audi, GM, and Maserati, will have Android Auto provided as an option to their consumers by the end of the year. This means that by the start of 2015, millions of potential automobile buyers will be in a position to create a new connection to Nvidia GPU products. Given the inevitable ubiquity of Google products following launch, it can be expected that Android Auto will be an option commonly chosen by consumers. With Android OS now being the most common mobile operating system, increased connectivity between consumer smartphones and their cars will also spur sales.
Changing Course?
With desktop sales falling steeply due to the rise of new mobile platforms, this shift in product focus can serve to hedge potential risk arising from changing consumer preferences. With a wider array of products to service, Nvidia can protect itself from shifts in demand within the processing marketplace. Desktop sales are slated to decline at a rate of two to three million units a year following 2013, decreasing demand for desktop GPUs. While laptop sales are estimated to grow slightly, the most rampant growth is, not surprisingly, expected to be in the tablet industry. While Nvidia graphics cards do hold a strong market share in the laptop market (they gained ground on AMD in terms of market share earlier this year), their position in the mobile device and tablet industry is less than impressive.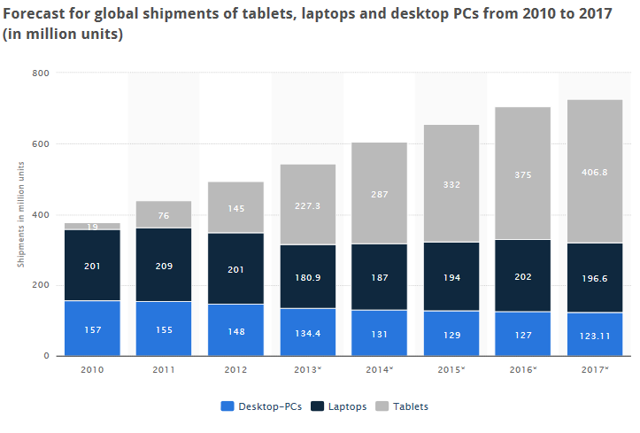 Click to enlarge
source: www.statista.com
Nvidia faces stiff competition from industry rivals AMD (NYSE:AMD) and Qualcomm (NASDAQ:QCOM), of which the latter holds a strong presence in the mobile processing industry. Qualcomm's "Snapdragon" line of mobile processing units heads their dominance in the smartphone chipset market, with over 50% market share in terms of revenue this year. A market study for mobile device GPUs found that Nvidia holds a paltry 1.4% market share for devices, as opposed to Qualcomm with 32.3%. While the competition is not yet direct for the on-board automobile GPU field, Nvidia would be foolish to expect Qualcomm to standby as mobile processing expands to new platforms.
The Next GTX
Recent reports also indicate that Nvidia aims to release its next GTX models, the GTX 880 and 870, later this year, possibly in the range of October to November. While expansion into new markets is certainly a priority for the company, maintaining its bread and butter desktop GPU selection is crucial for Nvidia's revenues. With the launch of the new models, Nvidia can expect to maintain its industry position, though revenues are expected to dip slightly next quarter prior to the start of shipments.
Conclusion
Nvidia is approaching a stage in which the company must adapt to succeed. Via its collaboration with Google in supplying processing units for Android Auto and Android TV, it is doing just that. The company has an excellent reputation and has proven time and time again that it is a producer of high quality GPUs - a strong reason as to why Google partnered with them in the first place.
While revenue streams from this deal may not be fully realized until later next year, it provides a new channel to reach consumers in an ever-changing industry. As desktops become a thing of the past and the information age goes mobile, one can expect Nvidia to be at the forefront of the world's most demanding technologies.
Disclosure: The author has no positions in any stocks mentioned, and no plans to initiate any positions within the next 72 hours. The author wrote this article themselves, and it expresses their own opinions. The author is not receiving compensation for it (other than from Seeking Alpha). The author has no business relationship with any company whose stock is mentioned in this article.