By Dean Popplewell
Month-end and quarter end considerations are making for quiet trading conditions. This is not new for the forex class - for H1, investors have been contained to tight trading ranges. To date, G10 central banks' monetary policy has been able to handcuff the market to a low volatility-trading environment that tends to favor the "carry" trade. Until sustainable rate divergence appears, dealers and investors will be committed to more of the same for the second-half of this year. Nonetheless, certain intraday volatility, promoted by geo-political risk factors, does provide opportunities. Investors are required to be "fleet of foot" to avail themselves of such situations.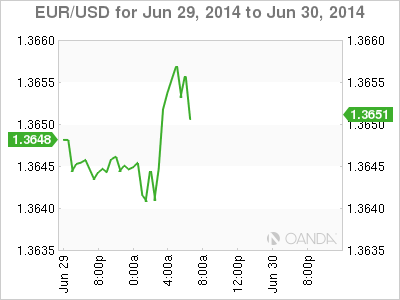 The forex market is coming off a week that saw US bond yields remaining on the back foot and allowing the US yield curve to continue its bullish steepening (short rates drop faster than long). Under this scenario, the greenback should stay offered, pushing volatility even lower and keeping the carry trade in play. Last week saw volatility in the EUR/USD pair match all-time lows at +4.55%. The pound has seen a little profit taking since failing to close above the pivotal £1.7050 weekly chart point on Friday. USD/JPY continues to slide lower, dropping below its 200-day moving average to a new seven-week low around ¥101.34 largely due to US rates. A stronger yen makes it difficult for the BoJ, and in particular, an export-driven economy. Nonetheless, opportunities do exist even in this holiday shortened trading week stateside.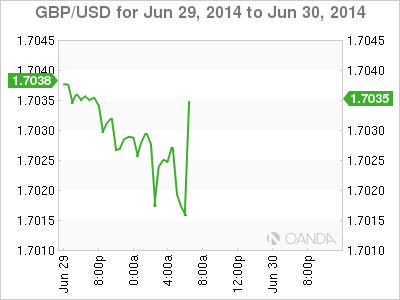 It's natural to see risk appetite erode, especially with the market closing out another month. Continuous mixed economic data aided also by geopolitical concerns in Iraq and Ukraine have managed to dampen investor spirits and send many equity indexes down. The dollar's slide can be blamed on traders willing to push the possibility of a Fed interest rate hike, given the disappointing economic data, further out. Nevertheless, this is a "big" week on the economic front. It will be a short one in the US - markets are closed Friday for Independence Day holiday. Both the RBA and ECB will hold monetary policy meetings. Anyone invested in the crowded "carry" trade of choice (long AUD funded by borrowing EURs) will certainly want to know what the respected governors are thinking. A plethora of key economic data are expected globally, including June's PMI readings, May international trade data in the US and Canada, Japan's quarterly Tankan and most importantly, ending on a high note on Thursday (not the usual Friday), investors will get the US employment situation report. All in all, it will be a tightly packed and important week for the various asset classes.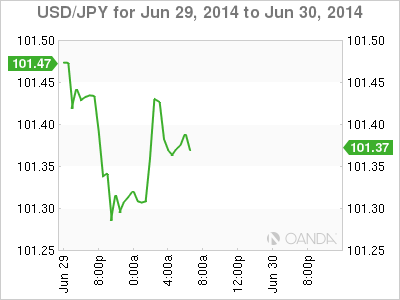 The flight of the EUR has confounded many ever since the last ECB meet. An outwardly "dovish" central bank would have expected more lasting negative results for their currency. Most of the market has been positioning themselves for a weaker unit (€1.3650), however, that has yet to consistently transpire. This morning's eurozone flash HCIP for June stayed at +0.5%, y/y. The increase in German inflation had many expecting an upward revision, but disinflation outside of Germany is proving much stronger (Italy - +0.2% vs. +0.4%, Spain - +0.9% vs. +0.2%). Low inflation certainly keeps alive the expectations of further ECB action, however, the divergence between Germany and the periphery is key. The Bundesbank will find it difficult to support more radical steps to increase the money supply. Draghi and company at the ECB are currently in a wait-and-see mode for the foreseeable future, and unless German inflation begins to slow, the ECB is unlikely to deliver anything as radical as QE. For now the EUR short positions are being squeezed, pressured by large option expiries, which tend to be more magnetic in dull trading conditions. With little volume to impede upward trajectory for now, €1.3600-30 could be vulnerable. The story remains follow US yields for clues.