The revelation that developers are getting up to 4x more money on Apple's (NASDAQ:AAPL) iOS platform is compelling reason for me to consider getting out of Google (NASDAQ:GOOG) (NASDAQ:GOOGL). I'll use the money instead to increase my position in Apple.
As of March 2014, Apple had 470 million iOS device users (less than half of Android's 1 billion monthly active users) and delivered twice the amount of app sales. This fact further explains why APPL has outperformed GOOG despite Apple not having ventured into robotics, modular phones, and satellite internet ventures.
I admire the futuristic efforts of Google but the chart below shows more investors appreciate the boring iPhone-boosted business focus of Apple.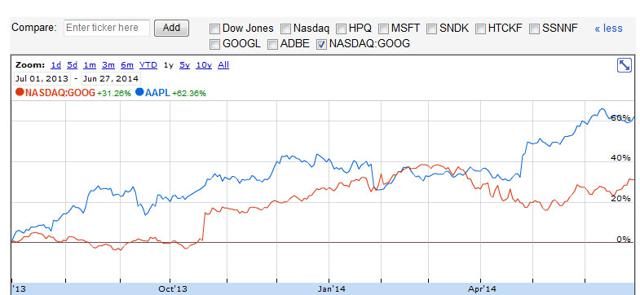 Source: Google Finance
iOS Users Are Far More Generous
Sundar Pichai revealed that Google paid more than $5 billion dollars to developers in the last 12 months. That's just half of the estimated $10 billion that Apple paid to iOS developers. Apple distributed more than $7 billion to app developers in 2013. There is a good chance that iOS users will help Apple pay $12 billion or more to developers for the whole of 2014.

Source: Philip Elmer-DeWitt
The iLoyalists are spending more money on apps compared to their Android brethren. The ARPU chart below from Philip Elmer-DeWitt illustrates why developers will continue to prioritize iOS over Android. I have a brother that makes Android games using Unity 3D. He will not get rich making games for Android phones. I should really show him this chart.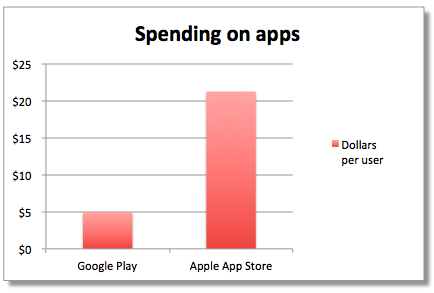 The point is that a majority of Android users, while more than a billion in numbers, are low-income people that will never waste serious money on in-app purchases or in buying premium apps. Big and small app developers can even afford to exclusively release their creation on iOS because Android money isn't that great. They won't have to spend time and money porting their games or apps to Android.
Spending $200,000 on making a game Android-compatible and then earning just $50,000 from Android users…is just bad business for game studios.
After two years, Google still suffers the same 4x disparity in app sales between Android and iOS. The failure of Android OS to attract big-spending customers will likely continue for two more years.
Apple Is Beloved By The Affluent Customers
Chitika's data reveals iOS 7 devices grossly dominate web traffic in America and Canada. The big spenders are loyal to the Apple brand.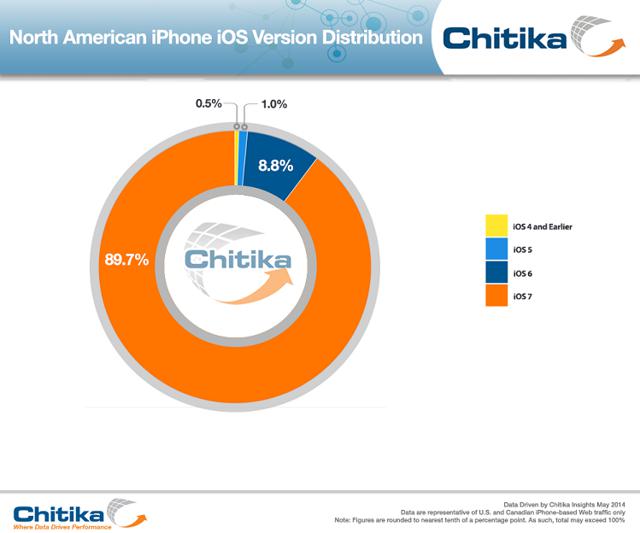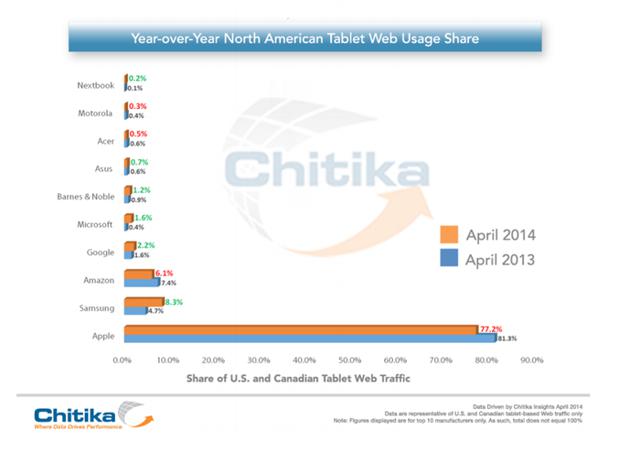 As of February 2014, the iPhone delivered 84.3% of U.S. and Canadian mobile web traffic. The iPad contributed 78.5%. This huge almost monopoly-like hold of Apple devices on web traffic is one reason why developers rake in big money from big-spending North American iOS users.
It is not farfetched to assume that Google's own mobile search advertising is making 4x the money on Apple devices too.
Conclusion
I am likely to dump GOOG this week to fund the acquisition of more AAPL. My personal admiration of Google X's inventions should be discarded for profiteering purposes. I see Apple outperforming GOOG again for the next 12 months. AAPL is enjoying the support of more investors this year.
I do not doubt that the upcoming iPhone 6 will again be a blockbuster hit. I do not doubt that more app developers will continue to prioritize the iOS platform over Android. I do not doubt that AAPL is a Strong Buy.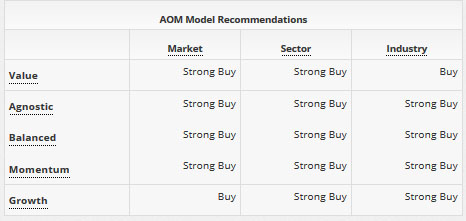 Source: getaom.com
Twenty-nine other analysts at BarChart agree with my Buy rating for AAPL. Here's a comparative chart of GOOG and AAPL.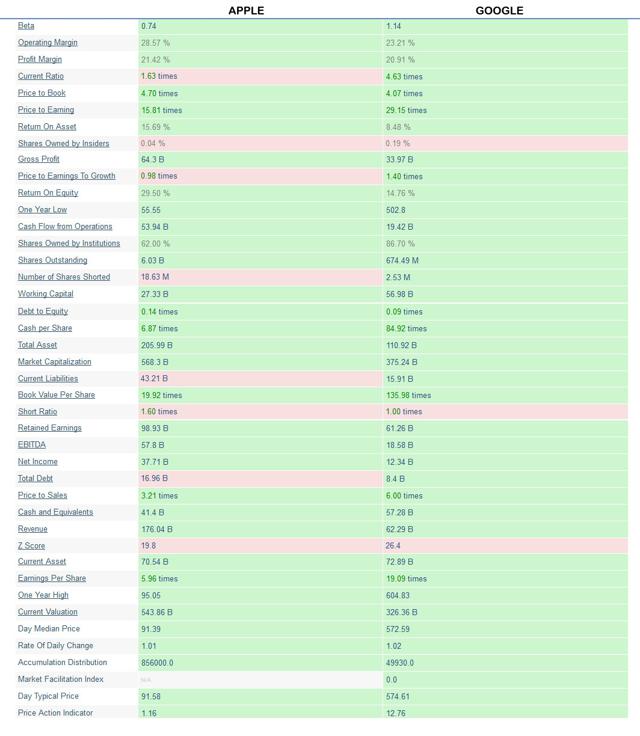 Source: Macroaxis.com
Disclosure: The author is long AAPL, GOOG, GOOGL. The author wrote this article themselves, and it expresses their own opinions. The author is not receiving compensation for it (other than from Seeking Alpha). The author has no business relationship with any company whose stock is mentioned in this article.