Overview
The World Health Organization, WHO, states approximately 347 million people worldwide have diabetes. According to the WHO:
"Diabetes is a chronic condition in Diabetes is a chronic disease that occurs when the pancreas does not produce enough insulin, or when the body cannot effectively use the insulin it produces. Hyperglycaemia, or raised blood sugar, is a common effect of uncontrolled diabetes and over time leads to serious damage to many of the body's systems, especially the nerves and blood vessels."
Consequently, demand for diabetes treatments has grown exponentially. There are two types of diabetes. There is Type 1 diabetes which affects children and young adults. In those cases, the body does not produce insulin and Type 2 diabetes which affects older adults who no longer produce enough insulin.
Friday's Afrezza FDA approval

MannKind's (NASDAQ:MNKD) only product is Afrezza, a fast-acting inhalable prandial insulin designed to address the disease. According to a late breaking Friday AP report regarding Mannkind's drug Afrezza:
"The Food and Drug Administration on Friday approved a long-delayed inhalable diabetes medication to help patients control their blood sugar levels during meals. The FDA cleared MannKind Corp.'s Afrezza, a fast-acting form of insulin, for adults with the most common form of diabetes, which affects more than 25 million Americans. The approval decision comes more than three years after the agency first asked MannKind to run additional clinical studies on the drug."
This is great news but seemed to come with a twist in the form of a Boxed Warning- the most severe type of warning. This is what caused the havoc in the stock. In the following sections I will attempt to explain why and put the stock into perspective.
It has been a long time coming
MannKind's long regulatory journey finally appears to be over with the FDA approving the company's drug Afrezza. The drug's main value proposition is that patients do not have to time their dose at a particular point before a meal in order to synchronize the insulin's effect with the spike in food-related glucose. They simply inhale the insulin at the beginning of the meal or within 20 minutes after starting the meal thereby minimizing the potential for a hypoglycemic event caused by the mistiming of the prandial insulin dose. This sounds like great news but came with a twist in the form of a Boxed warning which sent shares reeling.
The Boxed Warning surprise
The FDA's approval was contingent on the drug having a Boxed Warning advising that bronchospasm has been observed in patients with asthma and chronic obstructive pulmonary disease. Afrezza is contraindicated for patients with chronic lung disease. The regulatory approval has a RIMS, Risk Evaluation and Mitigation Strategy, attached that includes a communication plan to inform healthcare professionals about the risks of acute bronchospasm in patients with chronic lung disease.
The FDA's clearance also requires four Phase 4 clinical trials to evaluate Afrezza's pharmacokinetics, safety and efficacy in pediatric patients, to evaluate the potential risk of pulmonary malignancy with Afrezza and two pharmacokinetic-pharmacodynamic euglycemic glucose-clamp trials to characterize dose-response and within-subject variability.
At first the stock was off to the races when investors caught wind of the approval, but then when the news of the Boxed Warning hit the street many were caught off guard by the severity of the restrictions and began selling out. A harrowing rollercoaster ride ensued for shareholders who were able to gut out the volatility.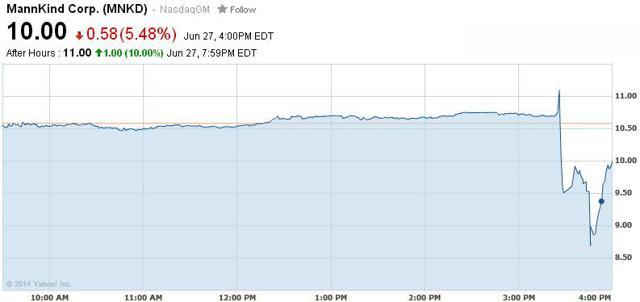 Click to enlarge
(Source: Yahoo.com)
Why so much volatility?
MannKind is basically a one trick pony with all its eggs in one very overpriced basket. You see, MannKind has no other products on the market and lost more than $191 million last year alone. Even so, the stock has gone on a major run as of late, nearly doubling in a few short months.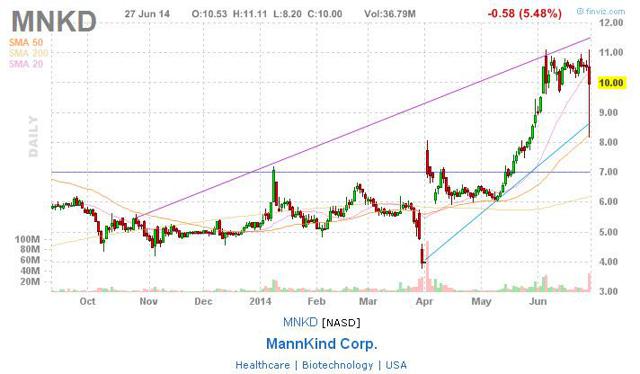 Click to enlarge
(Source: Finviz.com)
Furthermore, the stock has a high short interest and very little institutional ownership.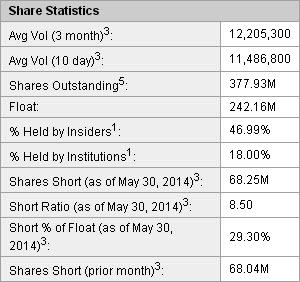 (Source: Yahoo.com)
This leads to extremely oversized moves in either direction. Short sellers and retail investors tend to have the itchiest of trigger fingers which leads to rapid changes in share price directions like we saw on Friday afternoon. Yet, the story isn't quite over just yet. Late Friday, Leerink's Joshua Schimmer stated:
"The labeling contained no surprises. Afrezza has a black box warning related to bronchospasm in patients with lung disease, so these patients are contraindicated. Pulmonary function testing is also advised at baseline, 6 months and annually for all patients. The lesser effect on HbA1c vs sc insulin is noted, but any relative improvement in hypoglycemia risk is not mentioned, which could limit the commercial message for the product."
This sent the stock soaring in after-hours regaining all the lost ground and then some. The stock closed the after-hours session at $11 up 10%.

Click to enlarge
(Source: CNBC.com)
The Big picture
Afrezza's introduction into the market will be one of the most scrutinized product launches this year. Many companies have already tried and failed to make inhaled insulin work commercially. So, the outcome is in no way certain at this point. Furthermore, the valuation is stratospheric at this point.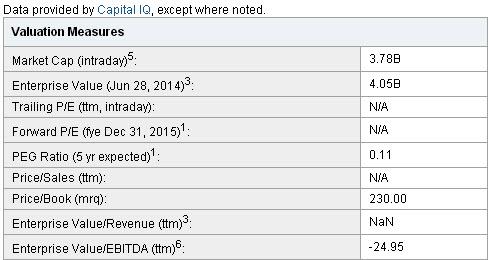 (Source: Yahoo.com)
The stock is currently trading at 230 times book value. This stock is definitely not for the faint of heart. Moreover, the Afrezza news may be already completely priced in at this point.
Conclusion
MannKind is an extremely speculative stock. This is not an investment I would suggest for anyone whose objective is to preserve assets. If you do decide to roll the dice, I would not put more than a small percentage of my portfolio towards the name. There are just too many variables to consider at this point. I could very easily see a secondary offering in the near future which may drive the share price lower by a significant margin. On the other hand, you have a high short interest providing the possibility of a huge short squeeze in the making. It's basically a crap shoot at this point. Place your bets and cross your fingers if you like, just don't bet the house on it. It will be interesting to see what happens Monday.
Disclosure: The author has no positions in any stocks mentioned, and no plans to initiate any positions within the next 72 hours. The author wrote this article themselves, and it expresses their own opinions. The author is not receiving compensation for it (other than from Seeking Alpha). The author has no business relationship with any company whose stock is mentioned in this article.