Big excitement Friday for MannKind (NASDAQ:MNKD) investors: The much-hyped biopharmaceutical company reported that the U.S. Food and Drug Administration approved its inhaled insulin drug Afrezza. The company issued the following press release on its website:
VALENCIA, Calif., June 27, 2014 (GLOBE NEWSWIRE) -- MannKind Corporation today announced that the U.S. Food & Drug Administration (FDA) has approved AFREZZA® (insulin human) Inhalation Powder to improve glycemic control in adult patients with diabetes mellitus.

"Approval of AFREZZA is an important milestone for MannKind, as today's FDA action validates the years of clinical research and commitment that powered the development of this unique therapy," said Alfred Mann, Chief Executive Officer, MannKind Corporation. "We are excited for patients, as we believe that AFREZZA's distinct profile and non-injectable administration will address many of their unmet needs for mealtime insulin therapy, and has the potential to change the way that diabetes is treated. We thank the more than 6,500 adult patients and healthy volunteers who participated in the AFREZZA clinical program."

LIMITATIONS OF USE: AFREZZA must be used in combination with a long-acting insulin in patients with type 1 diabetes mellitus. AFREZZA is not recommended for the treatment of diabetic ketoacidosis and is not recommended for patients who smoke.

AFREZZA has been approved with a Risk Evaluation and Mitigation Strategy (REMS) required by the FDA to ensure that the benefits of AFREZZA outweigh the potential risk of acute bronchospasm in patients with chronic lung disease.

Important Safety Information about AFREZZA (insulin human Inhalation Powder)

The following information is taken from the highlights section of the US Prescribing Information. Please see full Prescribing Information including boxed warning.

BOXED WARNING: RISK OF ACUTE BRONCHOSPASM IN PATIENTS WITH CHRONIC LUNG DISEASE

Acute bronchospasm has been observed in patients with asthma and COPD using AFREZZA. AFREZZA is contraindicated in patients with chronic lung disease such as asthma or COPD. Before initiating AFREZZA, perform a detailed medical history, physical examination and spirometry (FEV1) to identify potential lung disease in all patients.
Investors have largely been speculating on a positive vote from the Food and Drug Administration which could have been described as a binary event: Approval would send the stock soaring while disapproval would send the stock plummeting. Both sort of happened Friday.
Investor sentiment with respect to MannKind has been bordering on 'euphoric' for some time now: Shares have returned 88% since the beginning of the year, but would probably have performed much better if it wasn't for the FDA's decision to require a box warning on the Afrezza insulin product.
Pure emotions driving MannKind's share price
This box warning requirement, a big no-no in the world of drug manufacturers, was also the reason why MannKind's shares tumbled more than 20% at some point during Friday's trading session.
The following chart displays Friday's intra-day trading chart of MannKind shares. After news about the ambiguous FDA decision made headlines, investors, in a classic display of collective panicking, rushed through the door at the same time, sending shares down to the $9 region.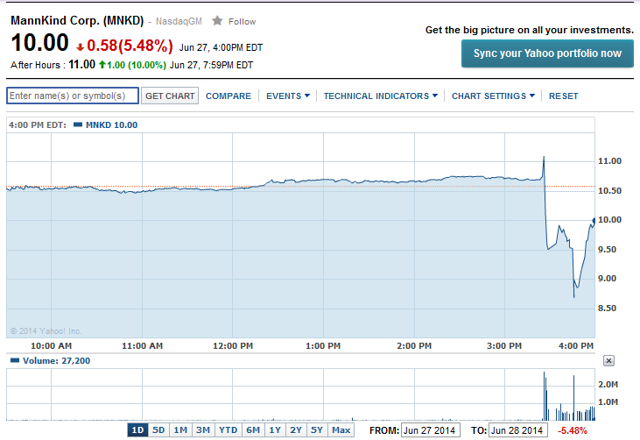 (Source: Yahoo Finance)
The stock recovered some of its lost ground during regular trading as investors had time to digest the FDA decision and assumed the box warning wasn't going to have a large impact on the sales success of Afrezza. However, MannKind's shares closed down 5% lower for the day.
Optimistic sentiment returned quickly in the after-hours trading session which sent the stock up another 10% to $11.00 with potentially further short-term momentum on Monday.
Outlook
As discussed in my previous articles about the company, MannKind's stock price trades solely on expectations and should prove to be extremely volatile in the near term. I have also previously questioned MannKind's high equity valuation due to the extremely euphoric expectations with respect to MannKind's ability to enter into lucrative partnerships.
In addition, analysts toss around lofty sales expectations of $5-7 billion annually whereas a more cautious annual sales estimate would probably be more in the $2-3 billion region.
SA contributor Debra Fiakas recently mentioned the "dilutive impact of recent capital raising efforts" and MannKind's high equity valuation which is largely driven by "investor excitement." And I totally agree: The erratic trading behavior on Friday suggests that speculators themselves do not know on which direction of the share price they should bet.
No doubt, MannKind's shares trade on extremely optimistic assumptions about MannKind's future sales and many Bulls seem to believe that Afrezza will nearly single-handedly replace traditional insulin drugs. Lofty expectations plus the display of overconfidence does not bode well and, more often than not, will lead to serious disappointment. The stock market history offers plenty of examples of hyped stocks that sooner or later experience the power of gravity.
Conclusion
For the time being, MannKind's shares are likely to remain volatile, and profit-taking could quickly put tremendous selling pressure on MannKind. In fact, the speculators buying into the temporary MannKind hype will likely be the first to drop the shares on only the slightest appearance of trading weakness.
With an ambitious market capitalization of $4 billion, extreme intra-day volatility and potential profit-taking, speculators should expect a pullback to the $9 region at any time. Short opportunities especially arise after another emotion-fuelled run up to the $12-13 region.
Disclosure: The author has no positions in any stocks mentioned, and no plans to initiate any positions within the next 72 hours. The author wrote this article themselves, and it expresses their own opinions. The author is not receiving compensation for it (other than from Seeking Alpha). The author has no business relationship with any company whose stock is mentioned in this article.