The outlook for Thailand's economy is looking much improved in the wake of unrest in the country in May, which hurt tourism and foreign investment. Flash forward a few months later, and things look different for Thailand and its ETF.
Thailand's Finance Minister raised Thailand's GDP growth projection, again, to 7.3% to 7.8% from the previous 5% to 6% forecast, reports Tim Johnston for Financial Times. Pessimists believed that Thailand's economy, with its heavy emphasis on exports at 65% of GDP, would begin to slow as demand from developed countries diminish.
Exports are expected to increase 25%, vehicle production, which is 11% of GDP, is calculated to jump 66% year-over-year. Thailand''s stock market is at a 14-year high and the baht is also at a 13-year high.
However, Japan, the largest foreign investor in Thailand, recently reported that 67% of companies believe further civil unrest will have an impact on their investment decisions.
Sales of electronics and automobiles boosted the economy's expansion to 9.1% in the second quarter, but Satit Rungkasiri, head of the ministry's Fiscal Policy Office, warns that a strengthening baht and weaker economic recovery in the developed countries will hamper Thailand's second-half growth, writes Suttinee Yuvejwattana for Bloomberg.
For more information on Thailand, visit our Thailand category. If you're looking for exposure to Thailand, the ETF is well above its long-term trend line. Be mindful of the risks – politically, there's turmoil that remains – and have an exit strategy if the upset derails this ETF's performance.
iShares MSCI Thailand Invest Mkt Index (NYSEArca: THD) is up 23% in the last three months (click to enlarge image):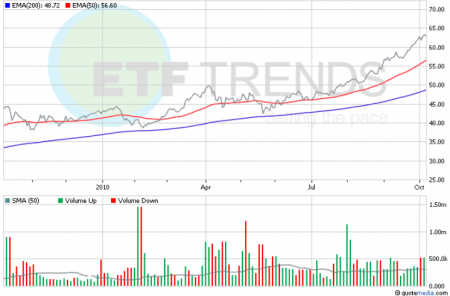 Max Chen contributed to this article.