On Friday, MannKind Corp. (NASDAQ:MNKD) reported that it finally received U.S. approval to sell its inhaled insulin, Afrezza, after a nearly decade-long application process. This approval, which comes with the condition that the product should not be used by diabetics with asthma or serious lung diseases, as well as the company's significant short position, are likely to further MNKD's recent move upwards.
Afrezza is a powder that is delivered through a cartridge-based inhaler system, much like asthma medications. This approval of Afrezza is for it to be used during meal times as a fast-acting insulin for those with either Type 1 and Type 2 diabetes. The drug labeling will warn that spasms in the airways of the lung may occur in patients with asthma and COPD, and it will advise against use by smokers.
The Food and Drug Administration ("FDA") previously rejected MannKind's therapy twice, and most recently because the company changed the inhaler device during the review process. There is no other inhaled insulin on the market. Pfizer (NYSE:PFE) pulled the only other approved inhaled insulin from the market due to respiratory side effects.
Roughly 26 million people in the U.S. have diabetes, and the illness often leads to other serious conditions such as heart disease and kidney damage. The occurrence of diabetes has significantly increased over the last several decades, largely in line with increased sugar consumption within the diet, and a more sedentary lifestyle. Other factors are likely attributable the rise in diabetes.
Recent share activity indicates that at least some investors knew or anticipated such a positive announcement was forthcoming. Since the end of the first quarter of 2014, MNKD shares have more than doubled. See a recent performance chart for MNKD (Source: Finviz) (click to enlarge):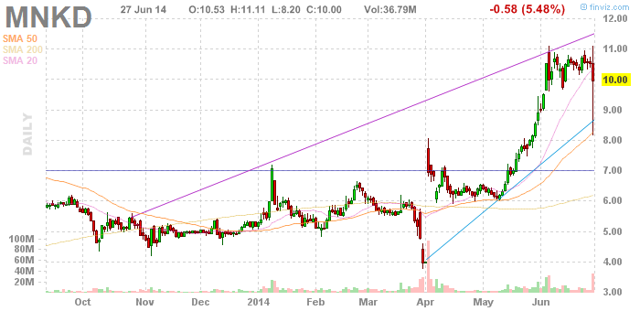 Much of this seemed related to the recent bout of merger and acquisition activity within the pharmaceutical industry. The likelihood of a MannKind entering a partnership or buyout now appears considerable.
Shares are likely to spike further upwards on this approval and the probable short squeeze that will occur. On June 13, MannKind was reported to have 69,425,357 shares held short. It is possible that some of these shorts had already covered in advance of this announcement, but the majority was probably still held short going into the weekend.
The relatively minimal institutional ownership of the company indicates that institutions may not see value to be had here, but it could also indicate that such institutional ownership is now forthcoming. The probable short squeeze that shall continue for MNKD shares this week could be brutal to the remaining shorts, irrespective of any value that shares may represent. It is likely that many retail investors took advantage of this weekend to re-set some sale limits at much higher pricing, which should contribute to the intensity of the probable move upwards, as well as possible subsequent volatility.
Disclosure: The author has no positions in any stocks mentioned, and no plans to initiate any positions within the next 72 hours. The author wrote this article themselves, and it expresses their own opinions. The author is not receiving compensation for it (other than from Seeking Alpha). The author has no business relationship with any company whose stock is mentioned in this article.