Profit, dividend, stock price - whichever variable you may measure Wells Fargo's (NYSE:WFC) financial performance by, it has been on the rise, and not because of the bank's favorite means, mortgage origination. 2014's first quarter has been the worst in 14 years for mortgage lending.
Earlier this year, Inside Mortgage Finance, a trade research firm, presented an analysis of banks' earnings via mortgage origination in each year's first quarter since 2000. The publication reported that bank earnings via MBS issuance in 2014's first quarter - a total of $191.7 billion - fell a remarkable 59.2 percent compared to the same quarter in 2013. Furthermore, when compared to the last quarter of 2013, banks produced 25.5 percent less mortgage in this year's first quarter, while the bigger nine banks reported an even greater decline: 27.7 percent.
Compared to other years' corresponding-period mortgage origination, the figures are even more dismal.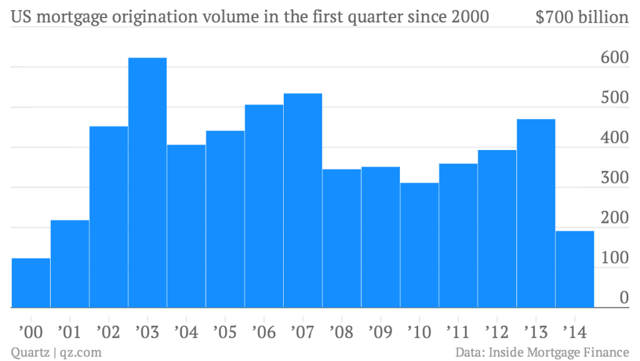 Figure: Bar chart of banks' earnings in the first quarter through mortgage origination over the past 15 years (via www.qz.com)
Figure 1 shows the cumulative mortgage origination of all U.S. banks in the first quarter of years 2000 through 2014. Although mortgage volume had already been decreasing since hitting six hundred-plus in 2003, 2014 brought a new and exceptional low for mortgage lenders - especially after a steady rise since 2010 to 2013. 2014's first quarter gave banks the worst figures since 2000's $122 billion.
Looking at the overall dismal performance of banks in the realm of mortgage generation, it seems odd that Wells Fargo, the largest mortgage lender in the US, has been reporting increasing earnings since October last year.
Wells Fargo's Increasing Profits
WFC is ranked second among all S&P 500 stocks that pay a dividend with more than 1% yield, according to the "All-Stars: Graham" powerful ranking system. Despite being the market leader in mortgage origination, at $36.0 billion, Wells Fargo was still far from its own high standards in the first quarter of this year. However, in spite of the decrease in the volume of mortgage lent, the banking heavy weights recorded a 10.5 percent rise in earnings in the middle of January 2014. By the end of the quarter, Wells Fargo reported a 14 percent year-on-year increase in net income. The bank managed to earn $5.9 billion over revenue of $20.6 billion during the three months, which meant $1.05 per diluted common share. The figures seem quite remarkable considering its poor performance in its mainstay, mortgages.
It Might Just be Giving up on Mortgaging
Any profit-yearning company can hardly complain when there are increased earnings being sent its way - even if that means giving up on its traditional sources of income. Analysts believe that Wells Fargo's improved income was a result of its better loan generation and improved credit quality. The bank's own report makes it quite clear that mortgages are no longer a focus for the bank.
The report boasts "strong loan and deposit growth", "continued improvement in credit quality" and "strengthened capital levels" as the main reasons behind its increase in earnings when compared with both, the first and fourth quarters of 2013.
In the loans category, the bank reported average loans of $826.8 billion, which was a $27.1 billion or 3 percent improvement year-on-year. Total average core deposits were reported at $994.2 billion, an improvement of $54.3 billion or 6 percent.
In the credits department, the bank reported a $594 million decrease to $825 million, while non-performing assets, at $4.1 billion, were 18 percent down from the corresponding quarter last year.
Lastly, the Common Equity Tier 1 ratio under Basel II was reported at 11.36 percent, while the Common Equity Tier 1 ratio under Basel III was reported at 10.04. The bank also looked set to announce an increased dividend rate of $0.35 per share for the second quarter.
But no mention of mortgages.
Even though in a recent interview with CNBC, Wells Fargo's CFO, Tim Sloan stated that the decline in mortgages was a "demand issue" and not a "supply issue", it seems that most large U.S. banks are deliberately avoiding the mortgage sector now and looking to more profitable options - and there's no reason why they shouldn't. Banks, like other businesses, should be expected to do whatever is more profitable, and, it seems that the mortgage business at the moment is not a good business to be in. Despite Sloan's insistence that Wells Fargo is still in the game as the biggest player, yet facts seem to suggest that the banking giants are happy to find better returns in other financial sectors.
Disclosure: The author has no positions in any stocks mentioned, and no plans to initiate any positions within the next 72 hours. The author wrote this article themselves, and it expresses their own opinions. The author is not receiving compensation for it (other than from Seeking Alpha). The author has no business relationship with any company whose stock is mentioned in this article.