American Apparel (APP), the US based manufacturer, distributor and retailer of basic apparel, has been failing miserably only a few years after its release into the American Stock Exchange in 2006. The stock price has been on a steady decline over the past few years since 2008. There are many factors that have been contributing to this, including competition in the industry, corporate mismanagement and the collection of debt.
Dov Charney vs. AAP:
Members of the board gave Mr. Dov Charney, the company's founder and CEO, the boot early last week. This, based on allegations by members of the board of sexual harassment and misuse of funds. Mr. Charney and his lawyers have denied these allegations.
Looking back to 2010, when the then CEO of Hewlett-Packard (NYSE:HPQ) Mark Hurd resigned after allegations that he had sexually harassed a TV actress, it had some pretty harsh consequences on the stock price of Hewlett-Packard. Looking at the charts from the date he was let go until now, it is clear to see that the shares took a hit. As you can see from the chart below, since 2010, the price per share has declined significantly, when Mark Hurd was stripped from his position as CEO, much like Dov Charney.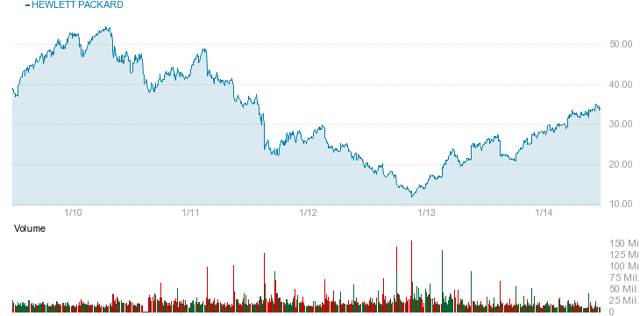 The only issue and difference here is the fact that at the time HPQ was in a position where it could take the blow and move on for growth in future years. As far as APP is concerned, one more blow financially and the entire company can be in serious jeopardy of going out of business.
Looking back to how HPQ began to decline after Mark Hurd was fired, it's hard to say that an image of sexual harassment in the workplace had much of an effect on the stock price. So I would not necessarily say that APP's poor performance is also somewhat caused by the image of sexual harassment that Dov Charney has brought to the table. However, I do predict that the firing of Mr. Charney will have a negative impact on the stock price of APP as the legal battle settles.
APP's Poison Pill:
As of this past Saturday, APP has adopted a stockholders rights plan in order to prevent a hostile takeover by Mr. Charney or any other party, particularly after an SEC filing by Mr. Charney, expressing interest in gaining influence and control over the management of the company. Since this announcement, shares of APP have temporally soared up 29% up to $0.96.
According to a press release on the matter by APP, the poison pill will be activated should a person or group acquire 15% or more of beneficial ownership of APP's common stock.
Mr. Charney, who currently owns a 27% stake in the company's shares of common stock, has attempted to gain an additional 10% of common stock from securities beneficially owned by Standard General L.P.; however, under the poison pill plan, Mr. Charney will not be able to take ownership of this additional 10%.
This reluctance to allow Mr. Charney to have any active involvement in the decision making process can prove fatal for the future of APP. This due to a loan made to APP by creditor Lion Capital back in 2009. Lion Capital is now asking for immediate repayment of the $10 million loan or to allow Mr. Charney back in charge of APP. Given APP going to great lengths to keep Mr. Charney out entirely, I see this loan having a high probability of defaulting.
Q1 2014 EBITDA increase is really the only positive, but not enough
In Q2 2013 EBITDA for APP was sitting at a negative ($693,000). The 2014 quarter 1 earnings release this past May shows that the EBITDA has since increased a total of $2.1 million to a positive $1.413 million.
Net debt/EBITDA that I calculated for Q1 is $0.27, which is a good ratio for that particular quarter and shows improvement in both the amount of debt that APP is taking out in order to fund its expenses and it also shows improvement in its ability to pay off its massive debt which is currently sitting at over $250 million.
So, therein lies the major problem that I see with APP, which is its enormous amount of debt that does not seem like it will be getting paid off any time soon. With a debt to equity ratio of -4.547, it is clear that most of this company's funding is done so by creating more and more debt. Although EBITDA has improved this past quarter, showing signs of possible repayment ability, with interest rates booming on their more recent loans, some as high as 20%+, repayment of debt seems unlikely.
I also don't see any true value in the share price either. After doing a valuation of the stock, I found the value per share to be $0.68, which is actually a bit higher than it is trading at now.
The WACC, sitting at 19.69%, indicates that growth is unlikely as the required rate of return is very high.
| | |
| --- | --- |
| Value | |
| 2013 FCF (base year) | -2,800,000 |
| Future FCF growth rate | 3.17% |
| WACC | 19.69% |
| End-2013 debt | 251,100,000 |
| End-20013 cash | 16,680,000 |
| Number of shares outstanding | 173,500,000 |
| | |
| Enterprise value (2014) | 354,130,000 |
| Add cash | 16,680,000 |
| Subtract debt | -251,100,000 |
| Value of equity | 119,710,000 |
| Share value | 0.689971182 |
| | |
Net cash per share of APP is currently at -$2.10. Given the currently valued share price of $0.68, this represents a difference of $1.42 in which the share price is trading to the net cash per share. This represents a problem when you consider that the share price of APP has not consistently traded for over $1.00 since 2010.
Trouble In A Consumer Cyclical Market
While I do believe that quality clothing can be worth the money, the average price of a T-shirt or similar article of clothing from APP is somewhere in the range of $25+ for a basic article of clothing similar to something that would normally come in a pack of 3 from Hanes for a price similar to one piece from APP.
Nowadays, clothing retailers in a consumer cyclical market need to structure their products around value - something that has not quite caught on yet at APP.
Looking at other retailers selling at similar high retail markups in terms of 52-week portfolio returns, we get the following:
COMPANIES SIMILAR TO APP
Ticker
Return(YTD)%
APP
-0.423
URBN
-0.089
PSUN
-0.287
AEO
-0.197
ARO
-0.624
COMPANIES WITH POSITIVE RETURNS IN THE CONSUMER CYCLICAL MARKET (YTD)
GSO
9.60%
IVDN
450%
NXGPY
63.40%
CHKE
9.60%
By looking at this, I would say that in the past few months, most companies in the consumer cyclical retail clothing sector have also been having troubles with portfolio return. Therefore, I wouldn't exactly use the returns of companies in this field over the past year as a metric to value performance.
However, if you look at 3-year returns for clothing retailers similar to APP, you can see that APP has been underperforming compared to similar retailers URBN and AEO.
COMPANIES SIMILAR TO APP
Ticker
Return(5 Year)
APP
-10.80%
URBN
18.80%
PSUN
-5.90%
AEO
6.30%
ARO
-79.60%
Conclusion:
Looking at the future of APP, I see a company that is more than likely on the verge of defaulting on its debt and going into bankruptcy, especially so due to the mess involving Dov Charney and the company's massive debt load. Although there was an increase in the company's EBITDA, this does not really prove much given the debt load and high interest rates that the company is currently facing.
Disclosure: The author has no positions in any stocks mentioned, and no plans to initiate any positions within the next 72 hours. The author wrote this article themselves, and it expresses their own opinions. The author is not receiving compensation for it (other than from Seeking Alpha). The author has no business relationship with any company whose stock is mentioned in this article.
Editor's Note: This article covers one or more stocks trading at less than $1 per share and/or with less than a $100 million market cap. Please be aware of the risks associated with these stocks.