In my last article about DryShips (NASDAQ:DRYS), I pointed out that a bounce in shipping rates - coming later this year and in 2015 - could be a catalyst that moves DryShips, as well as the dry shipping sector. I encouraged looking to Ocean Rig (NASDAQ:ORIG), Baltic Trading (NYSE:BALT) and Diana Shipping (NYSE:DSX) on top of DryShips to gain exposure to the sector, should you want to do so.
Year to date, all of the dry shipping stocks have been clobbered. Ocean Rig has seen the least of the damage, off 1.51% for the year. DryShips has been mauled to the tune of 31.5%.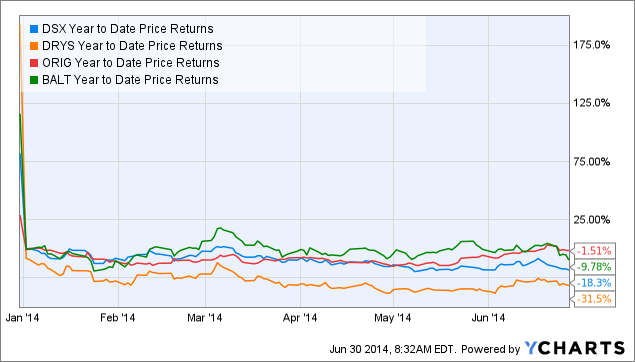 DSX Year to Date Price Returns data by YCharts
With a shored up balance sheet, all DryShips seems to be waiting for is an upswing in the dry shipping market. The company knows it will be receiving the benefits of a new drilling contract with Ocean Rig coming in 2015 - but will DryShips' spot vessels be able to take advantage of higher rates to add to the bottom line? It's looking more and more like it's a serious possibility.
In an article that mostly discussed what the impact to miners' bottom lines would be, it's been hammered home now that there's a consensus among analysts that all freight rates - but namely Capesize - will move up within the year.
The Hellenic Shipping News noted:
Citing consensus among shipping analysts that Capesize freight rates will double within the next year, fund manager Liberum Capital has cautioned about the impact of this on the margins of mining companies - particularly those in the iron-ore sector.

According to Bloomberg-compiled freight analyst consensus, record growth in seaborne iron-ore supply, combined with five years of declining investment in new vessels, would see Capesize rates doubling to $28 000 a day by 2015.

On the demand side, growth in iron-ore volumes, in particular, was expected to influence the market.

Iron-ore and coal volumes accounted for 93% of Capesize shipments.

Capesize freight rates were expected to double ahead of Panamax rates, which would likely increase by 81%; Supramax rates, which would see a 66% rate hike; and Handysize rates, which would increase by 57%.
With its fleet of 42 drybulk carriers, including 28 Panamax carries, DryShips stands to benefit the most from a move upward like this. And, headlines like this one continue to pop up day after day, citing closing mines and higher prices for commodities like iron ore.

This article was what prompted my last piece, citing that the shipping market could once again begin to turn tide:
It may be long overdue, but the rebound of the dry bulk market could be just a few months away. In its latest weekly report, shipbroker Intermodal, said that the depressed demand for coal and iron ore, coupled with a lower than usual grain season, are the main factors behind today's subdued dry bulk market level, with Panamaxes experiencing their lowest rates of the past 20 months.
And this piece uses newbuild pricing to predict that the Baltic Dry Index could once again make a move up to 2000 again: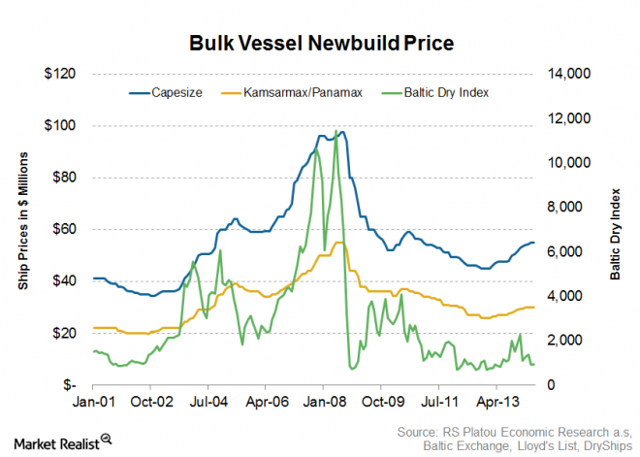 While we couldn't get our hands on vessel prices going back to 1985, RS Platou Economic Research's data on newbuild prices suggest lows of ~$33 million for Capesize vessels and ~$20 million for Kamsarmax or Panamax vessels in 2002. Back then, the Baltic Dry Index-the benchmark for dry bulk shipping rates-stood at levels similar to 2012′s and 2013′s. You could say 700 is the trough for the Baltic Dry Index, because if it went any lower, the industry wouldn't exist and there would be no trade.
While there continues to be risk here - if rates don't pick up or if shipbuilding continues and saturates the market - the result to dry shipping stocks could be adverse. One of my commenters on my last article was nice enough to point out this resource, which pools together dry shipping news and does make the case for more vessels being available in the coming year.
However, I'm going to defer to the analyst consensus here and consider a long move into DryShips for the back end of 2014 into 2015. I'm reaffirming my bullish outlook on drybulk into the second half of 2014 and am looking at a $4 price target on DRYS by early 2015.
Disclosure: The author has no positions in any stocks mentioned, but may initiate a long position in DRYS over the next 72 hours. The author wrote this article themselves, and it expresses their own opinions. The author is not receiving compensation for it (other than from Seeking Alpha). The author has no business relationship with any company whose stock is mentioned in this article.