QTR called it an early week last Friday, taking off for happy hour around 2PM - and he missed all kinds of big news. Included in that was the after-hours announcement that MannKind's Afrezza had finally been approved by the FDA. This came on the heels of Afrezza's 13-1 ADCOM approval months ago and MannKind's shares being up over 100% in the last three months. After a delay in the PDUFA date, MannKind finally received its long-awaited approval.
The news was reported by Seeking Alpha:
MannKind's (NASDAQ:MNKD) long regulatory journey is finally over as the FDA approves Afrezza, a fast-acting inhalable prandial insulin. Its main value proposition is that patients do not have to time their dose at a particular point before a meal in order to synchronize the insulin's effect with the spike in food-related glucose. They simply inhale the insulin at the beginning of the meal or within 20 after starting the meal thereby minimizing the potential for a hypoglycemic event caused by the mistiming of the prandial insulin dose.
The product has a Boxed Warning advising that bronchospasm has been observed in patients with asthma and chronic obstructive pulmonary disease. Afrezza is contraindicated for patients with chronic lung disease.
The regulatory approval has a RIMS (Risk Evaluation and Mitigation Strategy) attached that includes a communication plan to inform healthcare professionals about the risks of acute bronchospasm in patients with chronic lung disease.
The FDA's clearance also requires four Phase 4 clinical trials to evaluate Afrezza's pharmacokinetics, safety and efficacy in pediatric patients, to evaluate the potential risk of pulmonary malignancy with Afrezza and two pharmacokinetic-pharmacodynamic euglycemic glucose-clamp trials to characterize dose-response and within-subject variability.
When the news dropped at first, there was a slight pullback in MNKD shares after-hours. Once the label and all the prescribing information was digested, the stock finished the trading week by rising 10% in Friday after-hours trading. The label contents were likely what gave investors pause - and what seemed to be a bit of panic - from the get go in after-hours selling on Friday. You can see the chart on the left showing MNKD selling off immediately after-hours, before rebounding up 10%.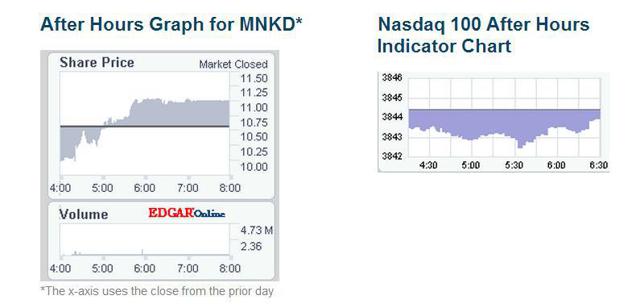 (Source: nasdaq.com)
The sell-off led to initial headlines like this one from MarketWatch: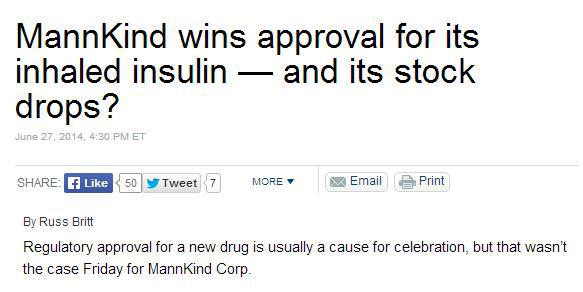 A full copy of the prescribing information for Afrezza can be found here. Again, the initial stock drop seemed to be a product of some of the items on the label - for instance:
Warnings issued for bronchospasms for certain people with asthma or COPD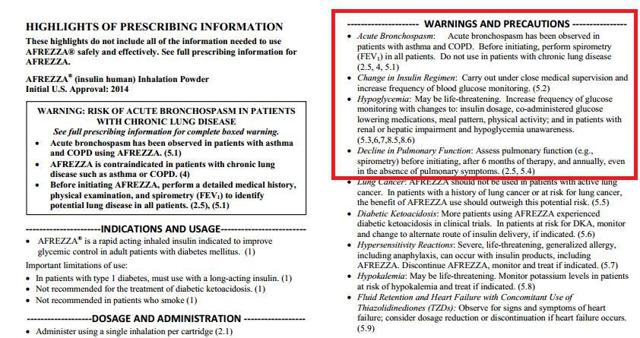 Required Phase IV testing
Further trials for treating children
Use of Afrezza in combination with long-acting insulin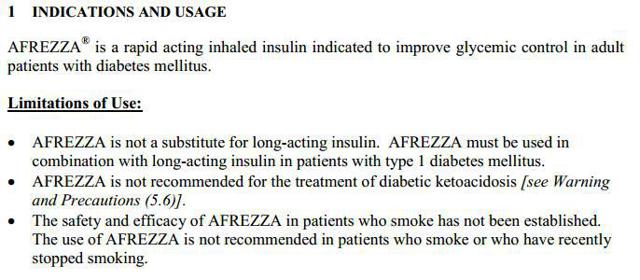 For those of you that have read my pieces on MannKind, you know I like Afrezza and I'm supportive of what the drug could potentially do for millions that have diabetes mellitus. However, one of my suggestions made a month or so ago was that the company may be setting itself up for a short-term short after FDA approval - should approval come and go without a pharma partner.
With a $4 billion valuation, some would say the onus is on MannKind to keep the good momentum going and start to get a sales plan together. MannKind's management is on record as saying they see 6 to 8 weeks out from approval as a potential time frame for a partnership.
The short interest in MannKind has absolutely skyrocketed over the last two years. Longs make the case that this is going to drive MNKD shares even higher when the market bids up the stock on the news of the approval on Monday morning. Several bears that I spoke with Friday and Saturday confirmed to me that they would be adding to their shorts come Monday.
Bulls, on the other hand, are celebrating. And why not? Up to this point, since mid-2012, MannKind stock has delivered nearly a 500% return if you've held through Friday's after-hour trading. It'll be interesting to see if profit taking comes in on Monday, as QTR predicts we will likely see a little bit of. Say what you want about Afrezza's label, but it was certainly a success for the company to get this far and follow through with approval. It's a question now of whether or not MannKind can live up to its valuation.
Bears continue to point out that the company has a $4 billion+ valuation right now, no announced pharma partner, and no sales as of yet. One SA contributor whom I spoke with this morning told me that he/she believes the "label clobbers the value of any pharma deal." Bulls obviously disagree - with some bulls on Twitter's $MNKD StockTwits even calling the label "perfect". It's certainly a large gap between the two schools of thought here, and the market is likely to let us know what it thinks on Monday.
While the company seems to have a promising future, I wouldn't be surprised if the traders came in after the initial spike on Monday and short this down a bit until we get some serious rubber hitting the road in terms of a partnership or sales.
So, while Afrezza will not be replacing long-term insulin use, it is certainly a big step forward for the company and its shareholders, who have watched the regulatory process on Afrezza take place over the last couple of years.
The question of whether or not the valuation and the label woes are going to overshadow the success of the approval remains to be seen - but, I'll be watching trading first thing Monday morning to get a feel for what the market thinks of MannKind's new FDA approval.
Congratulations to MannKind management and longs for the success they've found thus far with Afrezza. The drug has the chance to eventually become a game changer - but there's still a lot of this story to watch.
I wish both sides of the coin the best of luck here.
Disclosure: The author has no positions in any stocks mentioned, and no plans to initiate any positions within the next 72 hours. The author wrote this article themselves, and it expresses their own opinions. The author is not receiving compensation for it (other than from Seeking Alpha). The author has no business relationship with any company whose stock is mentioned in this article.