Facebook (NASDAQ:FB) is working hard to monetize China's massive number of smartphone users. Chinese censors still block Facebook and its apps. However, Instagram is allowed inside China.
The photo-sharing mobile app is gaining popularity among Chinese users. Facebook's takeover of Instagram in 2012 did not earn the ire of the Communist Party of China's censors.
Instagram is a hit inside China largely due to the photo-sharing app's partnership with microblogging powerhouse Weibo (NASDAQ:WB). Weibo, which is partly owned by Alibaba, did not have its own photo-filter effects/sharing feature.
Facebook's rumored plan to open an office in China is therefore the first step towards monetizing Instagram in that country. Zuckerberg will not put up an office in China if he feels that Instagram is in danger of being blocked. Instagram's close ties with powerful firms, Weibo and Alibaba, is a strong shield against Chinese censors.
Instagram is Flourishing In China
Facebook already has a thriving office in Hong Kong which sells advertising to Chinese firms exporting products to other countries. However, Facebook wants more ad money from Chinese companies who need local advertising.
Zuckerberg's willingness to expand to mainland China is in deep contrast to Google (NASDAQ:GOOG) (NASDAQ:GOOGL). Google shut down its Chinese search engine service due to its refusal to toe the stringent Chinese censorship rules.
As per the chart of App Annie, Instagram remains a favorite among Chinese mobile phone users. Chinese companies can start using Facebook to push ads to local citizens.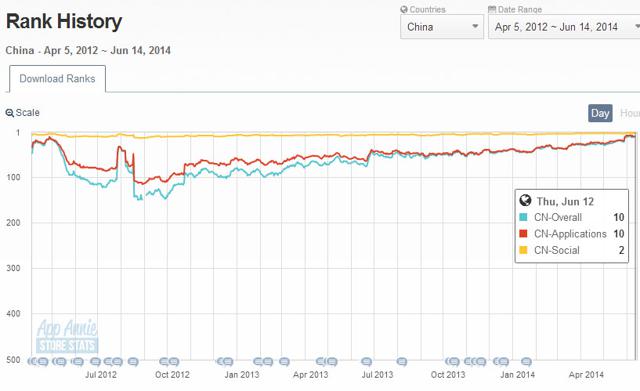 Facebook recently updated Instagram. The improved features should attract more Chinese customers to install the app. The Instagram 6.0 release is now loaded with adjustable filters and 9 new effects.
Users will be able to create more unique Instagram looks on their pictures through direct control of the Filter Strength, Saturation, Contrast, Shadow, Sharpness, and Highlights.
Instagram is growing faster than Facebook, Twitter (NYSE:TWTR), and Pinterest. Chinese users might be one of the reasons why Global Web Index reports 23% global growth rate for Instagram.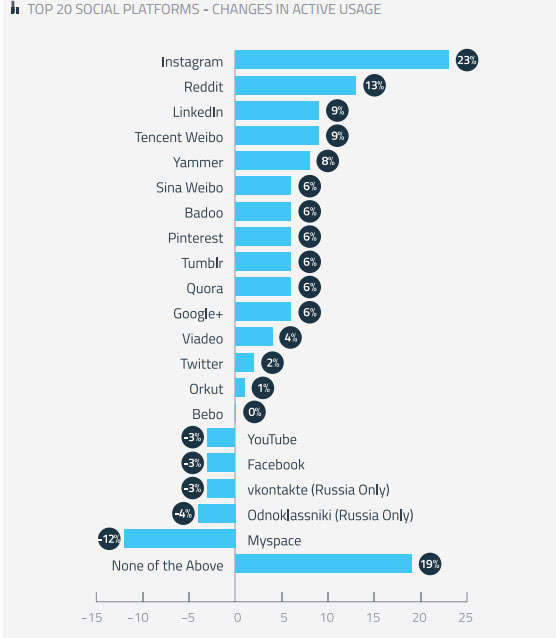 Source: Global Web Index
China has 700 million smartphone users. Even if only 10% of those people use Instagram, Facebook already gets a sizeable number of advertising eyeballs for local Chinese advertisers.
Ads on Instagram were already proven to be very effective. This fact makes me believe that Facebook can still earn decent advertising money in China even without its core apps.
My Recommendation
Investors who are hungry for bigger and faster yields should now prioritize Facebook over Google. Zuckerberg has a great China play with Instagram.
I was already bullish on Facebook when it was trading below $59. I'm now more enthusiastic with FB's long-term potential with this new information that Instagram is thriving inside China.
The Chinese smartphone market is a deep well where Instagram can earn ad money for many years to come. Google is missing this opportunity.
Facebook greatly outperformed GOOG this year. I am assuming that this trend will continue until the end of 2014.

Source: Google Finance
Facebook has rallied to above $67. The favorable status of Instagram in China should help this stock go nearer to its 52-week high of $72.59.
Investors should not worry too much if Zuckerberg is experimenting with people's emotions without their consent. Facebook's secret test of manipulating the newsfeed of 700,000 users proved that the site could induce positive or negative moods in people.
Facebook's experiment is part and parcel of its plan to become a better business. Advertising clients deserve the best data of what ads to push to Facebook users. Facebook is still a Strong Buy.
This company has the power to manipulate 1.2 billion people's moods. Facebook's pragmatic approach will make it the most attractive advertising provider on desktop and mobile platform.
The 100% average scores of short-term and medium-term technical indicators at BarChart support my bullish call for Facebook. The party is not yet over for FB bulls. Thirty-two analysts at BarChart also give Facebook a Buy rating.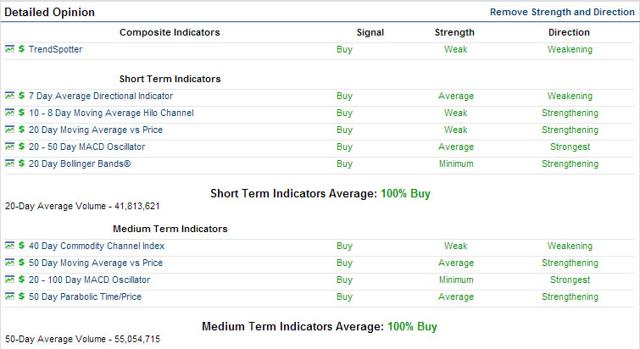 Disclosure: The author is long FB, GOOG. The author wrote this article themselves, and it expresses their own opinions. The author is not receiving compensation for it (other than from Seeking Alpha). The author has no business relationship with any company whose stock is mentioned in this article.