(Note: Please read all of the risks in investing in an illiquid OTC stock like Costar, available here in my previous article).
If you haven't checked out my article on Costar Technologies (OTCPK:CSTI), and why I think the stock should be trading 150% higher than it currently is, you can read my PRO article - which is off embargo and available for free for just another 27 days or so. That article, "Costar Technologies Has 150% Upside" can be found here.
I noted in my last piece that the growth of the network video surveillance market continues to increase significantly on a per annum basis. This figure from Transparency Market Research pins global video surveillance at over a $40 billion industry by 2019.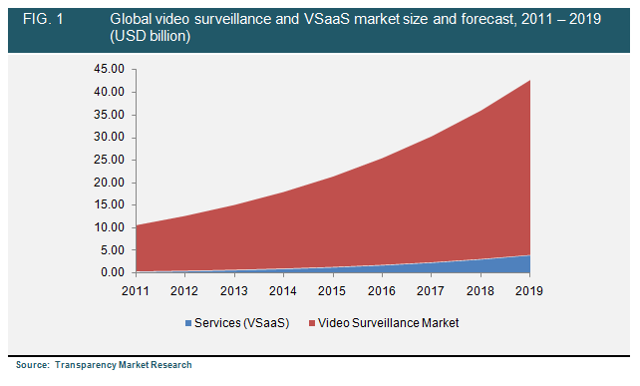 IMS Research also predicts that the total market for video surveillance will continue growing. The market was forecasted by IMS to be worth $10.5 billion in 2011 and is expected to grow to $20.5 billion by 2016. These numbers generally fall in line with the above chart, as well.
While researching further today, I found even more additional sourcing that confirms this industry is going to grow at a hyper aggressive rate in the coming years. Market research conducted by IC Insights and produced in this report early last year also seems to confirm that the surveillance niche of the digital camera market is going to continue to grow.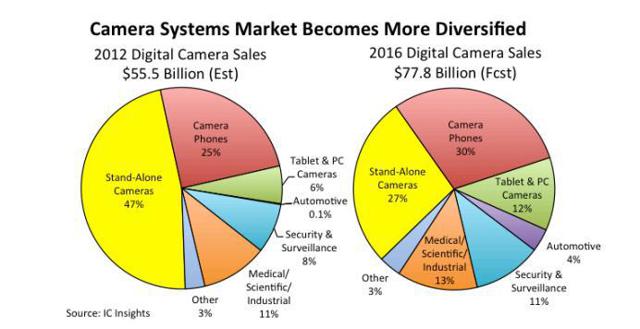 The style of video that Costar produces for surveillance is digital IP video - its video can be accessible via anywhere. If you look at any modern security system, you'll see it's no longer running via a camera and coax to a monitor with a physical tape to record things - and more often than not it's a digital camera transmitting wirelessly (or wired via CAT-5) to a computer system, which acts like a hub and allows the user to look at whatever he or she wants.
Advantages of IP/digital cameras over analog are plentiful. The main points of advantage are:
IP style cameras add PC functionality, video altering tools included
Digital/IP style cameras can be accessed anywhere with an internet connection; you don't physically need to be in front of the monitor
Digital cameras have motion sensors and other "smart" technology that help them record what needs to be in focus
Obviously, newer cameras (digital and analog) are going to record in high quality than older, traditional systems
While the entire rest of the world has easily transitioned from analog to digital, the security camera niche of the surveillance market continues to turn over - even now, in 2014.
Additionally, this Data Monitor report continues to hammer the thesis home: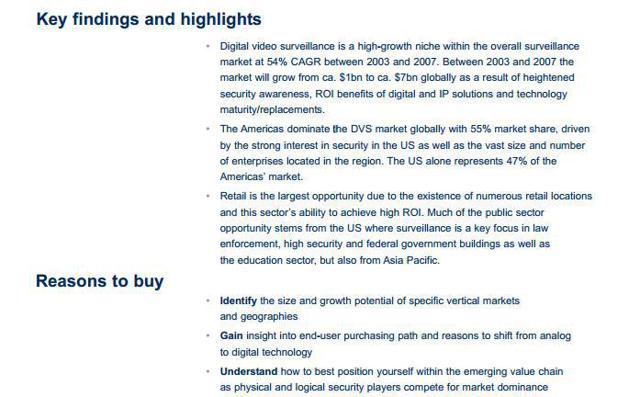 After putting in a couple of hours of follow-up research, I wanted to present the information I found as an addendum to my previous PRO thesis on Costar. As you know, any good growth story is usually only bound by the limits of how saturated the market is, and how much room there is for growth. There is no doubt that the vast market of digital surveillance is an inviting looking site for Costar.
We touched on, in my last article, some of the reasons why Costar has available market share to capture in the first place. I brought up the company's favorable financials and successful management team, but didn't take a super in-depth look into how much of an opportunity the company has to grow domestically and globally.
We talked about how efficient the company is operating and how it's recent acquisition puts it side by side with massive companies like Wal-Mart (NYSE:WMT), Boeing (NYSE:BA), Honeywell (NYSE:HON) and Diebold (NYSE:DBD). But, the real reason that Costar has room to run is because they're innovating and selling in a technology niche - digital security video systems - that has plenty of available market share.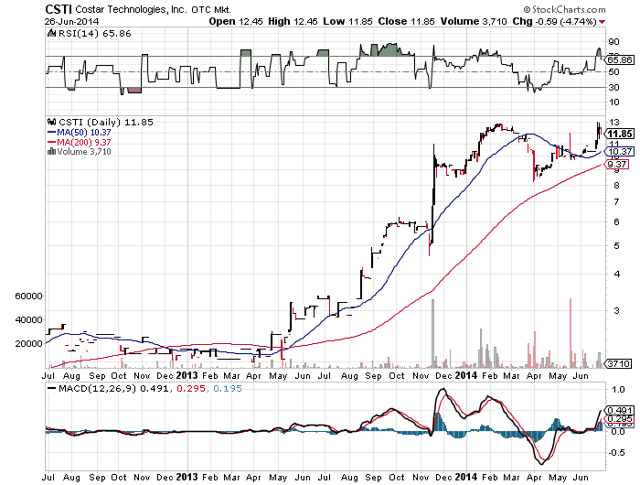 As you can see from illiquid Costar, investors seem to be catching on little by little over the past two years, but I still feel this undervalued OTC stock has room to run; company fundamentals look great, and the market share looks ripe for the taking.
I reiterate my "buy" rating on Costar, with a price target of $25.
Best of luck to all investors.
Disclosure: The author is long CSTI. The author wrote this article themselves, and it expresses their own opinions. The author is not receiving compensation for it (other than from Seeking Alpha). The author has no business relationship with any company whose stock is mentioned in this article.
Editor's Note: This article covers one or more stocks trading at less than $1 per share and/or with less than a $100 million market cap. Please be aware of the risks associated with these stocks.